Yeehaw! DESPERATE MEASURES Adds Two Weeks at York Theatre Company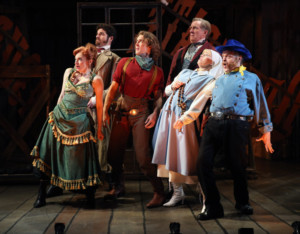 Due to popular demand, The York Theatre Company, dedicated to the development of new musicals and preserving musical gems from the past, in association with Cecilia Lin and Hu Guo, has announced a two-week extension of the New York premiere of the musical Desperate Measures, with book and lyrics by Peter Kellogg (Anna Karenina) and music by David Friedman (Scandalous).
The limited engagement of Desperate Measures will continue through Sunday afternoon, October 29, 2017 at The York Theatre Company at Saint Peter's (619 Lexington Avenue, entrance on East 54th Street, just east of Lexington Avenue) where performances began September 19, 2017. Opening Night was October 1, 2017.
Directed and choreographed by Bill Castellino (Marry Harry, Cagney) and with music direction by David Hancock Turner (The World Will Not Contain Us), the six-member cast features Emma Degerstedt (The Little Mermaid) as Susanna/Sister Mary Jo, Gary Marachek (1776) as Father Morse, Lauren Molina (Rock of Ages) as Bella Rose, Conor Ryan (john and jen) as Johnny Blood, Peter Saide (Skin Tight) as Sheriff Green, and Nick Wyman (Les Misérables) as Governor von Richterhenkenpflichtgetruber.
In 1890, in a territory out West, Johnny Blood, a hot-tempered young cowboy is sentenced to hang for killing a man in a bar fight. His sister, a novice nun in a nearby mission, is persuaded to plead with a corrupt governor to spare her brother's life. The governor promises to pardon Johnny if his sister, the Sister, will 'do his bidding' for the night. Adding to the humorous complications are a hard-bitten sheriff, a voluptuous saloon girl and a priest who reads Nietzsche.
The York Theatre Company opens its 2017-18 Season with Desperate Measures, the knee-slappin' new musical with a nod to Shakespeare's Measure for Measure. It's funny, it's sexy, it's country, and it's a New York premiere with music by award-winning composer David Friedman and book and lyrics by two-time Tony nominee Peter Kellogg.
"The York Theatre is delighted to present its first Mainstage production of the 2017-18 Season, Desperate Measures," stated James Morgan, York's Producing Artistic Director. "We have gotten to know and love it over the last year, having hosted it in two presentations -- and we couldn't be more excited. It's the perfect season opener: smart, tuneful, funny, and extremely touching. We hope you will join us for this hilarious new musical comedy!"
The creative team includes James Morgan (set), Nicole Wee (costumes), Paul Miller (lights), Julian Evans (sound), Deb Gaouette (props), Carol Hanzel (casting), Joseph Hayward (associate director), and Kevin Maloof (production manager). The Production Stage Manager is Christine Lemme with Assistant Stage Manager Laura C. Nelson.
Pictured: Lauren Molina, Peter Saide, Conor Ryan, Nick Wyman, Emma Degerstedt and Gary Marachek.
Related Articles
More Hot Stories For You