WHAT THE CONSTITUTION MEANS TO ME Adds Final Extension Through November 4th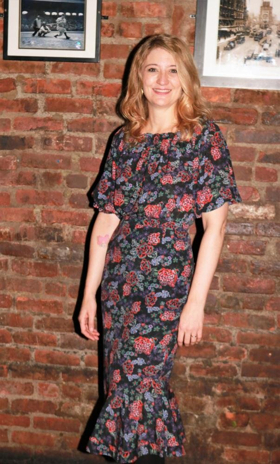 New York Theatre Workshop (NYTW) announced today a final extension for What the Constitution Means to Me by two-time Obie Award winner Heidi Schreck and directed by Obie Award winner Oliver Butler. Originally extended through October 28, 2018, What the Constitution Means to Me will now play additional performances through Sunday, November 4, 2018.What the Constitution Means to Me began previews on Wednesday, September 12, 2018, and opened Sunday, September 30 at New York Theatre Workshop (79 E. 4th Street New York, NY 10003).
The cast for What the Constitution Means to Me includes Schreck, Mike Iveson, and New York City high school students Rosdely Ciprian and Thursday Williams.
What the Constitution Means to Me features scenic design by Rachel Hauck (Hadestown), costume design by Michael Krass (Hadestown), lighting design by Jen Schriever (Eclipsed), and sound design by Sinan Zafar (Hamlet). Dramaturgy is by Sarah Lunnie(Literary Director, Playwrights Horizons). Terri K. Kohler (The House that Will Not Stand) will serve as stage manager.
Fifteen-year-old Heidi Schreck put herself through college by giving speeches about the U.S. Constitution. Now, the Obie Award winner resurrects her teenage self in order to trace the document's profound impact on women's bodies-starting with her great-great-grandmother, a mail-order bride who died under mysterious circumstances. This witty and searingly personal exploration breathes new life into our founding document and imagines how it will shape the next generation of American women. Obie Award winner Oliver Butler directs. What the Constitution Means to Me was commissioned by True Love Productions. This production originated as part of Summerworks 2017, produced by Clubbed Thumb in partnership with True Love Productions.
Tickets for What the Constitution Means to Me start at $85.
In order to provide access to those in their surrounding community and those with income limitations, NYTW launched CHEAPTIX, an affordable ticket program. A $25 day-of CHEAPTIX RUSH will be available for young people, seniors, artists and Lower East Side residents. Rush tickets are subject to availability and are sold cash-only, limit two per person. Proper identification is required for all rush tickets. Youth (ages 25 and under) and seniors (ages 65+) may present an ID indicating date-of-birth; Artists may present an ID and a program or union card; Lower East Side residents may present an ID that includes your address.
To enable more young people to see What the Constitution Means to Me, NYTW has expanded the CHEAPTIX RUSH program to allow young people under 25 to purchase in advance. With the code STUDENT, young people may purchase one $25 ticket, subject to availability at their desired performance. This offer is exclusively made available to audience members age 25 and under and valid identification with date-of-birth will be required to pick up the ticket on the day of the performance. Tickets are non-transferable and anyone without proper identification will be required to pay the difference in the cost of a regular ticket to gain admission. All sales are final-no refunds or exchanges.
Single tickets are now on sale and season memberships are available at www.nytw.org or 212-460-5475.
Photo Credit: Linda Lenzi