The Civilians 2017 'Spring Into Action' Benefit to Honor Oskar Eustis and Hesu Coue-Wilson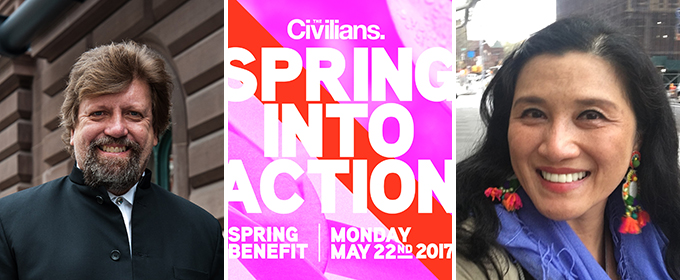 The Civilians celebrates 16 years as NYC's investigative theater company at its 2017 Spring Benefit: Spring Into Action at City Winery on Monday, May 22, 2017.
The Civilians is unafraid to ask tough questions about today's most pressing topics. Spring Into Action celebrates the company's unique blend of theatrical investigation and invention through which they make creative and relevant new work for the stage that fosters understanding, strengthens the bonds between theater and society, and entertains.
This year, we will present The Civilian of the Year Award to two individuals that have erased the lines between art and activism. Hesu Coue-Wilson used her time as a journalist and producer for Democracy Now! to inform her work as an activist and an advocate for the arts. As Artistic Director of The Public Theater, Oskar Eustis has put true inclusivity into practice on its many stages, and has made theater a part of the national dialogue.
The 2017 Spring Benefit: Spring Into Action is an evening of cocktails, bidding, dinner, awards and an original, one-night-only performance created by Artistic Director Steve Cosson. It will include original tribute songs for the honorees composed by Civilians' Associate Artist Michael Friedman (Bloody Bloody Andrew Jackson, Fortress of Solitude) especially for this occasion. It will also feature favorite songs from past and future Civilians shows. Performers and presenters include The Civilians' Associate Artists including Cindy Cheung, Deborah S. Craig, Dan Domingues. Greg Hildreth, Daniel Jenkins Ethan Lipton, Luba Mason, Jenny Morris, Jennifer Mudge, Maria- Christina Oliveras, Steve Rosen and more, with special appearances from singer/songwriter Jill Sobule ("I Kissed a Girl") and Mo Rocca (CBS This Morning).
The Civilians' 2017 Spring Benefit's Honorary Chairs are Boykin Curry, Rick Dean and Koren Volk, Peter and Beth Hammack, and Jessica and Matthew Harris. The Honorary Committee consists of Sunny Bates, Anne Bogart, David Binder, Michael Cerveris, Kathleen Chalfant, Ian Daniel, Harvey Fierstein, Oscar Isaac, Michael John LaChiusa, Luba Mason and Rubén Blades, Richard Nelson, José Rivera, Democratic Leader Charles E. Schumer, Alex Timbers, Paula Vogel, and Bess Wohl and Steven Rubenstein.
The Civilians also recognizes the support and leadership of the 2017 Benefit Committee: ElizaBeth Angell and Victor Brand, Alisha Davis and Michael Roberts, Jody Falco and Jeffrey Steinman, Jeanhee Kim and Luke Melia, Julia and Jeff Lazarus, and Jennifer Morris and Robbie Sublett.
About The Civilians of the Year:
Oskar Eustis has served as the Artistic Director of The Public Theater since 2005, after serving as the Artistic Director at Trinity Repertory Company in Providence, RI from 1994 to 2005. Throughout his career, Eustis has been dedicated to the development of new work that speaks to the great issues of our time, and has worked with countless artists in pursuit of that aim, from Tony Kushner and Suzan-Lori Parks to David Henry Hwang and Lin-Manuel Miranda. He is currently a Professor of Dramatic Writing and Arts and Public Policy at New York University; and has held professorships at UCLA, Middlebury College, and Brown University.
Hesu Coue-Wilson, also known as Suzy, was born in Korea, and grew up in Manila, Philippines. She attended Wheaton College (MA) and Wesleyan University. In New York City, she worked at Pacifica Radio WBAI as a reporter, weekend anchor, and co- host of the Friday morning show. She then joined her longtime editor, Amy Goodman, as a producer on Democracy Now! She also worked as a media critic on FAIR's CounterSpin, and as a producer for GRITtv with Laura Flanders. Hesu has been active in the movements for South African divestment, women's health and reproductive rights, and workers' rights, as well as an advocate for the arts and the environment. She and her family live in Park Slope.
The Civilians, led by Founding Artistic Director Steve Cosson and Managing Director Jane Jung, creates new theater from creative investigations into the most vital questions of the present. Recent credits include The Undertaking, Rimbaud in New York, Another Word for Beauty, Pretty Filthy, Mr. Burns: A Post-Electric Play, and The Great Immensity. The company was the first-ever theater company-in-residence at The Metropolitan Museum of Art. Since its founding in 2001, the OBIE award-winning company has been produced at The Public Theater, Vineyard Theatre, BAM Next Wave Festival, Barrow Street Theater, Playwrights Horizons; and nationally at Goodman Theatre, Center Theatre Group, A.R.T., La Jolla Playhouse, HBO's US Comedy Festival, the TED Conference, and Actors Theatre of Louisville, among others. Visit www.thecivilians.org for more information.
The Civilians' 2016-17 season began with a sold-out run of The Undertaking at BAM's Next Wave Festival, followed a run at Duke Performances at Duke University. It was then the first Civilians production tour to continental Europe at Paris' Thé?tre de la Ville. Also this season at Duke Performances was a residency with playwright Ethan Lipton (The Outer Space) where he led an exploration of the charter school movement and education policy in preparation for his commissioned play on the topic. The season also
included three Let Me Ascertain You cabarets at Joe's Pub, curated by 2016-17 R&D Group members. The year will culminate with FINDINGS, a two-week series of works- in-progress presentations from the R&D Group, running from May 8 - 24, 2017. Our first show written for children, The Abominables, will have its world premiere this September in a production in association with Minneapolis' Children's Theatre Company.
The Civilians' 2017 Spring Benefit: Spring Into Action will be held Monday, May 22nd, at City Winery (155 Varick Street, New York, NY) from 6:00PM-10:00PM. Dinner tickets are $750 & $500 with all proceeds to benefit The Civilians, a not-for-profit 501(c)(3) organization. For tickets, call 718-230-3330 or visit thecivilians.org/benefit2017. Our online auction filled with celebrity encounters, entertainment packages, and once-in- lifetime experiences with more to be added can be found at Bidding for Good.