THE STONE WITCH to Play Final Performance Off-Broadway April 29th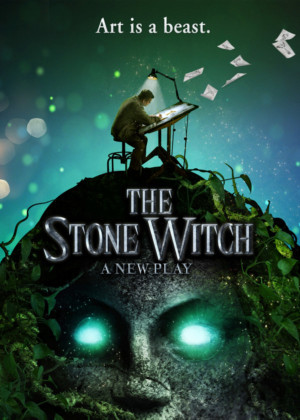 Producers Darlene Kaplan, Laura Janik Cronin and Scott Newsome, in association with Alec Seymour, SPF Group and Susanne Adamski, announced today that The Stone Witch, a play by Shem Bitterman (A Death in Colombia, Influence) will end its run at The Westside Theatre - Upstairs (407 West 43rd Street between 9th and 10th Avenues) after the matinee performance on Sunday, April 29, 2018. When it closes, it will have played 15 preview performances and 41 regular performances. Performances began Monday, March 12, 2018 for an open-ended engagement. Opening Night was Sunday evening, March 25, 2018.
"We are proud to have presented this important new play in New York City," says lead producers Darlene Kaplan, Laura Janik Cronin and Scott Newsome. "The timeless story of the fight for artistic integrity in a society, which often tries to stifle creativity, is especially important in our current political climate. We are gratified by the positive response from the critics and audiences who had the opportunity to see the show. We look forward to The Stone Witch casting its spell on audiences in future productions throughout the country. Initial productions are already in the works for the fall of 2018."
Directed by Steve Zuckerman (Nuts, "Murphy Brown") the three-member cast features Dan Lauria ("The Wonder Years," Lombardi) as Simon Grindberg, with Rupak Ginn (Shakespeare at Fenway, "Royal Pains") as Peter Chandler, and Carolyn McCormick (Equus, "Law & Order") as Clair Forlorni.
Extraordinary art must be tamed. Simon Grindberg is the world's most illustrious children's book writer and illustrator -but his next masterpiece is a decade overdue. Peter Chandler is a starving artist with unparalleled potential-but he doesn't yet know his own value. The two men are thrown together by Clair Forlorni, an ambitious editor who hopes Peter's youthful exuberance can unleash Simon's aging genius for one final story. But creativity comes at a cost. The Stone Witch is a wondrous, hopeful and heartbreaking new play where imagination runs wild. The world premiere production of The Stone Witch was produced at The Berkshire Theatre Group in association with Darlene Kaplan Entertainment and Brierpatch Productions in 2016.
The creative team for The Stone Witch includes Yael Pardess (set & projection art content design), Mimi Maxmen (costume design), Betsy Adams (lighting design), Christopher Cronin (sound design), Brad Peterson (projection design), and Roger Bellon (composer). The Production Stage Manager is J.P. Elins with Assistant Stage Manager Michael Friedlander.
The Stone Witch will play the following performance schedule for the final week: Tuesday at 7:00 p.m., Wednesday at 2:00 p.m. & 8:00 p.m., Thursday at 8:00 p.m., Friday at 8:00 pm., Saturday at 2:00 p.m. & 8:00 p.m., and Sunday at 3:00 p.m. Please note: There is no performance on Sunday, April 22.
Single tickets for The Stone Witch are priced at $39 (Fan Seats) $89 and $110 (Premium Seats), and may be purchased by calling Telecharge: 212-239-6200, or by visiting Telecharge.com. Student Rush Tickets are priced at $30 with valid Student I.D.