THE CHEKHOV DREAMS Celebrates Opening Tomorrow Off-Broadway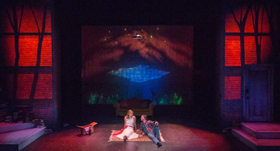 THE CHEKHOV DREAMS, a dark romantic comedy by John McKinney, is set to officially open tomorrow evening, February 3rd at The Beckett Theatre at Theatre Row,410 West 42 Street.
In The Chekhov Dreams, Jeremy's fiancée has it all - beauty, intelligence, beguiling charm. Unfortunately she's also dead, but that doesn't stop her from visiting him every night in his dreams. This blissfully aberrant arrangement unravels with the interference of Jeremy's hedonistic brother and his overly enthusiastic acting scene partner, with whom he's stuck working on a scene by Chekhov - the one writer he loathes. Worse yet, this actress is starting to arouse the jealousy of his betrothed just as she's beginning to reveal her true powers. Jeremy's fiancée may be to die for, but will he go that far?
Under the direction of Leslie Kincaid Burby, The Chekhov Dreams features Dana Watkins (MY FIRST TIME, IN MASKS OUTRAGEOUS AND AUSTERE), Elizabeth Inghram (AFTER THE BALL, BUSKER ALLEY w/Glenn Close), Charlotte Stoiber (YOLKA AT THE IVANOVS, Moscow Art Theatre), Christian Ryan (DEMENTIA 13, "A Crime to Remember"), and Rik Walter ("30 Rock," "Unforgettable").
Playwright John McKinney's short plays have appeared in several anthologies, including BEST 10 MINUTE PLAYS and BEST MEN'S STAGE MONOLOGUES by Smith & Kraus, and have been performed in the UK and Australia. Most recently, he was granted two entries in 5-MINUTE PLAYS by Applause Books. He is currently developing a military-themed political thriller, THE ART OF MANEUVER.
Director Leslie Kincaid Burby received the 2016 New York International Fringe Festival Award for her direction of Zamboni. At the Workshop Theater, Leslie directed The Navigator (NYIT Outstanding Director Award, NY Times Critics' Pick) and the critically acclaimed new play, Through the Darkness.
Scenic design for The Chekhov Dreams is by Scott Aronow, with costume design by Christina Giannini and Kimberley Windbiel and lighting design by Diana Duecker.
THE CHEKHOV DREAMS is being produced Off-Broadway by Catriona Rubenis-Stevens and Jeanette Bonner. Executive producer is Jeremy Handelman. The playing schedule is Wednesdays & Thursdays at 7 pm, Fridays & Saturdays at 8 pm, and Sundays at 3 pm through February 17th. Tickets are available through www.Telecharge.com 212-239-6200.
For more information, visit www.ChekhovDreams.com.
Photo Credit: Arin Sang-urai