Susan Soon He Stanton's TODAY IS MY BIRTHDAY to Make World Premiere at Page 73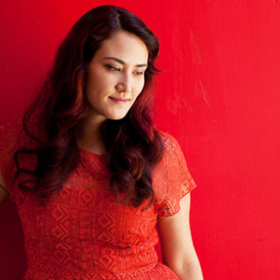 Page Seventy-Three Productions (Page 73) announced today their fall 2017 production will be the world premiere of Susan Soon He Stanton's new play, TODAY IS MY BIRTHDAY, directed by Kip Fagan.
Performances begin on Tuesday, November 28 at the New Ohio Theatre for a limited run through December 23, 2017. Opening Night is December 7, 2017. Tickets will be available October 2 at Page73.org.
Emily, a would-be writer, retreats home to O'ahu after Manhattan finally gets the best of her. Trading one island for another doesn't help, though, and when she stumbles into a gig as an actor on a shock-jock radio dating show, she finds herself strangely determined to turn fantasy into reality. Told through a playful mixture of phone calls, voicemails, and live radio spots, TODAY IS MY BIRTHDAY is a comedy about loneliness in the age of connection.
"Our premiere is the culmination of a years-long collaboration between Susan and Kip, who began developing the play together at The Sundance Institute Theater Lab in 2015," said Walkup. "Sound designer Palmer Hefferan (ORANGE JULIUS) has also been with the team since that time designing the complicated sound for a play told entirely through technological devices - whether that's characters speaking on the phone, checking their voicemails, talking through an apartment buzzer, or playing a role on a radio show."
TODAY IS MY BIRTHDAY was on the 2015 Kilroys' List, and earned Susan one of three inaugural Lark Venturous Playwrights Fellowships funded by the Venturous Theater Fund of the Tides Foundation, a $50,000 prize for Susan as well as additional funds to support this world premiere. Full design team and cast will be announced at a later date.
As the P73 Playwriting Fellow, John J. Caswell, Jr. will receive a workshop of his play, CREAM!, directed by Dustin Wills (ORANGE JULIUS). The workshop will culminate in two readings of the play, October 19 and 20, which are free and open to the public (reservation required).
CREAM! follows the owners of a bakery who once refused to cater gay weddings as they attempt to rehabilitate their reputation on an over-the-top reality show.
"The play is a raucous and insightful twist on the debate over individual religious liberties," added Walkup. "We'll be watching the Supreme Court grapple with this very issue this season. John's play isn't a straightforward dramatization of that argument - it's a full-blown explosion of it, complete with tap dancers and talking cake."
Tickets for TODAY IS MY BIRTHDAY range from $20 to $40 and will be available for purchase in advance at www.page73.org or by calling 866-811-4111. From November 28 through December 10, $20 general admission tickets will be available for each performance. From December 12 through December 23, $30 general admission tickets will be available for each performance. For all performances, $40 reserved seats will be available. The box office for TODAY IS MY BIRTHDAY opens thirty minutes prior to every performance.
ABOUT THE ARTISTS:
Susan Soon He Stanton's plays include Today Is My Birthday; We, the Invisibles; Takarazuka!!! (Clubbed Thumb Summerworks); Cygnus (Women's Project Lab); The Things Are Against Us (Washington Ensemble Theater), and Navigator (Honolulu Theater for Youth). Most recently, she worked in London as a staff writer for the TV series Succession on HBO. She is a member of Page 73's 2017 Interstate 73 writers group, a two-time Sundance Institute Theater Lab Resident Playwright, and an alumna of the Public Theater's Emerging Writers Group, SoHo Rep Writer-Director Lab, and The Women's Project Lab, among other writers groups. Her work has been included on the Kilroy's List in 2015, '16, and '17, and she was recently awarded the Leah Ryan's Feww Award forWe, The Invisibles as well as an inaugural Venturous Playwrights Fellowship for Today Is My Birthday. She received a Feature Film Development Grant and Screenwriting Award from the Sloan Foundation. Originally from Hawai'i, Susan an holds a BFA from NYU Tisch's Dramatic Writing program and an MFA from Yale School of Drama.
Kip Fagan has previously directed for Page 73 the 2010 world premiere of Samuel D. Hunter's Jack's Precious Moment and the 2012 musical workshop of Carlos Murillo's A Thick Description of Harry Smith: Volume 1. Recent directing credits include: NYC: Zayd Dohrn's The Profane, Heidi Schreck's Grand Concourse (Playwrights Horizons); Jenny Rachel Weiner's Kingdom Come (Roundabout Underground); Ike Holter's Exit Strategy (Primary Stages); Jesse Eisenberg's The Revisionist and Asuncion, Halley Feiffer's How to Make Friends and Then Kill Them, Heidi Schreck's There Are No More Big Secrets, Sheila Callaghan's That Pretty Pretty; or, The Rape Play (Rattlestick); Ariel Stess's The World My Mama Raised and I'm Pretty Fucked Up, Sheila Callaghan's Roadkill Confidential, Rachel Hoeffel's Quail (Clubbed Thumb); Reggie Watts and Tommy Smith's Radio Play (P.S. 122). Regional: Alliance, Long Wharf, Woolly Mammoth, Williamstown, Humana, George Street Playhouse, Philadelphia Theatre Company, Portland Center Stage, Marin Theatre Company, City Theatre. Taught and/or directed at Juilliard, NYU, SUNY Purchase, National Theatre Institute, Strasberg Center. NEA/TCG directing fellow, Clubbed Thumb affiliated artist, co-founder of Printer's Devil in Seattle.
John J. Caswell, Jr. is the 2017 P73 Playwriting Fellow. He is a queer, Mexican-American playwright and director originally from Phoenix, AZ. He is also the Artistic Director of Progressive Theatre Workshop, a company that has made plays for the past ten years. He has developed and shown work across Arizona and in New York City at HERE, Dixon Place, Joe's Pub at The Public Theater, Primary Stages, and more. His work has been named a finalist for the Princess Grace Award, the O'Neill NPC, the Woodward Newman Drama Award, and the Impact Residency at The Drama League. His plays are frequently cited as examples of queer-themed theatre, most recently referenced in articles appearing in Theatre Topics, The International Journal of the Creative Arts in Interdisciplinary Practice, and the European Journal of Comparative American Studies. Included as a consummate demonstration of auto-ethnographic theatre, his play SHOTS: A Love Story was published as part of Johnny Saldaña's book Ethnotheatre: Research From Page to Stage published by Left Coast Press. John is a 2017 O'Neill Finalist, a 2017 Drama League Impact Finalist, and a 2016 Princess Grace Award Finalist.
Dustin Wills is an NYC-based theatre director. Recent projects include Orange Julius by Basil Kreimendahl with Page 73 and Rattlestick Playwrights Theater, Frontieres Sans Frontieres by Phillip Howze at the Bushwick Starr, a new musical with Kate Tarker and Dan Schlosberg called AWFUL EVENT!, and ongoing work on a trio of short Lorca plays. Dustin has worked with The Foundry Theatre, New York Theatre Workshop, Ars Nova, Williamstown Theatre Festival, Berkeley Rep, Echo Theatre, Yale Rep, Berkshire Theatre Group, Lark Play Development Center, Paper Chairs, and Salvage Vanguard Theatre; created large-scale community puppet projects with Creative Action; and devised new work for The English Theatre of Rome and Teatro L'Arciliuto in Rome, Italy. He is a two-time recipient of the Princess Grace Award for Theatre, a Drama League and Boris Sagal directing fellow, former artistic director of the Yale Summer Cabaret, and for a couple of years gave rogue tours of the Vatican. MFA: Yale School of Drama.
Page 73 is now in its 20th year producing and supporting the most talented early-career playwrights and introducing them to New York audiences by producing their professional debuts in the city. Page 73's 2016-17 season included the world premieres of Caroline V. McGraw's ULTIMATE BEAUTY BIBLE, directed by Stephen Brackett, and Basil Kreimendahl's ORANGE JULIUS, directed by Dustin Wills. Their season also fostered the work of Hansol Jung and John J. Caswell, Jr. through the prestigious P73 Playwriting Fellowship, now in its 14th year of singling out exceptional talent.
Prior Page 73 seasons have included World and New York premieres of Leah Nanako Winkler's KENTUCKY, directed by Morgan Gould; Max Posner's JUDY, directed by two-time Obie Award winner Ken Rus Schmoll; Clare Barron's critically acclaimed YOU GOT OLDER, which was recognized at the 2015 Obies with awards for Playwright, Performance (Brooke Bloom), and Direction (Anne Kauffman) - each artist was also nominated for a Drama Desk Award, along with co-star and Tony Award winner Reed Birney; the first New York City production of George Brant's critically acclaimed GROUNDED, directed by Ken Rus Schmoll and starring Drama Desk nominee Hannah Cabell; and Cori Thomas' WHEN JANUARY FEELS LIKE SUMMER, directed by Daniella Topol. They have co-produced from time to time with such renowned new play theaters as Soho Rep, Rattlestick Playwrights Theatre, and Ensemble Studio Theatre.
Today, Page 73 annually serves twelve to fifteen early career playwrights through its productions and development programs. Each year, Page 73 produces New York City or world premieres by early-career playwrights and offers a slate of new play development programs: the P73 Playwriting Fellowship, Interstate 73 writers group, and a week-long Summer Residency.
Close to two-thirds of the over 100 playwrights they've supported have enjoyed New York or regional theatre productions after receiving a Page 73 premiere or development support. These include, among others, writers whose professional debuts in New York City were produced by Page 73, such as Samuel D. Hunter (2015 MacArthur "Genius" Grant), Quiara Alegría Hudes (2012 Pulitzer Prize), Dan LeFranc (2010 New York Times Outstanding Playwright Award), Heidi Schreck (2014 Tow Playwright in Residence at Playwrights Horizons), and Clare Barron (2015 Obie Award).
Related Articles View More Off-Broadway

Stories

Shows
More Hot Stories For You