Sebastian Chacon Joins THE RAPE OF THE SABINE WOMEN Off-Broadway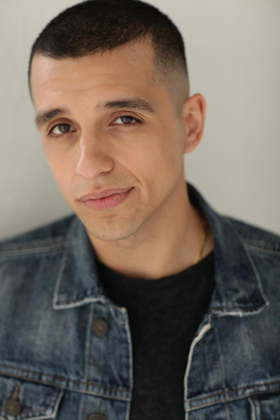 The Playwrights Realm has announced that Sebastian Chacon will join the cast for the final performances in the Realm's World Premiere production of Michael Yates Crowley's acclaimed The Rape of the Sabine Women by Grace B. Matthias.
As of September 20, Chacon - recently cast in Hulu's upcoming adaptation of Michael Hassan's Crash & Burn, with additional TV credits including Mr. Robot and Gotham - will replace Alex Breaux, who is recovering from an injury, on select performances.
Directed by Tyne Rafaeli, the World Premiere will conclude its run, as scheduled, on September 23. An additional matinee has also been added to the run, on Saturday, September 23 at 2:30 p.m.
When Grace B. Matthias is raped, her world spirals into chaos. Between navigating emotionally unstable guidance counselors, overbearing lawyers, an angry championship football team, and useless Wikipedia answers, Grace tries to make sense of her world anew. Inspired by the extensive history of undocumented sexual violence against women, Crowley moves rapidly between Grace's story and that of the Sabine women, using Ancient Rome as a backdrop against which the fallibility of high-school education and judicial systems come to light. Within the coliseum-like media circus, Grace is watched, judged and misinterpreted as she attempts to understand and contextualize her experience.
Crowley invites the audience to travel from Ancient Rome to contemporary America. Moving between these worlds with a rapid fluidity, the drama echoes the silencing of women on these topics for thousands of years, and the powerful velocity of instant gratification and click-bait culture. Information is either entirely unavailable to Grace, or right at her fingertips. Looking into the microcosm that is a typical American high school, the holes in history are reflected in how we are educated, or must educate ourselves. A play that is both timely and brave, The Rape of the Sabine Women urges us to question our assumptions, our complicity, and where we stand in relation to rape culture, power structures, and justice.
The World Premiere cast includes Jeff Biehl, Alex Breaux, Sebastian Chacon, Chas Carey, Doug Harris, Eva Kaminsky, Andy Lucien, Susannah Perkins, and Jeena Yi.
The creative team includes Arnulfo Maldonado (Scenic Design), Ásta Bennie Hostetter (Costume Design), Barbara Samuels (Lighting Design), Mikaal Sulaiman (Sound Design), Anna Demenkoff (Props Design), Michael Rossmy (Fight Direction), Chris De Camillis (Production Stage Manager), Rachel Kartiganer (Assistant Stage Manager).
The Rape of the Sabine Women will run through September 23 (see above schedule) at The Duke on 42nd Street (229 W 42nd Street, Manhattan).
With a background in Shakespeare, poetry, and installation work, the Brooklyn-basEd Crowley has created and performed a wide range of original works around the world-solo and as part of his own "narrative technology" company, Wolf 359. This world premiere, the first major New York production of one of his plays, was developed as part of The Realm's Writing Fellowship in the 2014-15 season. Director Tyne Rafaeli has spent the last year directing works that address sexual violence (like Measure for Measure, Kiss Me Kate, and Anna Ziegler's Actually) and is also making her Playwrights Realm debut this season.
Over the past eleven years, The Realm has continually produced work by brave new voices and worked to introduce new initiatives to expand its commitment to providing holistic support to playwrights as they strive to make a life in the arts. The cornerstone of the company's work is its Page One Residency, and 2017-18 is the first season in which the Realm will be supporting two Page One residents, both Michael Yates Crowley and Don Nguyen, whose Hello, From the Children of Planet Earth, will premiere in spring 2018. The expansion of the Page One Residency program is motivated by the immense success of recent Page One Residents, like 2015-16 Page One Resident Mfoniso Udofia and her play Sojourners, which after being produced by The Realm, was subsequently produced by New York Theatre Workshop in rep with Udofia's Her Portmanteau. Both productions were produced in association with The Playwrights Realm and were New York Times Critic's picks. In addition, the 2016-17 Page One Resident, Sarah DeLappe and her play The Wolves, received a Drama Desk Special Award and an Obie Award for Outstanding Ensemble, was a finalist for the 2017 Pulitzer Prize in Drama, and returns this fall to Lincoln Center Theater's Mitzi Newhouse Theater.
ABOUT THE ARTISTS:
Michael Yates Crowley is a Brooklyn-based writer and performer whose work has been produced in New York, Chicago, Los Angeles, Berlin, Edinburgh, and elsewhere. His works for theater include The Rape of the Sabine Women, by Grace B Matthias (O'Neill National Playwrights Conference finalist, UMASS New Play Lab); School Shooting IV (developed at NYTW and Ars Nova); Song of a Convalescent Ayn Rand Giving Thanks to the Godhead (American Repertory Theater, Joe's Pub); temping (premiered at the 53rd New York Film Festival, A.R.T.); The Dead, Inc. (Schlosstheater Moers); Evanston: A Rare Comedy (2013 O'Neill NPC selection, 2015 Alliance/Kendeda Finalist); and The Ted Haggard Monologues (published by S. Fischer Verlag; filmed by HBO). He is a member of Ars Nova's Play Group, a former NYFA Playwriting fellow, and The Playwrights Realm Writing Fellow, and member of the Soho Rep Writer/Director Lab, and a graduate of the Lila Acheson Wallace Playwrights Program at Juilliard. Together with the director Michael Rau, he founded the narrative technology company Wolf 359.
Tyne Rafaeli was born in London and trained at the Guildhall School of Music & Drama and Columbia University. She has directed new plays, classics and musicals in London and the US. Her work has been seen at: Classic Stage Company, The Atlantic Theatre, Roundabout, The Geffen Playhouse, Two River Theatre, New York Stage & Film, PlayMaker's Rep, Goodspeed, Williamstown Theatre Festival, Great Lakes Theatre, American Players Theatre, Santa Cruz Shakespeare, Idaho Shakespeare Festival, Juilliard, The O'Neill Playwright's Conference and PlayPenn, amongst others. Tyne is a 2016-2018 Time Warner Directing Fellow at the Women's Project Theatre and was awarded the 2013-14 SDCF Sir John Gielgud Fellowship for Classical Direction. She has previously served as Associate Director to Bartlett Sher on multiple Broadway and West End productions. Upcoming projects include: Measure For Measure at the California Shakespeare Theatre and the West Coast premiere of Martyna Majok's Ironbound at the Geffen Playhouse.
Jeff Biehl (The Lawyer, etc.) Broadway: Machinal (Roundabout). Off-Broadway: Charles Francis Chan's... (NAATCO), 10 Out Of 12 (Soho Rep), Lives Of The Saints and Poor Behavior (Primary Stages), Fulfillment (Flea), Issac's Eye (EST), Burning (New Group). Regional includes: Cry It Out and Wellesley Girl (Humana), Scenes From Court Life and The Moors (Yale Rep). FILM: Jonathan Demme film of Wallace Shawn and Andre Gregory's A Master Builder, Ricki and the Flash. TV: "The Path", "Vinyl", "Mysteries of Laura", "Forever", "Southland", all Law & Orders. Juilliard.
Alex Breaux (Bobby) Broadway: Brodie in The Real Thing (Roundabout). Off-Broadway: Red Speedo (New York Theatre Workshop), Troilus and Cressida (NYSF/The PUBLIC), Much Ado About Nothing (NYSF/The PUBLIC), Ultimate Beauty Bible (Page 73), The Sky and the Limit (SUMMERSHORTS, e5959). Juilliard: Buried Child, Hamlet, Middletown. Upcoming Films: Bushwick (Sundance and Cannes 2017), CAMPFIRE ALPHA, I Didn't Come Here to Make Love, CakeFace. Film: Katie Says Goodbye, Josephine. Training: The Juilliard School, B.A. Harvard University. www.alexbreaux.com.
Sebastian Chacon (Bobby) Playwrights Realm debut. Off-Broadway: Twelfth Night; Romeo y Julieta (The Public).Other New York: OKAY (UglyRhino). National Tours: Don Quixote de La Mancha. Film: Puzzle; Contents Under Pressure. TV: Series Regular in upcoming Hulu pilot, "Crash & Burn"; "Narcos"; "The Get Down" (Netflix); Happy! (Syfy); "Mr. Robot" (USA); "Gotham" (FOX); "Madam Secretary"; "Elementary" (CBS). BFA: NYU Tisch.
Chas Carey (The News) is an attorney. Off-Broadway debut. Local credits include temping (Convergence at the Lincoln Center Film Festival), Righteous Money (3LD, 59E59), and Evanston: A Rare Comedy (PS122, HERE). Regional credits include Mercutio in Romeo and Juliet, Demetrius in A Midsummer Night's Dream, and J.W. Wells in Gilbert & Sullivan's The Sorcerer (GG&SS - Washington, D.C.). www.chascarey.com
Doug Harris (Jeff) Off-Broadway: The Glass Menagerie (Masterworks Theater Company). Other NY Theater: Unity: 1918 (Project: Theater), Found Dog Ribbon Dance (Shapiro Theater), We Are Animals series (Brick, PIT, Here) Regional: The Elaborate Entrance of Chad Deity, and Oh, Gastronomy! (Actors Theater of Louisville). Doug has also been seen in workshops at New York Theater Workshop, The Lark, The Wild Project, The Actors Studio, and more. Film: Viking Funeral, Rambling with the Devil. Thank to my family, friends and Anne for their support. www.dougharrisactor.com.
Eva Kaminsky (The Guidance Counselor, etc.) Broadway: The Lyons. National Tour: The Syringa Tree. Off Bway: Roundabout, The Play Company, Axis Theatre, Partial Comfort. Selected Regional: Old Globe, Baltimore Centerstage, Alley Theatre, Cincinnati Playhouse, Repertory Theatre of St. Louis, CATF, Long Wharf, ACT Theatre, Syracuse Stage, Cleveland Play House, McCarter Theatre, O'Neill Playwright's Conference and many others. TV: Guest Star and Recurring roles include "Chicago Med", "Madoff", "Younger", "Madam Secretary", "The Blacklist", "Blindspot", "Billions" and all the Law & Orders. Film: The Dark Tower, Ten Thousand Saints, Extremely Loud & Incredibly Close, and the writer/director of the short film Reunion.
Andy Lucien (The Teacher, etc.) Playwrights Realm: Debut. Off Broadway: The Qualms (Playwrights Horizons), City of Conversation (Lincoln Center), The Last Seder (Theater Three at The Mint Theater). Regional: The Last Tiger in Haiti (La Jolla Playhouse/Berkeley Rep); Cry Old Kingdom, 27 Ways I Didn't Say Hi To Laurence Fishburne (Actors Theater of Louisville), Detroit 67 (Chautauqua Theater Company) Film: The Third Option; 7 Lovers. TV: "Elementary"; "Madam Secretary" (CBS); "The Blacklist" (NBC).
Susannah Perkins (Grace) Off-Broadway: The Wolves (Playwrights Realm, Drama Desk and Obie Award for Outstanding Ensemble). Other New York: Sisters On The Ground (PHTS/Clubbed Thumb), Every Angel Is Brutal (Clubbed Thumb). Regional: Night Of The Iguana (A.R.T.), The Wolves (NYSAF). Upcoming: The Wolves at Lincoln Center. BFA: NYU Tisch.
Jeena Yi (Monica) Jeena is thrilled to make her Playwrights debut. She was recently seen playing Kate in Somebody's Daughter at Second Stage Uptown and Tong in Vietgone at The Oregon Shakespeare Festival and Seattle Rep. Other credits include Adriana in Comedy of Errors (Classic Stage Company), Grace in Lights Rise on Grace (Woolly Mammoth Theatre Co.), Bo in The Hard Problem (Wilma Theater), Brin in Chairs and a Long Table (Ma-Yi Theatre Co.) TV: "AKA Wyatt Cenac," "Royal Pains." MFA: Columbia University. www.JeenaYi.com.
Hailed as "invaluable" by The New York Times' Ben Brantley, The Playwrights Realm (Katherine Kovner, Founding Artistic Director; Roberta Pereira, Producing Director) is devoted to supporting early-career playwrights along the journey of playwriting, helping them to hone their craft, fully realize their vision and build meaningful artistic careers. To serve this mission, The Playwrights Realm provides comprehensive support to playwrights through its Page One Residency, Alumni Playwrights Program, Writing Fellowship, and, of course, productions. Previous productions by The Realm include Sarah DeLappe's The Wolves (Pulitzer finalist in Drama 2017, Lortel, Drama League, Outer Critics Circle nominations, Obie award and Drama Desk special award for outstanding ensemble), Jen Silverman's The Moors, Mfoniso Udofia's Sojourners, Anna Ziegler's A Delicate Ship, Anton Dudley's City Of, Elizabeth Irwin's My Mañana Comes, Lauren Yee's The Hatmaker's Wife, Ethan Lipton's Red-Handed Otter, Jen Silverman's Crane Story, Gonzalo Rodríguez Risco's Dramatis Personae, Christopher Wall's Dreams of the Washer King, Anna Ziegler's Dov and Ali, and Anton Dudley's Substitution.
Founded in 1990, The New 42nd Street is an independent nonprofit organization charged with the continuous cultural revival of 42nd Street between 7th and 8th Avenues, building on the foundation of seven historic theaters to make extraordinary performing arts and cultural engagement part of everyone's life. The New 42nd Street fulfills this purpose by ensuring the ongoing vibrancy of 42nd Street's historic theaters; supporting performing artists in the creation of their work at the New 42nd Street Studios and The Duke on 42nd Street; creating arts access and education at The New Victory Theater, New York's premier theater for kids and families; and through the New 42nd Street Youth Corps, its model youth development initiative, which pairs life skills workshops and mentorship with paid employment in the arts for NYC youth.Inspired by the city it serves, The New 42nd Street is committed to the transformational power of the arts.
The Duke on 42nd Street is a centrally-located black box theater rental that offers nonprofit and commercial companies the opportunity to perform on famed 42nd Street. Housed within the New 42nd Street Studios, The Duke on 42nd Street is a fully-staffed facility featuring customizable, state-of-the-art seating in various configurations and full light, sound and support systems. The venue has hosted such companies as The Playwright's Realm, Red Bull Theater, Primary Stages, Transport Group, Theatre for a New Audience, Lincoln Center Theater LCT3, The Royal Court Theatre, Steppenwolf Theater Company, Armitage Gone! Dance, Chicago Shakespeare Theater, Naked Angels, Classical Theater of Harlem and the National Theater of Great Britain.???????
Related Articles
More Hot Stories For You