Photo Flash: The Theatre Group at SBCC Presents CRIMES OF THE HEART
The Theatre Group at SBCC concludes the 17/18 season with the Pulitzer Prize-winning play, CRIMES OF THE HEART by Beth Henley.
The final production of the 2017/2018 season will be the winner of the 1981 Pulitzer Prize and the New York Drama Critics Circle Award, CRIMES OF THE HEART by Beth Henley. April 11-28, 2018 in the intimate Jurkowitz Theatre, directed by R. Michael Gros.
The scene is Hazlehurst, Mississippi, where the three Magrath sisters have gathered to await news of the family patriarch, their grandfather, who is living out his last hours in the local hospital. Lenny, the oldest sister, is unmarried at thirty and facing diminishing marital prospects; Meg, the middle sister, who quickly outgrew Hazlehurst, is back after a failed singing career on the West Coast; while Babe, the youngest, is out on bail after having shot her husband in the stomach. The play is the story of how its young characters escape the past to seize the future-but the telling is so true and touching and consistently hilarious that it will linger in the mind long after the curtain has descended.
Beth Henley was born in 1952 in Jackson, Mississippi. She was one of four sisters. Her parents were Charles Boyce, an attorney, and Elizabeth Josephine Henley, an actress. Henley attended Murrah High School in Jackson, followed by Southern Methodist University, where she was a member of the acting ensemble. While at college, Henley completed her first play, a one-act piece entitled Am I Blue. She graduated from Southern Methodist in 1974 with a BFA. From 1975 to 1976, she taught playwriting at the University of Illinois (Urbana) and the Dallas Minority Repertory Theater.
In 1976 Henley moved to Los Angeles and began work on her play Crimes of the Heart.
Crimes of the Heart was Henley's first professionally produced play. It opened at The Actors Theatre of Louisville in 1978, where it was declared co-winner of a new American play contest.] The play then moved to New York and was produced by the Manhattan Theatre Club. Crimes of the Heart won the Pulitzer Prize for Drama in 1981 as well as the award for Best American Play of 1981 from the New York Drama Critics' Circle.[6] The play also earned Henley a nomination for a Tony Award, and her screenplay for the film version of Crimes of the Heart was nominated for an Oscar as Best Adapted Screenplay. Henley has stated that growing up with three sisters was a major inspiration for her play Crimes of the Heart.
Henley adapted her 1984 play The Miss Firecracker Contest into a 1989 film starring Holly Hunter entitled Miss Firecracker. Henley's play Ridiculous Fraud was produced at the McCarter Theatre, Princeton, New Jersey in 2006. Her play Family Week was produced at MCC Theater, New York City in 2010.
Crimes of the Heart will feature: Charlotte Bailey, Leesa Beck, George Coe, Shay Munroe, Elaine Pazaski and Nicholis Sheley.
CHARLOTTE BAILEY (Meg Magrath) is making her debut performance in Crimes of the Heart with The Theatre Group at SBCC. Charlotte has performed in theatres all over California including Enceladus Theatre Company and Will Geer's Theatricum Botanicum of Los Angeles. Some of her favorite roles include Hedda in Hedda Gabler, Kate in The Taming of the Shrew, Amanda in The Glass Menagerie, Glory in Almost Maine and Rona Peretti in Spelling Bee.
LEESA BECK (Chick Boyle) is excited to return to the stage after taking a 5-year hiatus to finish her PhD in Education at UCSB, where she currently serves as University Registrar. Favorite past roles include Titania in A Midsummer Night's Dream and Stephanie in Time of my Life (The Theatre Group at SBCC), Maggie in Red Herring (Circle Bar B Theatre), Natasha in Three Sisters (Vanguard Theatre, LA), Portia in The Merchant of Venice (MET Theatre, LA), and Amanda in The Glass Menagerie (Gateway Theatre, NY).
George Coe (Barnette Lloyd) has appeared on stage with The Theatre Group at SBCC in Communicating Doors, Sherlock Holmes: The Hounds of Baskerville, Picasso at the Lapin Agile and Stirring the Pot. He performed at Center Stage in Morning's at Seven and Ghetto; at Circle Bar B in Noises Off, The Fox on the Fairway, Return Engagements and The Girl in the Freudian Slip. He appeared at the Plaza Theater in Pvt. Wars and the original DIJO production Connected. He starred in Peaches En Regalia at the Elite Theatre in Oxnard. And he also appeared with Drama Dogs theater group in Dance Me to End of Love and a collection of Shakespeare's works titled Tales of Woo & Woe.
SHAY MUNROE (Babe Botrelle) is thrilled to have the opportunity to play the role of Babe in her debut performance for The Theatre Group at SBCC in Crimes of the Heart. She has played a variety of roles, mainly on stage, with the most recent one in SBCC Theatre Arts Department's Student Showcase as Annie in Foreplay: or The Art of the Fugue by David Ives. Originally from Charlottesville, VA, she began acting when she was 11 years old as the lead in the feature film, Deer Baby, filmed in Virginia.
ELAINE PAZASKI (Lenny Magrath) is delighted to be a part of Crimes of the Heart. She works locally with the Lit Moon Theatre Company, UCSB, Westmont College, Elements Theatre Collective, and SBIPP as an actress, dramaturg, and educator. Elaine recently appeared with The Theatre Group at SBCC in One Man, Two Guvnors (Self). Other credits include The Nina Variations (Nina), The Insect Comedy (Mrs. Beetle), and The Pirates of Penzance (Isabel). She received her MA in Theatre Studies at UCSB and her BA in Theatre Arts at Westmont College, and has earned numerous national awards for her scholarship and theatre journalism.
Nicholis Sheley (Doc Porter) was last seen in SBCC Theatre Department's production of It's a Wonderful Life as Freddie Filmore. Nicholis grew up in Santa Maria where he graduated from the two year acting program at The Pacific Conservatory of the Performing Arts. He is best known for his roles as Donalbain in Macbeth and Edmund in The Lion, The Witch, and The Wardrobe. Nicholis would like to earn his Bachelor's at CSU Long Beach and his Master's at UCLA.
R. MICHAEL GROS (Director) is a member of the professional theatre directors union (SDC), currently serves as an associate professor, and is the former Co-Chair of Theatre Arts at Santa Barbara City College. He is a Fulbright finalist. He was a member of the graduate theatre faculty at Kansas State University and The University of Akron. Michael served as Artistic Director for six seasons with PCPA Theaterfest. He is Co-Artistic Director of PlayFest Santa Barbara. Michael received a residency Fellowship in non-profit arts leadership at Stanford University. He earned his MFA in directing from the University of California at Irvine, studying with Robert Cohen, Keith Fowler, Ian Bernard, William Needles (Stratford Shakespeare Festival), and Brewster Mason (Royal Shakespeare Company) among others. He earned his BA in theatre, Magna Cum Laude, at UCLA. Michael served on the Board of the United States Institute for Theatre Technology and is a past directing focus group representative for the Association of Theatre in Higher Education. Michael received an Indy Award for his direction of the Theatre Group production of Present Laughter. For Theatre Group at SBCC he also directed High Society, A Flea in Her Ear, Proof, Other Desert Cities, The Hound of the Baskervilles, The Music Man, Light Up the Sky, Ground, Bus Stop, The 25th Annual Putnam County Spelling Bee, and for SBCC Theatre Arts Department he directed A Midsummer Night's Dream, Almost, Maine, Tartuffe, Trojan Barbie and Ten Red Kings, a world premiere.
PATRICIA L. FRANK (Scenic/Lighting Designer) is the Co-Chair and Director of Design and Technology for the Theatre Department. She also serves as the resident scenic and lighting designer for The Theatre Group at SBCC. Pat returns as the Scenic/Lighting Designer for Crimes of the Heart after her success in the scenic and lighting design for Communicating Doors, One Man, Two Guvnors, and It's a Wonderful Life. Pat has an MFA in Visual Arts and an MA in Dramatic Arts. This May she will once again collaborate with Elaine Gale in her original solo piece One Good Egg at Center Stage.
Pamela Shaw (Costume Designer) is resident costume designer for The Theatre Group at SBCC, recently designing Communicating Doors, It's a Wonderful Life, One Man, Two Guvnors, Vanya and Sonia and Masha and Spike, Rabbit Hole, A Flea in Her Ear, High Society and In The Next Room or the vibrator play. Ms. Shaw was Costume Designer for The Forbidden Planet at Rubicon Theater, The (curious case of the) Watson Intelligence, and the premiere of San Patricios at PCPA, the off-Broadway show Lonesome Traveler, Assistant Costume Designer for TV sensation Vampire Diaries and The Artist, the 2011 Academy Award winner: Best Picture & Best Costume Design, designer Mark Bridges. Ms. Shaw served two terms as Vice President of the Costume Designers Guild, Local 892 and is 2017-2020 Chair for the Western Region Board of United Scenic Artists, Local 829.
Anthony Garcia (Sound Designer) has been a composer and sound designer for over 15 years. He holds a PhD in Music Composition from UCSB. His varied work in composition, musical arrangements, sound design, and audio production has given him the unique opportunity to collaborate with a wide range of artists and in many different mediums from electroacoustic chamber music, theater, competitive marching arts, and commercial music. He's had the privilege of having works performed in concert halls throughout the country, the Center for New Music in San Francisco, and, recently, at the Hear Now Music Festival in Los Angeles. He has had works premiered by the St. Lawrence String Quartet, Brightwork New Music, the Ignition Duo, Lucia Mense, JB Smith, Sam Pilafian, and by his contemporary chamber group, the Now Hear Ensemble. For over 10 years, Anthony had the pleasure of arranging and sound designing for many scholastic marching band and percussion ensembles. Anthony is the Production and Events Manager for the Department of Music at UCSB where he produces over 100 concerts during the academic year, most recently staging a performance of Mozart's The Marriage of Figaro. He is also Technical Director and Production Manager for The Now Hear Ensemble.
WESLEY GLENN (Production Stage Manager) is currently enrolled at SBCC and has worked with various production companies. He has been involved in the production of shows in many of Santa Barbara's theatres including the Arlington, Granada, New Vic, Lobero, Center Stage, Garvin, Jurkowitz, and San Marcos High School theater. His work with the The Theatre Group at SBCC includes stage managing for One Man, Two Guvnors, and Rabbit Hole, prop master for Other Desert Cities, costume crew for It's a Wonderful Life, and light board operator for the Theatre Arts Department's Fall 2016 Showcase of Comedies by David Ives. He also helped with set construction on all of these shows. This is the third show he has stage managed for The Theatre Group at SBCC and his final semester at SBCC.

Crimes of the Heart will be performed in the intimate Jurkowitz Theatre on SBCC's West Campus, 900 block of Cliff Drive. Performances are April 11-28, 2018, Wednesday through Saturday @ 7:30pm, Sunday April 15 & 22 @ 2pm, Saturday matinees April 21, & 28 @ 2pm. The Sunday, April 15, 2pm performance will be live-captioned for the hearing impaired. Ticket prices are: Previews April 11 & 12, $18 general/$15 seniors/$10 students, Wednesday & Thursday evenings, Saturday and Sunday matinees $24 general/$19 seniors/$14 students, Friday & Saturday evenings $26 general/$21 seniors/$17 students. Tickets can be purchased at the Garvin Theatre Box Office, 805-965-5935 or online at www.theatregroupsbcc.com. The Jurkowitz Theatre is wheelchair accessible and has assisted listening headsets. Parking is free and near the theatre. Due to the intimate nature of the theatre, no late seating is permitted.
Photo credit: Ben Crop


Elaine Pazaski, Shay Munroe, and Charlotte Bailey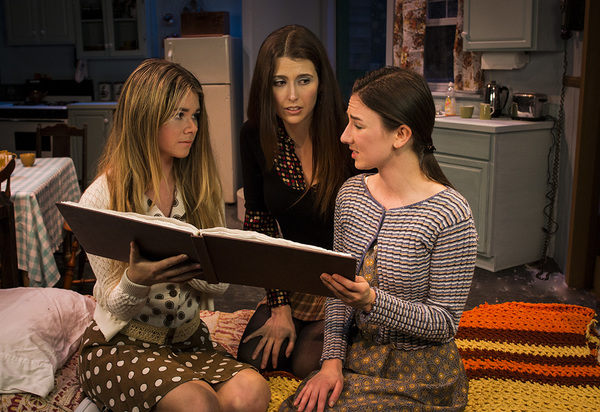 Shay Munroe, Charlotte Bailey and Elaine Pazaski

Shay Munroe, Charlotte Bailey and Elaine Pazaski

Shay Munroe, Charlotte Bailey and Elaine Pazaski

Shay Munroe, Elaine Pazaski and Charlotte Bailey
Related Articles View More Off-Broadway

Stories

Shows
More Hot Stories For You