Photo Flash: STORIES ON 5 STORIES: Dirty Laundry
Acclaimed theater company Playwrights Horizons (Tim Sanford, Artistic Director; Leslie Marcus, Managing Director) has announced the line-up of performers participating in the return of its popular benefit evening STORIES ON 5 STORIES: Dirty Laundry on Monday evening, October 17.
The twelve performers include Golden Globe nominee Parker Posey (Hurlyburly, Fifth of July, Waiting for Guffman, Best in Show), Campbell Scott (On the Bum at PH; Longtime Companion, The Atheist), Rodger Dodger, The Spanish Prisoner) two-time Tony Award winner, two-time Emmy Award winner and Academy Award nominee Judd Hirsch (I'm Not Rappaport, Conversations with the Father, "Taxi," Ordinary People), Tony Award nominee Kathryn Erbe (The Speed of Darkness, "Law & Order: Criminal Intent"), Josh Hamilton (Women and Wallace at PH; This Is Our Youth), Tony Award nominee Daniel Breaker (Fabulation, or the Re-Education of Undine at PH; Passing Strange), Obie Award winner Jeremy Shamos (Clybourne Park, 100 Saints You Should Know and Miss Witherspoon, all at PH; Engaged), Aubrey Dollar (Completeness at PH), John Procaccino (Broadway's Art, A Thousand Clowns, Conversations with My Father; the upcoming Blood and Gifts at LCT), Hayne Thigpen (Our House at PH), Nina Hellman (The Internationalist) and the previously-announced five-time Tony Award nominee and three-time Obie Award winner Dana Ivey (Driving Miss Daisy, Sunday in the Park with George, The Savannah Disputation, The Uneasy Chair and The Baby with the Bathwater, all at PH).
The event will feature new works by seven of the theater's alumni writers, including Tanya Barfield (Blue Door at PH), Bathsheba Doran (Kin at PH), Obie Award winner Daniel Goldfarb (The Retributionists at PH), Jonathan Marc Sherman (Sophistry at PH), Jeanine Tesori (Violet at PH) and Alfred Uhry (Driving Miss Daisy at PH). Richard Dresser (Gun-Shy at PH) was recently added to the list of writers for this year's event. STORIES ON 5 STORIES will take place at Playwrights Horizons' home at 416 West 42nd Street, and will benefit the company's annual programs and productions.
This year's theme for STORIES ON 5 STORIES is Dirty Laundry. Promotional materials state: "Come see NYC's finest writers and actors air their Dirty Laundry. Seven of Playwrights Horizons' favorite writers will hang it out on the line for everyone to see. Be one of only 200 guests to watch the drama unfold as we present new short plays in unique settings throughout our building. Maybe a quarrelling couple will iron things out in the costume shop. Or you'll see who has a laundry list of issues in the ladies room. One thing's for sure: It'll all come out in the wash. Join us for a special 'Spin Cycle' dinner with the artists before the show at the adjacent French bistro, Chez Josephine."
Only 50 tickets remain for this exclusive event.
The Event Board Chair is Rachel Wilder. Patron Chair is Carole Schwartz. Generation PH Chair is Evan Thayer. Generation PH is a group of young supporters aged 40 and under.
"STORIES ON 5 STORIES is one of our favorite events here at Playwrights Horizons," said Artistic Director Tim Sanford. "What started in 2004 as a special event to showcase our then-new home has blossomed into an annual celebration of original writing, unconventional staging and community. Patrons and artists alike have grown to love this event not just because it is such a high caliber 'unique theatrical experience,' but also because it so manifestly represents who we are as a company.
"Every year, the unusual journey through our back spaces and offices leads our guests to see some of our most cherished New York actors an arm's length away, as well as hear each writer's unique take on the same theme. By the end of the evening you have a true appreciation for the depth of imagination of these writers, the generosity and spiritedness of the actors, and the infectious love for theater that animates the whole event."
The schedule for STORIES ON 5 STORIES will be as follows:
6:00 PM - Pre-show dinner (optional) at Chez Josephine (414 West 42nd Street), attended by some of the evening's writers and performers as well as Board members and Playwrights Horizons senior staff.
8:00 PM - Event and performances begin.
9:00 PM - After-party with participating writers, directors and actors.
Tickets for STORIES ON 5 STORIES can be reserved by visiting the Playwrights Horizons website www.playwrightshorizons.org or by calling Michelle Kiefel at (212) 564-1235, extension 3143. Tickets are priced at $175 (a single ticket to the shows and exclusive after-party with writers and actors) and $325 (a single ticket for the pre-show, sit-down dinner, shows and after-party).
All net proceeds from Dirty Laundry will benefit developmental programs and productions at Playwrights Horizons.
For subscription and ticket information to all Playwrights Horizons productions, call Ticket Central at (212) 279-4200, Noon to 8 pm daily, or purchase online at the Playwrights Horizons website at www.playwrightshorizons.org.
THE EVENING'S WRITERS
Tanya Barfield's play Blue Door was produced at Playwrights Horizons and earned an Audelco nomination. Her work has also been produced by South Coast Rep, Arena Stage, The Royal Court, New York Theatre Workshop, Seattle Rep, Hartford Stage, Center Theatre Group, The Guthrie Lab and New York Stage & Film. Her plays include Of Equal Measure, The Antigone Project, Dent, The Quick, 121° West, Pecan Tan and The Houdini Act, as well as the book for a children's musical, Kofi's Civil War. Prior to becoming a playwright, she was a solo performer, appearing in her one-woman show Without Skin, or Breathlessness. She is a graduate of Juilliard's Playwriting Program and a recipient of the Helen Merrill Emerging Playwrights Award.
Bathsheba Doran's made her Playwrights Horizons debut last season with Kin. Her other plays include Parents' Evening (Flea Theater); Living Room in Africa (Off-Broadway for Edge Theater); Nest (Signature Theater, D.C.); Until Morning (BBC Radio 4); adaptations of The Blind, Peer Gynt and Dickens' Great Expectations; and her play for young audiences, Ben and The Magic Paintbrush (South Coast Rep). She is a recipient of the Helen Merrill Playwriting Award, three Lecomte du Nouy Lincoln Center playwriting awards, a Cherry Lane Mentor Project Fellow and is a Susan Smith Blackburn Award finalist. She studied at Cambridge and Oxford universities before working as a television comedy writer with the BBC. She moved to the U.S. on a Fulbright Scholarship in 2000, and received her M.F.A. from Columbia University, going on to become a playwriting fellow of The Juilliard School. Her work is available from Samuel French and Playscripts, Inc. She is a writer for HBO's "Boardwalk Empire."
Richard Dresser was last represented at Playwrights Horizons with his play Gun-Shy. His seventeen plays include Rounding Third, which started in Chicago and appeared Off-Broadway and Below the Belt and Gun-Shy, both of which started at the Humana Festival at Actors Theatre of Louisville before moving Off-Broadway. His other works include Something in the Air, The Downside, Alone at the Beach, Wonderful World and Better Days, The Last Days of Mickey & Dean, the book for the musical, Johnny Baseball (seven nominations from the Independent Reviewers of New England), the trilogy of plays about happiness in America including Augusta (working class), The Pursuit of Happiness (middle class) and A View of the Harbor (upper class) and his latest play The Hand of God about reality television. He also created and writes the TV/web series "Life Coach" starring Cheri Oteri for AMC.
Daniel Goldfarb's plays and musicals include The Retributionists (Playwrights Horizons), Martin Short: Fame Becomes ME (Broadway), Piece of My Heart (NYSF and Vassar), Cradle and All and Sarah, Sarah (both at MTC), Radio Girl (Goodspeed Opera House), Modern Orthodox and Adam Baum and the Jew Movie (Blue Light Theater, 2000 NY Newsday Oppenheimer Award).
Jonathan Marc Sherman has performed in two productions of his play Sophistry, produced by Playwrights Horizons, and has been featured in Playwrights Horizons' Young Playwrights Festival (1987 and 1988). His plays include Knickerbocker (The Public), Things We Want (New Group), Veins & Thumbtacks, Evolution, Fathers, Jesus on the Oil Tank, Serendipity & Serenity, Wonderful Time (WPA Theatre) and Women & Wallace. He also performed in Unexpected Tenderness (WPA Theatre). He has participated in The 24 Hour Musicals and is featured in One Night Stand, which documents the April 2009 "24 Hour Musicals" event.
Jeanine Tesori's first musical, Violet, was produced by Playwrights Horizons and received the NY Drama Critics Circle and Lucille Lortel awards. She has written four Tony-nominated scores for Broadway: Shrek the Musical, Twelfth Night, Thoroughly Modern Millie and Caroline, or Change. Additional Broadway credits include A Free Man of Color, Swing, The Sound of Music, Dream and How To Succeed.... She has received Drama Desk and Obie Awards, and was cited by ASCAP as the first woman composer to have "two new musicals running concurrently on Broadway." She composed the music for NYSF's Mother Courage. She has written film scores for Nights in Rodanthe, Winds of Change, Show Business and Wrestling with Angels and composed songs for the movie Shrek the Third and the Disney DVD releases Mulan II, Lilo and Stitch II and The Little Mermaid III. She has produced more than 60 CDs including original cast albums for Twelfth Night, Violet and Caroline, or Change.
Alfred Uhry is distinguished as the only American playwright to have won a Pulitzer Prize, an Academy Award and two Tony Awards. He began his professional career as a lyric writer under contract to the late Frank Loesser and made his Broadway debut in 1968 as the lyricist for Here's Where I Belong. His first major success was Broadway's The Robber Bridegroom, for which he wrote the book and lyrics, followed by five recreated musicals at the Goodspeed Opera House. His first play, Driving Miss Daisy, opened Off-Broadway in 1987 at Playwrights Horizons and won the Pulitzer Prize in 1988. The film version, starring Morgan Freeman and Jessica Tandy, won Academy Awards for Best Picture and Best Adapted Screenplay in 1990. His other works include LoveMusik (Drama Desk nomination), Parade (Tony and Drama Desk awards), The Last Night of Ballyhoo (Tony Award), Little Johnny Jones, Without Walls and Edgardo Mine (The Guthrie Theater).
THE EVENING'S PERFORMERS
Daniel Breaker previously performed at Playwrights Horizons in Fabulation, or the Re-Education of Undine. He received a Tony nomination for his performance in Passing Strange. Other Broadway credits include Shrek The Musical, Well and Cymbeline. Breaker appeared Off-Broadway in By the Way, Meet Vera Stark. Among his regional theatre credits, he has appeared numerous times with the Shakespeare Theatre Company of Washington, D.C., earning Helen Hayes Award nominations for The Comedy of Errors and The Tempest.
Aubrey Dollar Playwrights Horizons: Juvenilia. Other New York: Bottom of the World (Atlantic Theatre Company), Orange Yellow Egg Canary (PS 122). Regional: The Mistakes Madeline Made (Yale Rep). Film: See Girl Run, Hard Luck, Prime. Television: "Women's Murder Club," "The Good Wife," "Ugly Betty," "Cupid," "Point Pleasant," "Dawson's Creek."
Kathryn Erbe is well-known to TV audiences as Detective Alexandra Eames on NBC's long-running drama "Law & Order: Criminal Intent." She began her career on the stage, and as a member of the Steppenwolf Theater Company, she appeared in many productions, including Tennessee Williams' A Streetcar Named Desire as Stella, Curse of the Starving Class and My Thing of Love. She earned a Tony Award nomination in 1991 for her performance in The Speed of Darkness. Film credits include Speaking of Sex, Stir of Echoes, Dream with the Fishes, Entropy, Kiss of Death, Mighty Ducks 2, Rich in Love and What About Bob?. Her additional television credits include playing the infamous death row inmate Shirley Bellenger on the HBO series "Oz," NBC's "Homicide: Life on the Street" and the miniseries "George Wallace."
Nina Hellman Off-Broadway theater credits include The Internationalist (Lortel nomination), Trouble in Paradise, Boozy, Superpowers, Once in a Lifetime and Sex. Other New York Theater credits include Heddatron (Les Freres Courbusier), Wildlife (SPF05), The Ladies (Civillians/Dixon Place), Demon Baby (Clubbed Thumb), The Eight (Adobe) and Red Frogs (Hourglass). Regional work includes Caucasian Chalk Circle (South Coast Rep) and Be Aggressive (Geva). Her screen credits include Wet Hot American Summer, "The Venture Brothers," "Love Monkey," "Stella" and "Law & Order: CI." Nina is a member of the Civillians, an affiliated artist of Clubbed Thumb, and Les Freres Courbusier, and a founding member of Hourglass Group.
Josh Hamilton previously appeared at Playwrights Horizons as part of the 1988 Young Playwrights Festival, featured in Jonathan Marc Sherman's Woman and Wallace. Broadway credits include Proof, Brighton Beach Memoirs, The Coast of Utopia and Fat Pig. Other New York theatre credits include A Lie of the Mind, The Bridge Project directed by Sam Mendes, Things We Want, Hurlyburly (Lortel nomination), This is Our Youth, The Waverly Gallery, The Cider House Rules, As Bees in Honey Drown, Gone Home, Evolution, Music From a Sparkling Planet, Wonderful Time, The Violet Hour and Suburbia. Hamilton's films include Away We Go, Outsourced, Diggers, Broken English, The Last New Yorker, The F Word, Alive, Kicking and Screaming, With Honors, The House of Yes, Freak Talks, About Sex, The Wait and Online.
Judd Hirsch earned Tony Awards for his performances in Conversations with My Father and I'm Not Rappaport. His extensive stage credits include the Broadway productions of Sixteen Wounded, Art, A Thousand Clowns, Talley's Folly, Chapter Two, Knock Knock and Barefoot in the Park. His off-Broadway credits include Below the Belt, I'm Not Rappaport, The Seagull, Talley's Folly, Knock Knock, The Hot l Baltimore, Mystery Play, Scuba Duba and The Necessity of Being Polygamous. He is well known for his many screen performances, including those in Ordinary People (Academy Award nomination), 'Taxi" (2 Emmy Awards) and "Dear John."
Dana Ivey appeared in the Playwrights Horizons productions of Sunday in the Park with George (also Broadway -Tony nomination), Driving Miss Daisy (Obie and Outer Critics Circle awards), Baby with the Bathwater, The Uneasy Chair and The Savannah Disputation. Other Broadway: The Importance of Being Earnest, Butley (Tony nomination), The Rivals (Tony nomination), Henry IV, A Day in the Death of Joe Egg, Major Barbara, Sex and Longing, Waiting in the Wings, The Last Night of Ballyhoo (Drama Desk Award, Tony nomination), Indiscretions, Pack of Lies, Marriage of Figaro, Heartbreak House (Tony nomination), Present Laughter (Derwent Award). Other Off-Broadway: Mrs. Warren's Profession (Obie Award), Hamlet, Quartermaine's Terms (Obie).
Parker Posey last starred Off-Broadway in the revival of Hurlyburly (Lortel Award, Outstanding Featured Actress) and in Lanford Wilson's Fifth of July (Lortel nomination , Lead Actress). She also starred in the L.A. premiere of John Patrick Shanley's Four Dogs and a Bone and starred on Broadway opposite Matthew Broderick in Elaine May's Taller Than A Dwarf. She has appeared in over 50 films including four films with Christopher Guest (Waiting for Guffman, Best in Show, A Mighty Wind and For Your Consideration), Broken English (Independent Spirit Award nomination), Personal Velocity (Independent Spirit Award nomination), Superman Returns, Scream 3,You've Got Mail, Suburbia, Dazed and Confused, Clockwatchers, The Daytrippers, The Event, four films with Hal Hartley (Amateur, Flirt, Henry Fool and Fay Grim), The House of Yes (Special Jury Prize, Sundance Film Festival) and the CBS film "Hell on Heels: The Battle of Mary Kay" (Golden Globe nomination).
John Procaccino. Broadway credits include Art, A Thousand Clowns and Conversations with My Father. Off-Broadway: Coming of Age in Soho, the upcoming Blood and Gifts at Lincoln Center. Film credits include The Assassins, Joyful Partaking, The Runner Stumbles, Miles' Grand Exit, Born to be Wild, Farewell Harry, Magic in the Water and Three Fugitives. He's appeared in a number of TV series and TV movies including "She'll Take Romance," Northern Exposure," "Face of a Stranger," "Rose Red," "Law & Order," and "NYPD Blue."
Campbell Scott appeared at Playwrights Horizons in On the Bum. Broadway: Long Day's Journey into Night; Ah, Wilderness!; Hay Fever; The Real Thing; The Queen and the Rebels. Other Off-Broadway: The Atheist (Drama Desk nomination), Paradise for the Worried, The Last Outpost, Copperhead, A Man for All Seasons. He played the title role in Hamlet at The Old Globe in San Diego and at The Huntington Theatre Company in Boston, as well as in his own directed film version. Other Shakespearean roles include Angelo in Measure for Measure (Lincoln Center), the title role in Pericles (The Public Theater/NYSF) and Iago in Othello (Philadelphia Drama Guild). Other film: From Hollywood to Deadwood, Longtime Companion, Dead Again, Dying, Singles, Rodger Dodger, The Spanish Prisoner. Recent TV: "Royal Pains," "Damages." For the stage, he has directed Miss Julie, Snake Pitt and Recruiting Officer.
Jeremy Shamos has appeared at Playwrights Horizons in Clybourne Park (Drama League, Lucille Lortel Award nominations), 100 Saints You Should Know and Miss Witherspoon. Broadway credits include Elling, Reckless and The Rivals. Additional Off-Broadway credits include Animals Out of Paper (Drama Desk nomination), Engaged (Obie Award), Gutenberg! The Musical!, Observe the Sons of Ulster..., Shakespeare (Abridged), Race, The Alchemist, Stranger, Hamlet, Cymbeline, Paris Commune and Corpus Christi. Film work includes Taking Woodstock, Dedication, The Rebound and Trust the Man. On television he has been seen on "Fringe," "L&O: CI," "Damages," "Stella" and "Hack."
PLAYWRIGHTS HORIZONS
Playwrights Horizons is a writer's theater dedicated to the support and development of contemporary American playwrights, composers and lyricists and to the production of their new work. Under the leadership of artistic director Tim Sanford and managing director Leslie Marcus, the theater company continues to encourage the new work of veteran writers while nurturing an emerging generation of theater artists. In its 41 years, Playwrights Horizons has presented the work of more than 375 writers and has received numerous awards and honors, including a special 2008 Drama Desk Award for "ongoing support to generations of theater artists and undiminished commitment to producing new work." Notable productions include five Pulitzer Prize winners: Bruce Norris's Clybourne Park (2011 winner), Doug Wright's I Am My Own Wife (2004 Tony Award, Best Play), Wendy Wasserstein's The Heidi Chronicles (1989 Tony Award, Best Play), Alfred Uhry's Driving Miss Daisy and Stephen Sondheim and James Lapine's Sunday in the Park with George - as well as Annie Baker's Circle Mirror Transformation (three 2010 Obie Awards including Best New American Play), Bathsheba Doran's Kin, Adam Bock's A Small Fire, Edward Albee's Me, Myself & I, Melissa James Gibson's This (2010 Susan Smith Blackburn Prize finalist), Doug Wright, Scott Frankel and Michael Korie's Grey Gardens (three 2007 Tony Awards), Craig Lucas's Prayer For My Enemy and Small Tragedy (2004 Obie Award, Best American Play), Adam Rapp's Kindness, Sarah Ruhl's Dead Man's Cell Phone, Lynn Nottage's Fabulation (2005 Obie Award for Playwriting), Kenneth Lonergan's Lobby Hero, David Greenspan's She Stoops to Comedy (2003 Obie Award), Kirsten Childs's The Bubbly Black Girl Sheds Her Chameleon Skin (2000 Obie Award), Richard Nelson and Shaun Davey's James Joyce's The Dead, Stephen Sondheim and John Weidman's Assassins, William Finn's March of the Falsettos and Falsettoland, Christopher Durang's Betty's Summer Vacation and Sister Mary Ignatius Explains It All For You, Richard Nelson's Goodnight Children Everywhere, Lynn Ahrens and Stephen Flaherty's Once on This Island, Jon Robin Baitz's The Substance of Fire, Scott McPherson's Marvin's Room, A.R. Gurney's Later Life, Adam Guettel and Tina Landau's Floyd Collins and Jeanine Tesori and Brian Crawley's Violet.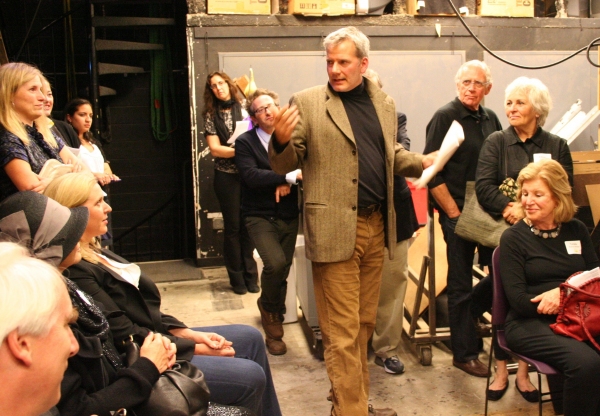 Campbell Scott, Adam Greenfield, Cassie Beck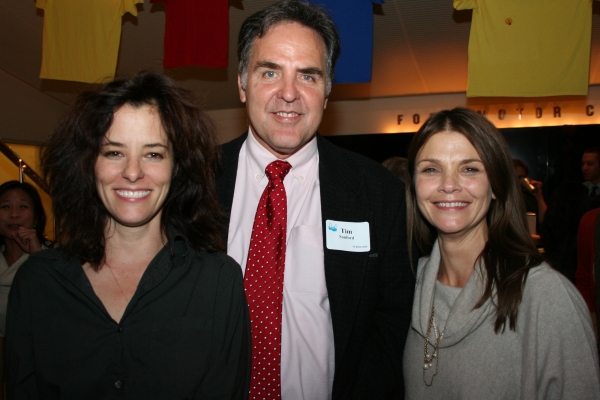 Tim Sanford with Parker Posey and Kathryn Erbe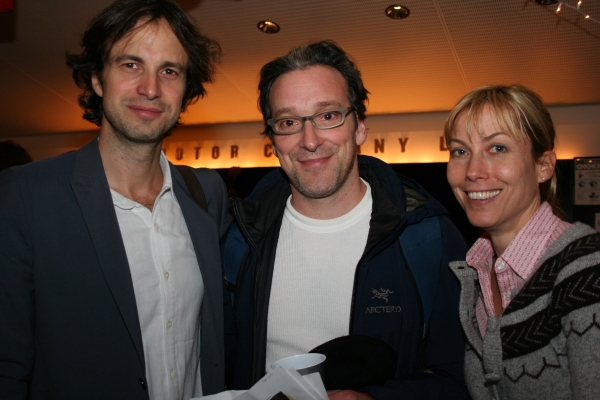 Playwright Daniel Goldfarb, Jeremy Shamos and Nina Hellman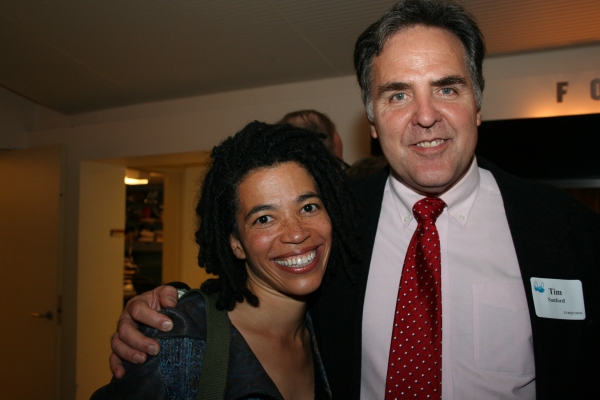 Playwrights Horizons Artistic Director Tim Sanford with playwright Tanya Barfield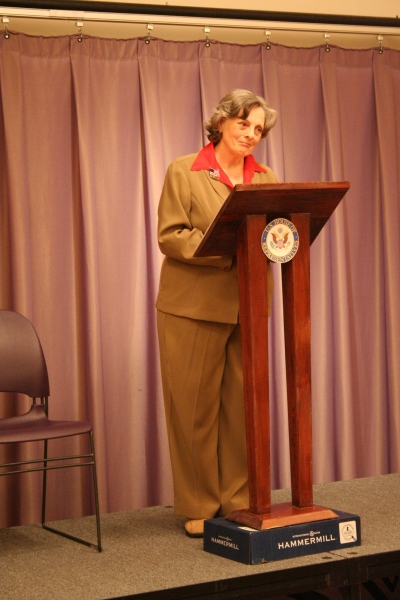 Dana Ivey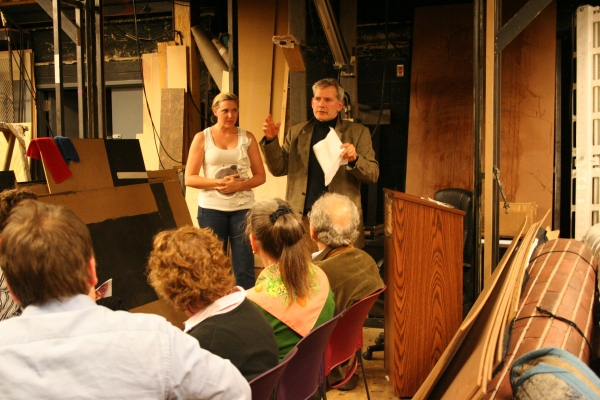 Beck and Campbell Scott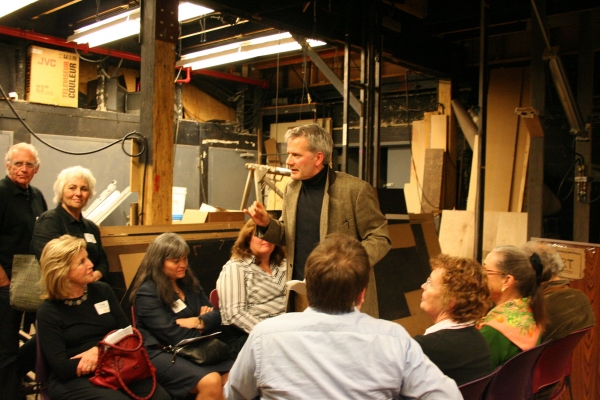 Campbell Scott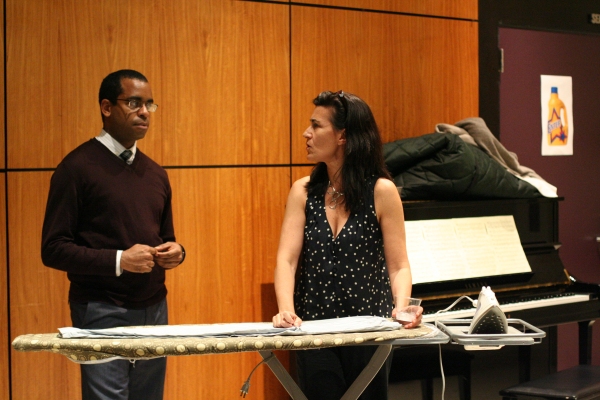 Daniel Breaker and Jeanine Tesori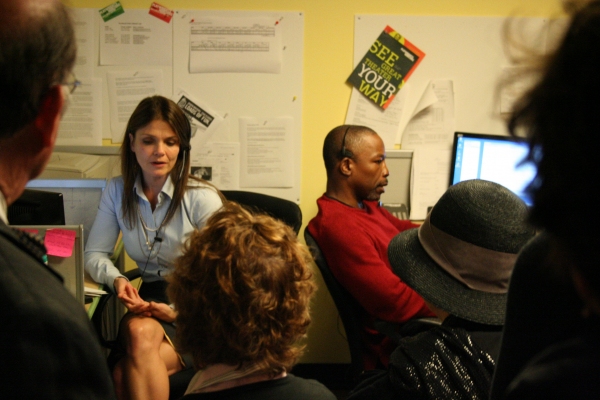 Kathryn Erbe and Leland Gantt