Photo Flash: LCT3 Kicks Off Spotlight Series with SHABASH!
Center Theater/LCT3, kicks off its new LCT3 Spotlight Series with SHABASH!. Led by LCT3 Associate Director, Natasha Sinha, and presented in collaboration with Hypokrit Theatre Company's Tamasha, SHABASH! is a summer spectacle of new music and comedy celebrating a range of exciting new work by artists of South Asian descent, hosted by Danny Pudi ("Community") and Parvesh Cheena ("Outsourced"). SHABASH! will play three performances only on August 2nd, 3rd, and 4th at the Claire Tow Theater (150 West 65 Street).
SHABASH! will begin at 7pm with an exclusive rooftop happy hour at the Claire Tow Theater with DJ RuBot, followed at 8pm with a night of music and comedy, directed by Zi Alikhan with music direction by Annastasia Victory. This inaugural LCT3 Spotlight Series event will feature Nick Choksi (Natasha, Pierre, and the Great Comet of 1812), Angel Desai (An Ordinary Muslim, Company), Meetu Chilana (Monsoon Wedding), Deepali Gupta (Pay No Attention to the Girl), Alingon Mitra ("The Daily Show with Trevor Noah," "Adam Ruins Everything"), Kamala Sankaram (Thumbprint), Jahn Sood (The Disappearing Man), Kuhoo Verma (Monsoon Wedding), and songs from Monsoon Wedding (by Vishal Bhardwaj, Masi Asare, and Susan Birkenhead) and the band Bombay Rickey. Special guest for the August 2nd performance: Zahra Ali.
LCT3 which is dedicated to producing the work of new artists and engaging new audiences, is expanding that effort with its new LCT3 Spotlight Series, which will provide additional opportunities for a wider variety of artists to bring their work to the stage of the Claire Tow Theater. André Bishop is Producing Artistic Director of Lincoln Center Theater. Evan Cabnet is Artistic Director of LCT3.
Hypokrit Theatre Company's Tamasha was founded in 2016, and is the only festival dedicated to South Asian artists in North America. Springing from the South Asian International Performing Arts Festival in 2015 (co-chaired by Arpita Mukherjee and Shubhra Prakash) Tamasha began as an annual celebration of the diverse perspectives, ideas, and imaginations of artists from the South Asian subcontinent and diaspora. Entirely funded by the South Asian community, Tamasha seeks to provide opportunities for up-and-coming artists of South Asian origin to connect and collaborate. Over the course of two years, the festival has featured over 200 artists across the disciplines of theatre, dance, music, spoken word, and comedy.
Tickets to SHABASH!, priced at $30, are available at the Lincoln Center Theater box office, at telecharge.com or by visiting www.lct3.org.
Photo Credit: Chasi Annexy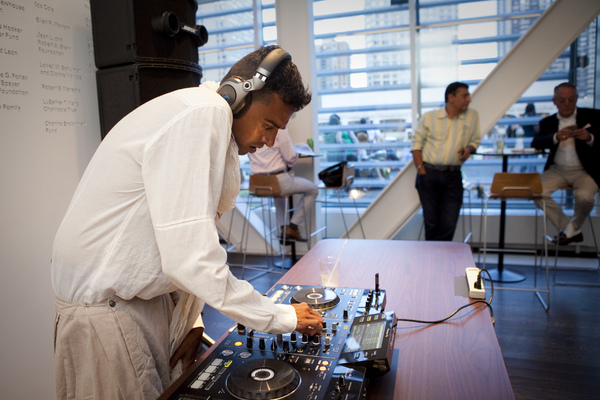 DJ RuBot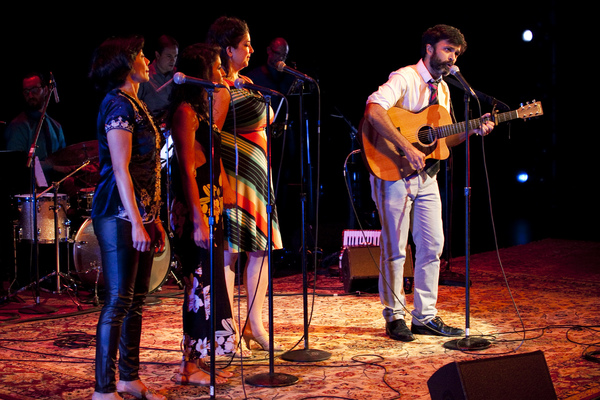 Nick Choksi with Angel Desai, Meetu Chilana, and Kamala Sankaram

Alingon Mitra

Kamala Sankaram, Meetu Chilana, Kuhoo Verma and Angel Desai

Kuhoo Verma with Meetu Chilana, Kamala Sankaram, and Angel Desai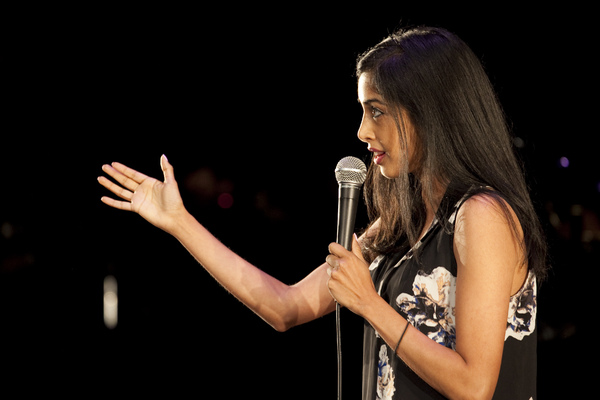 Zahra Ali

Bombay Rickey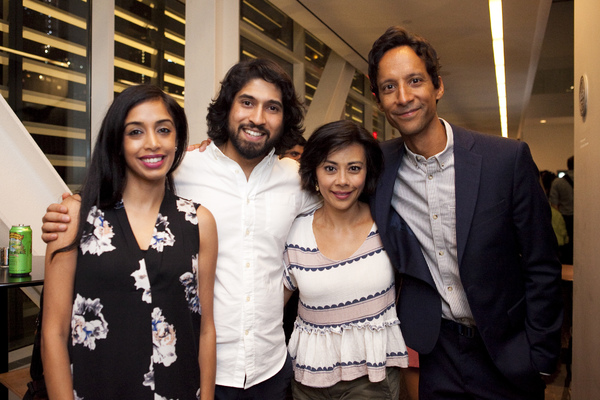 Zahra Ali, Alingon Mitra, Angel Desai, Danny Pudi

Danny Pudi, Parvesh Cheena, Natasha Sinha

Kamala Sankaram, Deepali Gupta, Jeff Hudgins, Drew Fleming