Photo Flash: In Rehearsal with York Theatre's SILK STOCKINGS
The York Theatre Company concludes the Winter 2013 Musicals in Mufti Series with the 1955 musical gem, Silk Stockings that has book by George S. Kaufman, Leueen MacGrath and Abe Burrows and music & lyrics by Cole Porter. Directed by Stuart Ross, and with music direction by David Snyder, the production will feature Erin Davie, Ben Davis, Erick Devine, Erica Dorfler, David Garrison, Leah Hocking, Andrew Kluger, Mark Price, Kilty Reidy, Danny Rutigliano, Alet Taylor, and Stephen Wallem. Check out photos of the cast in rehearsal below!
The limited engagement will play 5 performances only, March 22 - 24, 2013 at The York Theatre Company at Saint Peter's (Entrance on East 54th Street, just east of Lexington Avenue).
Silk Stockings, based on Ernst Lubitch's brilliant romantic comedy, Ninotchka, uses the plot and characters of the film to launch a hot romance during the height of the cold war. The plot of Silk Stockings provides a humorous look at the stereotypical Soviet psyche, and Ninotchka's attempt to resist The Temptations of Paris while valiantly carrying out her political mission, developed with logic and wit in this 1955 musical gem. This new adaptation of the original show was brought to life by Stuart Ross (Forever Plaid, York's Enter Laughing), and the outstanding Cole Porter score, which includes the ballads "What Is This Thing Called Love", "All of You", "Paris Loves Lovers" and "As on Through The Seasons We Sail."
The York Theatre Company's acclaimed Musicals in Mufti series of musical theatre gems, in a simply- staged, book-in-hand concert format, has presented over 90 shows from the past in its eighteen-year history. Mufti means: "in street clothes, without the trappings associated with the original full productions." For additional information on Musicals in Mufti, visit www.yorktheatre.org.
The York Theatre Company is the only theater in New York City-and one of very few in the world- dedicated to developing and fully producing new musicals and preserving neglected, notable shows from the past. For over four decades, York's intimate, imaginative style of producing both original and neglected classic musicals has resulted in critical acclaim and recognition from artists and audiences alike. Under the guidance of Producing Artistic Director James Morgan since 1997, the York has focused exclusively on new musicals in its Mainstage Series-most of them world, American, or New York premieres-by some of the field's most esteemed creators, and has also helped launch the careers of many talented new writers. Over 35 cast recordings from The York Theatre Company productions are now available on CD, and commercial transfers of such York premieres as The Musical of Musicals (The Musical!), Souvenir, Jolson & Company, and its acclaimed revivals of Closer Than Ever, Sweeney Todd and Pacific Overtures have all showcased the importance of the York and its programs.
The performance schedule for Silk Stockings will be: Friday at 8:00 p.m., Saturday at 2:30 p.m.* and 8:00 p.m., and Sunday at 2:30 p.m.* & 7:30 p.m. (*Audience discussions follow all matinee performances). Tickets are priced at $39.50 and are available online at
www.yorktheatre.org
, by calling (212) 935-5820, or in person at the box office at the
York Theatre Company
at Saint Peter's (Entrance on East 54th Street, just east of Lexington Avenue), Monday through Friday (12-6 PM).
Photo Credit: Ben Strothmann



Erin Davie as Ninotchka and Ben Davis as Steve

Erin Davie as Ninotchka, Kilty Reidy, Ben Davis as Steve and Erica Dorfler

Andrew Kluger, Erin Davie, Erick Devine, Ben Davis and Erica Dorfler

Erin Davie as Ninotchka and Ben Davis as Steve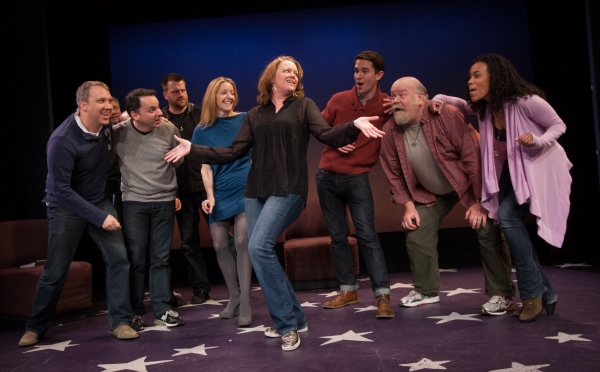 Kilty Reidy, Mark Price, Stephen Wallem, Alet Taylor, Leah Hocking, Andrew Kluger, Erick Devine and Erica Dorfler

Kilty Reidy, Danny Rutigliano, David Garrison, Stephen Wallem, Mark Price, Alet Taylor, Leah Hocking, Andrew Kluger, Erick Devine and Erica Dorfler

The Cast: (standing) Alet Taylor, Kilty Reidy, David Garrison, Danny Rutigliano, Stephen Wallem, Erick Devine, Erica Dorfler, Andrew Kluger; (seated) Erin Davie, Ben Davis, Leah Hocking, Mark Price