Photo Flash: INTAR's AMERICAN JORNALERO Premieres Off-Broadway Tomorrow, 4/3
INTAR (Lou Moreno, Artistic Director/John McCormack, Executive Director) will present American Jornalero, a new play written by Ed Cardona, Jr., directed by Mariana Carreño-King, beginning performances Off-Broadway tomorrow, May 3rd, and continuing through June 3rd only, at INTAR (500 West 52nd Street at Tenth Avenue, on the 4th Floor). Opening Night is set for Monday May 7th at 8pm. The play runs 80 minutes with no intermission.
See photos from the production below!
In 2007, on a street corner in Queens, a group of immigrant day laborers waiting to be picked up for work collide with two citizen vigilantes fashioning themselves on the Minuteman Project. A truly American story of Culture Clash, assimilation, and mending fences. The cast includes Quinlan Corbett, David Crommett, Bernardo Cubría, Jose Joaquin Perez, Bobby Plasencia and Joel Ripka.
Ed Cardona, Jr.'s American Jornalero was a finalist in The Metlife Nuestras Voces National Playwriting Competition, 2011. Some of Ed's other recent work includes Vegi-Super-Juice, Joria Productions, NYC; La Ruta, a full-length play commissioned by the Working Theater and currently in development; Jackson Heights, 3am, a collaborative ensemble piece, Theater 167, Queens, NYC; Who the Fuck is Nathan Hale?, Question-NY Madness, INTAR Theater; Mongo, a one-act play commissioned by Local 3, I.B.E.W. Diversity Conference, NYC; Super Moon, FOCUS Festival of the Arts, St. Andrew's College, Toronto, Canada; Black Sheep, Urban Arts Partnership/The New Group, Life Stories; Gluttony, 7 Days of Plays Theater Festival, Seven Collective, TheaterLab, NYC. His published work includes Pablo's Christmas adapted from the children's book by Hugo C. Martin (commissioned and published by Dramatic Publishing, 2009); Apricot Sunday, in 2008: The Best 10-Minute Plays for 2 Actors (Contemporary Playwright Series, 2009) and American Jornalero (NoPassport Press, 2012). Ed has been an artistic associate with the Working Theater and a resident playwright with the Hispanic Playwrights-in-Residence Lab at INTAR, The Professional Playwrights Unit at the Puerto Rican Traveling Theatre, The Hall Farm Center for the Arts & Education in Townsend, VT, and is a founding member of NY Madness. Ed received his MFA in playwriting from Columbia University where he received the John Golden Award for his thesis play, Pick Up Pots!
Mariana Carreno-King (director) has been proudly associated with INTAR on many projects, as a playwright, actress and director. Directing credits include Mala Hierba, by Tanya Saracho, as part of One Night in the Valley, an evening of four plays by South Texan writers and Dinner with Jobita and la Chacha, by Henry Guzmán, both at INTAR; a bilingual production of Eduardo Machado's The Cook for Stages Repertory Theatre in Houston, TX; Space Oddity at Aaron Davis Hall and Pilgrim at the Puerto Rico Traveling Theatre, both written by Henry Guzmán, as well as gigs with the Lark Play Development Center, The A Train Plays at The Neighborhood Theatre, The 24 Hour Plays at INTAR and The Atlantic, The 52nd Street Project, and many workshop productions and stage readings. She is a member of Labyrinth, and alumna of the Hispanic Playwrights in Residency Lab at INTAR and Mabou Mines Artistic Residency Programs.
Quinlan Corbett's recent theatre credits include: Larry Kunofsky's Your Boyfriend May Be Imaginary (Theatre Under St Marks), The Civilian's Let me Ascertain You: Occupy Wall St Cabaret at Joe's Pub, the world premiere of Mac Wellman's 3 2's Or Afar (Dixon Place). Regional: A site specific play by Jason Grote at MASSMoCA, The Little Dog Laughed and The Play's The Thing both at Intiman Theater, Othello and Twelfth Night at the Lake Tahoe Shakespeare Festival. Film: Kill Your Darlings (opposite Dane DeHaan and Jack Huston), Frayed.
David Crommett was born in New York City of American parents and spent most of his childhood in Puerto Rico. B.A. Haverford College, Watson Traveling Fellow and Baker Fellow for study in Europe and Latin America. Recent theatre: Passport (2011 ACE best actor nomination), La Vida Es Sueño; Feast of the Goat, and projects for Purple Rep and the NYC Fringe Festival. Recent film: The Good Shepherd, Reservation Road, Robots. Member of the Playwrights Gallery and Repertorio Español; co-founder Teatro Pregones; Friend of Flux Theatre. Has also worked extensively as a musician, director, and voice-over artist. Pioneered live Spanish tracks for US TV: The Oscars, the Super Bowl, World News Tonight, Dancing with the Stars, etc.
Bernardo Cubría's credits include Hamlet in Hamlet (New Perspectives Theatre), Manuelo in Boleros for the Disenchanted (Richmond, VA), Marido in Sangre (Central Park SummerStage), Parker in Prison Light (HERE Arts Center) and Dante in One Night in the Valley (INTAR). He is a proud member of Inviolet Repertory Theatre Company. www.bernardocubria.com
Jose Joaquin Perez's Off-Broadway credits include Fit by Neil Koenigsberg at 59E59 Theaters as part of the Summer Shorts 4 Festival, Minotaur: A Romance at LABryinth Theater Company/The Public, and Drawn and Quartered at INTAR. Regional Theater: Take Me Out at The Repertory Theatre of St. Louis and Hartford Stage, Sherlock Holmes: The Final Adventure at The Repertory Theatre of St. Louis, Oedipus El Rey (2011 Helen Hayes Award Nomination) and The Elaborate Entrance of Chad Deity at Woolly Mammoth Theater Company. Film: We Need to Talk About Kevin (2011 Official Selection Cannes International Film Festival), Cowboys and Aliens (dir. Jon Favreau), Adam Shaw, Turtle Hill: Brooklyn (Official Selection 2011 NY NewFest), Cruzando (Official Selection 2009 HBO Presents: NY International Latino Film Festival).
Bobby Plasencia's credits include Caliban in the Tempest and Feste in Twelfth Night both directed by Melissa Chalsma for the ISC;, Water & Power (understudy) at the Mark Taper Forum directed by Lisa Peterson; Vesuvius at South Coast Rep directed by David Emmes; Blood Wedding at La Jolla directed by MarK Wing-Davey; Conjunto at Playwrights' Arena directed by Jon Lawrence Rivera. He is the recipient of the San Diego Theater Critics Circle's 2008 Craig Noel Award for best featured actor for Water & Power at San Diego Rep directed by Sam Woodhouse. He was most recently seen in the world premiere productions of On Campus and Brave Ducks (NY Fringe Festival). Also Julius Caesar with The Drilling Company. His TV and film credits include "Fidel" (Showtime mini-series) and Maria Full of Grace.
Joel Ripka is making his INTAR debut. NYC: Machinal (Columbia Stages). Regional: Wittenberg, The Nibroc Trilogy (The Chester Theater, MA); Last Train to Nibroc (Peterborough Players, NH); Othello, Beautiful Dreamer, Jane Eyre, Crime and Punishment, Pride and Prejudice, The School for Scandal, Henry (Pittsburgh Irish and Classical Theater); The Clockmaker, Mezzulah, 1946 (The City Theater); Harry's Friendly Service, Amadeus (The Pittsburgh Public Theater); Cymbaline, Le Grande Meaulnes, The Wild Duck (Quantum Theatre); Ah, Wilderness!, The Real Thing, FBI Girl, A View From The Bridge, Hamlet, One Flea Spare, King Lear (The Pittsburgh Repertory Company); Beirut (Unseam'd Shakespeare Company). Film: It Came From Yesterday (Independent-Jeff Watrowski), Since October Music Video (Endeavor Media).
INTAR, one of the United States' longest running Latino theatres producing in English, works to nurture the professional development of Latino theater artists, produce bold, innovative, artistically significant plays that reflect diverse perspectives and make accessible the diversity inherent in America's cultural heritage. Through an integrated program of workshops, productions of works in progress, and mainstage productions, INTAR continues to raise standards of the theater arts. INTAR brings to the public vital and energetic voices of both promising and accomplished Latino theater professionals, replacing stereotypes while giving expression to the diversity and depth of today's Latino-American community.
American Jornalero will have scenic design by Raul Abrego, projection design by Erik Pearson, lighting design by Jorge Arroyo, sound design by Julian Mesri, and sound engineering by Cristian Amigo. The play was developed in part with the Hispanic Playwrights-in-Residence Lab at INTAR Theater under the auspices of Rogelio Martinez and was given a 1st Staged Production by the Working Theater.
Performances will be Wednesday through Saturday evenings at 8PM, Sundays at 5 PM. Note: No performance on Sunday, May 13th, and Opening Night is Monday, May 7th (8pm).
Tickets are $35 and may be purchased at www.intartheatre.org or by calling 212/352-3101. Performances will take place at INTAR's theater space (500 West 52nd Street, at Tenth Avenue, on the 4th Floor).
For more information, visit INTAR on the web at www.intartheatre.org, and check out photos from AMERICAN JORNALERO below!
Photo credit: Carol Rosegg


Bernardo Cubria and Jose Joaquin Perez

QUINLAN CORBETT and JOEL RIPKA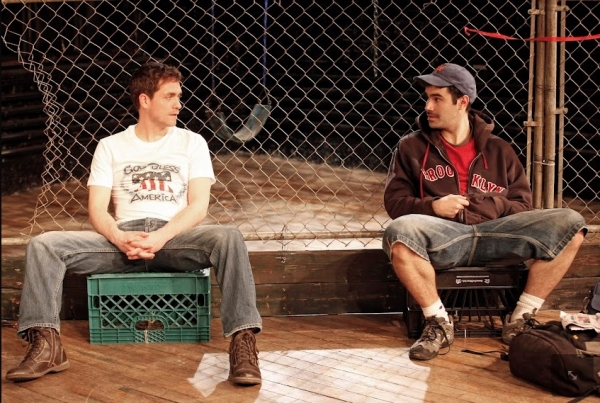 JOEL RIPKA and Bernardo Cubria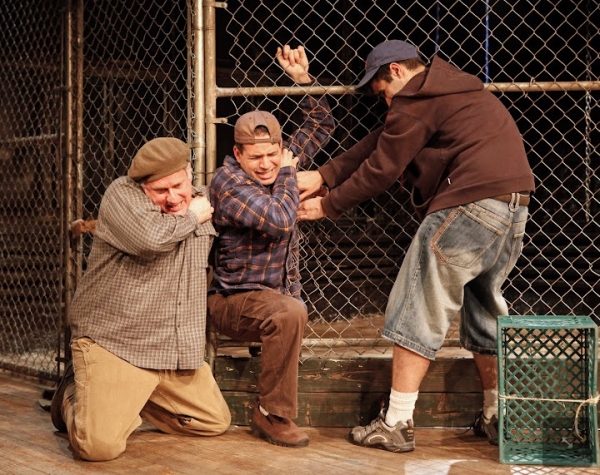 DAVID CROMMETT, BOBBY PLASENCIA and Bernardo Cubria