Photos: First Look at New Off-Broadway Musical GOLDSTEIN Starring Megan McGinnis, Julie Benko, and More
GOLDSTEIN, the highly anticipated new musical about family, with music and lyrics by Michael Roberts and a book by Charlie Schulman, opens Thursday, April 5th at the Actors Temple Theatre (339 West 47 St -between 8th and 9th Avenues). Featured in the cast are Megan McGinnis (Daddy Long Legs, Side Show, Little Women), Julie Benko (Fiddler on the Roof), Amie Bermowitz (Ruthless), Blair Alexis Brown (A Scythe Of Time, Adding Machine), Ben Cherry (Indecent, Fiddler on the Roof), Aaron Galligan-Stierle (The Phantom of the Opera, Ragtime, Dr. Seuss' How the Grinch Stole Christmas), Zal Owen (Fiddler on the Roof), Sarah Beth Pfeifer (The Lightning Thief, Legally Blonde) and Jim Stanek (Fun Home, Gentleman's Guide...) Previews begin Monday, March 26th. GOLDSTEIN is directed by Brad Rouse, with musical staging by Sarah O'Gleby. Tickets are $79 and are available by visiting www.Goldsteinmusical.com or by calling (212) 239-6200.
Louis Goldstein has written a tell-all family memoir. While it is a best-seller, his family claims that it isn't true. This uplifting and heartwarming, multi generational musical explores the challenges and triumphs of three generations of an immigrant Jewish American family. This original musical reminds us that families are complicated, the truth is never clear and forgiveness is our best hope.
The set design is by Alexander Woodward, with costume design by Maureen Freedman, lighting design by Andrew Griffin, and sound design by Ray Shilke. Sinai Tabak is the music director with casting is by Michael Cassara. C. Renee Alexander and Alex Elmaleh serve as stage managers.
Michael Roberts (Composer/Lyricist) is best known as the author, composer and lyricist of the hit Off-Broadway comedy Golf: The Musical. After its critically acclaimed 2003-2004 Off-Broadway run, productions of Golf followed in over twenty states and seven countries, with two Off-Broadway revivals. Roberts also composed the songs for The Fartiste (winner: Best Musical--2006 NY Fringe), which saw productions in New York and London. He wrote both the book and songs for the Off-Broadway musical Greed at New World Stages (2014). Roberts's music for film includes Tri-Star's Love Walked In starring Denis Leary. His television music includes four seasons as a composer for AMC's Emmy-winning sitcom Remember WENN. Roberts served as music director/pianist for Betty Buckley, Donna Murphy, Rupert Holmes, Lesley Gore, Stephanie Mills, Bobby Sherman, and Joan Rivers. As a conductor and coach, he has worked with directors Hal Prince, Susan Stroman and Kathleen Marshall. Roberts was a nominee for a 2012 Broadway World Award, and is a two-time recipient of the ASCAP Plus Award for his work in musical theater.
Charlie Schulman's (Book) play The Kitchen, was presented at the National Playwrights Conference at the Eugene O'Neill Theater Center in 1998 and is the inspiration for Goldstein. This is his second Off-Broadway collaboration with Michael Roberts. Their first, The Fartiste, (NYC/International Fringe Festival - Outstanding Musical) was based on his original screenplay of the same name, with productions in New York and London. Other Off-Broadway credits include: Angel of Death (American Jewish Theater), The Ground Zero Club (Playwrights Horizons - Young Playwrights Festival), and The Birthday Present (Circle Rep. - YPF). Charlie is a three-time winner of The Avery Hopwood Award in Drama from The University of Michigan, as well as the Charles MacArthur Award for Comedy from The National Playwrights Conference. Schulman wrote for the nationally syndicated sketch-comedy show The Apollo Comedy Hour (Inner City Broadcasting/Tribune Company). His plays are published by The Dramatists Play Service and Dell/Bantam. This spring he produced and performed his one man quick-change show Natural History X (Marjorie S. Deane Little Theater). Natural History X is part of his new play A Funny Play (For Troubled Times)
Brad Rouse (Director) has directed plays and musicals at The Public Theater (NYC), City Center Encores!, Ahmanson Theater (CTG), Hartford Stage, Juilliard, LaMama, Edinburgh Fringe Festival, New Dramatists, Barrow Group Theatre, and NYU. Last season, he directed Hit The Body Alarm at The Performing Garage and Just One Q (by Ellen Fitzhugh and Ted Shen) as part of Inner Voices. Other credits include world premieres by Billy Porter (Drama League and GLAAD award nominee), Laurence O'Keefe-Nell Benjamin-Julia Jordan (Best Director nominations, Los Angeles and Philadelphia), Winsome Brown, and Cusi Cram, plus workshop presentations of plays by Adam Rapp and Daniel Goldfarb. His work has been featured on CBS's 60 Minutes II and NPR's All Things Considered. Recently, he directed Pop! by Maggie-Kate Coleman and Anna K. Jacobs starring Anthony Rapp and choreographed by Billy Porter.
The playing schedule for GOLDSTEIN is as follows: Mondays through Thursdays at 7:30PM, Saturdays at 8PM with matinees on Wednesdays, Saturdays and Sundays at 3PM. Tickets are $79 and are available by visiting www.goldsteinmusical.com or calling (212) 239-6200.
Photos by Jeremy Daniel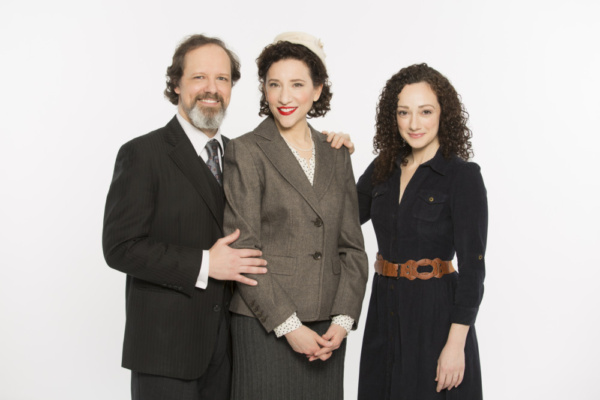 Jim Stanek (left), Amie Bermowitz (center) and Megan McGinnis (right).

Zal Owen (left) and Amie Bermowitz (right).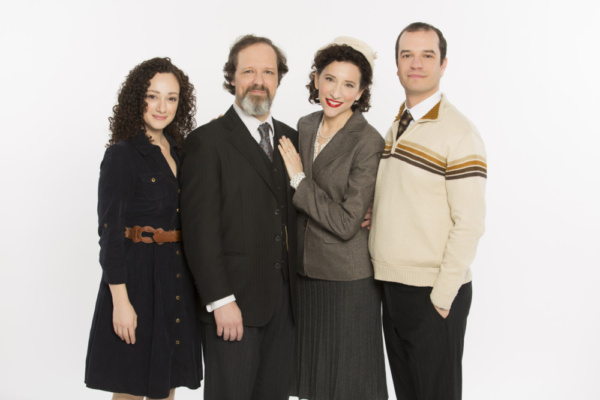 (From left to right). Megan McGinnis, Jim Stanek, Amie Bermowitz, and Aaron Galligan-Stierle.

Zal Owen.

The cast of the Goldstein.

Jim Stanek (left) and Megan McGinnis (right).