Photo Flash: Araca Project's HOT MESS IN MANHATTAN in Rehearsal Off-Broadway
Hot Mess in Manhattan: The Musical, featuring music by 12 of today's musical theatre composers, will perform a limited run August 30-September 8 at The American Theatre of Actors (314 W. 54th Street NYC) as a part of the second annual Araca Project. Check out photos of the cast in rehearsal below!
Hot Mess in Manhattan: The Musical is a high-heeled, low-brow musical comedy following one 20-something woman trying to conquer the big city the only way she knows how: the Way of Carrie Bradshaw. Armed with one worn-out pair of Blahniks and a score featuring a dozen of musical theater's hottest new composers, she is met with her greatest fear: if 'Sex and the City' LIED, then what's to become of a Hot Mess in Manhattan?The score features songs by some of New York's hottest emerging musical theatre writers, including
Kait Kerrigan
&
Brian Lowdermilk
(Henry & Mudge, The Unauthorized Autobiography of
Samantha Brown
),
Adam Gwon
(2008
Fred Ebb
Award Winner, Ordinary Days, The Boy Detective Fails),
Ryan Scott Oliver
(
Richard Rodgers
Award,
Playwrights Horizons
' Mrs. Sharp, 35MM),
Julianne Wick Davis
(2012 Larson Award Winner;Southern Comfort, Wood), Gaby Alter (Nobody Loves You, Band Geeks, 2008 Larson Award Winner),
Nick Blaemire
(Glory Days),
Sam Carner
&
Derek Gregor
(
Richard Rodgers
Award, Unlock'd),
Ryan Cunningham
&
Joshua Salzman
(I Love You Because),
Drew Gasparini
(Crazy, Just Like Me),
Michael Mahler
(Hero, How Can You Run with a Shell on Your Back?), and
Keith Varney
(I Got Fired!). Oliver, Gwon and Alter each received MAC Award nominations for Best Song for their contributions to previous incarnations of Hot Mess In Manhattan. Set to star is conceiver/co-librettist
Cait Doyle
(San Francisco Premiere The Last 5 Years, MAC Award Winner), with
Jared Ziri
lli (Lysistrata Jones, Fat Camp) and
DJ Bucciarelli
(Jesus Christ Superstar, National Tour). With a libretto by Cait & Meggie Doyle, this production is directed by
David Ruttura
(Spider-Man: Turn Off The Dark, Follies), choreographed by
Joe Barros
(Spider-Man: Turn Off The Dark, Follies) and musical directed by
James Cunningham
(I Love You, You're Perfect…). Designers include
Andy Yanni
(Scenic), Meghan Gaber (Costume), Cory Pattack(Lighting) and
Jason Crystal
(Sound).The production is produced by Justin Nichols and David Brush in association with
Greg Schaffert
(Peter & The Starcatcher), New York Theatre Barn (I Married Wyatt Earp, Speargrove Presents) and The Araca Project.Hot Mess in Manhattan: The Musical is the fourth of six productions selected out of 90 applicants for the second annual Araca Project, an initiative of
The Araca Group
(Wicked, Rock of Ages, Urinetown). The Araca Project joins
Syracuse University
and the
University of Michigan
in
The Araca Group
's commitment to early career development and fostering the entrepreneurial spirit in emerging artists. For more about Araca, visit
www.aracaproject.com
. And to purchase tickets for Hot Mess in Manhattan: The Musical, click
HERE
.


Jared Zirilli and Cait Doyle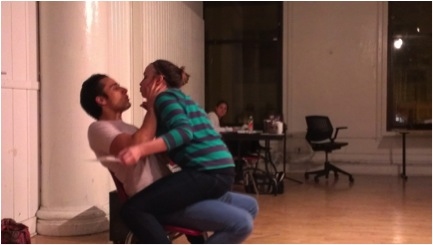 Jared Zirilli and Cait Doyle

DJ Bucciarelli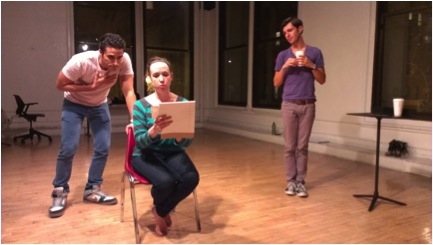 Jared Zirilli, Cait Doyle, and DJ Bucciarelli

DJ Bucciarelli, Cait Doyle and Jared Zirilli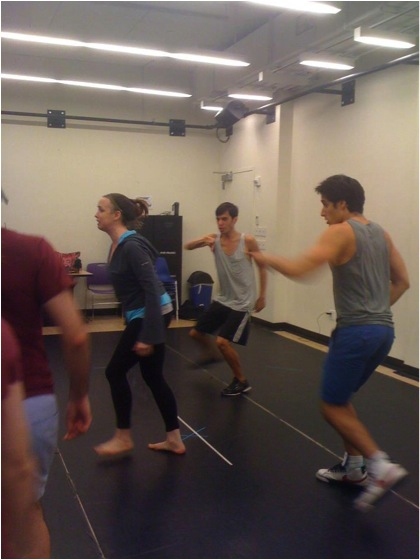 Choreography Rehearsal! Cait Doyle, DJ Bucciarelli, and Jared Zirilli

Jared Zirilli, DJ Bucciarelli, Cait Doyle and James Cunningham (Hot Mess Musical Director)

Cait Doyle, Jared Zirilli and James Cunningham with Sam Carner (half of the duo behind "Sleep Song" written for "The Mess")