Photo Coverage: Musicals In Mufti Presents ROADSIDE
York Theatre Company is celebrating the legendary librettist and lyricist Tom Jones with Musicals in Mufti: The Tom Jones Festival this spring.  First up was Roadside, with Book & Lyrics by Tom Jones and Music by Harvey Schmidt. Directed by David Glenn Armstrong, the cast featured original Roadside cast member Ryan Alexander, Erick Devine (Seussical), Janine DiVita (Odyssey, The Musical), Jamie LaVerdiere (The Producers), Daniel C. Levine (Les Miserables), Ed Watts (The Fantasticks) and Nick Wyman (The Phantom of the Opera).
Roadside is based on a play by Lynn Riggs, whose Green Grow the Lilacs became Oklahoma! Roadside is a Southwestern love story of mythic proportions about two kissin', punchin', cussin', larger-than-life characters who refuse to settle down and be "house-broke" by the arrival of fences and laws. Premiered at the York in 2001. The limited engagement will play 5 performances March 16-18.
BroadwayWorld was on hand for the event and brings you photo coverage below! 
Next up in the series is Harold and Maude, with Book & Lyrics by Tom Jones and Music by Joseph Thalken (Was, Songs from an Unmade Bed), based on the screenplay by Colin Higgins. Directed by Carl Andress, the cast will feature original Harold and Maude cast members Donna Lynne Champlin (Billy Elliot) and Donna English (Lend Me a Tenor) with Matt Dengler (A Little Night Music) as Harold, Cass Morgan (Memphis) as Maude and Steve Routman (Le Bete). The musical adaptation of the 1971 cult-classic film Harold and Maude comes to life on the York stage in a new version by Jones and Thalken. In what some call the quintessential May-December romance, death-obsessed teenager, Harold, meets Maude, 79, at a funeral and thus begins one of the most unusual, yet truly touching romantic sagas in American pop-culture history. Harold and Maude, featuring Estelle Parsons in the title role, received its world premiere at Paper Mill Playhouse in 2005. The limited engagement will play 5 performances April 13 -15.
York Theatre Company will host a special one-night only event, Story by Story: A Conversation with Tom Jones, on Wednesday evening, April 4th at 7:00 p.m.
AFor tickets and more information, visit www.yorktheatre.org.
Photo Credit: Genevieve Rafter Keddy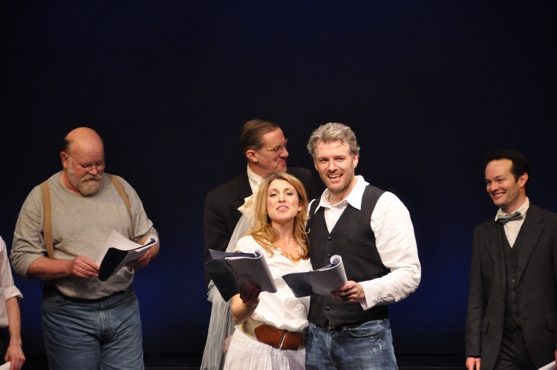 Erick Devine, Nick Wyman, Janine DiVita, Edward Watts and Jamie LaVerdiere

Nick Wyman, Ryan Alexander, Erick Devine and Janine DiVita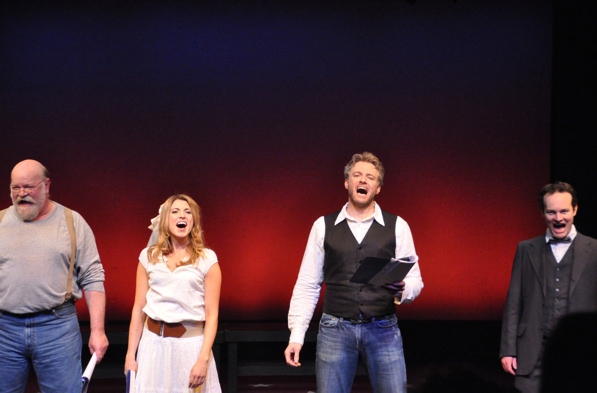 Erick Devine, Janine DiVita, Edward Watts and Jamie LaVerdiere

Jamie LaVerdiere and Erick Devine

Daniel C. Levine, Edward Watts and Janine DiVita

Daniel C. Levine, Edward Watts and Janine DiVita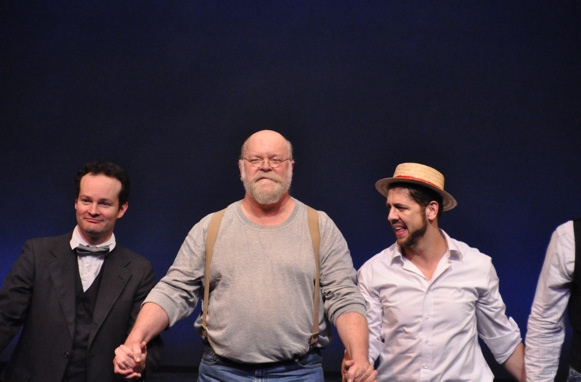 Jamie LaVerdiere, Erick Devine and Daniel C. Levine

Nick Wyman, Ryan Alexander and Jamie LaVerdiere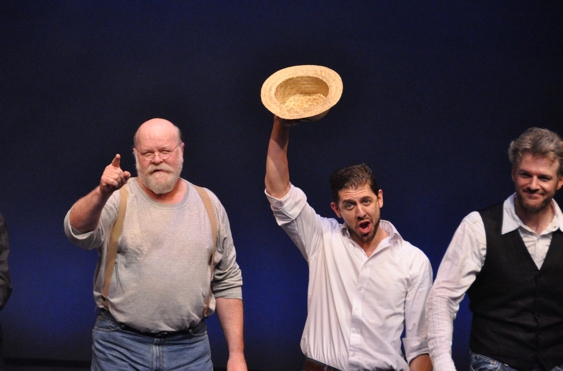 Erick Devine, Daniel C. Levine and Edward Watts

David Edwards

Daniel C. Levine

Ryan Alexander

Ryan Alexander and Daniel C. Levine

Nick Wyman

Nick Wyman

Jamie LaVerdiere

Jamie LaVerdiere

Erick Devine

Edward Watts

Christopher McGovern (Musical Director) and David Glenn Armstrong (Director)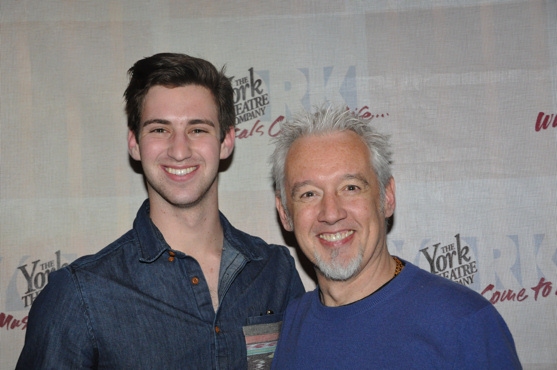 Nathan Cohen and David Glenn Armstrong

Janine DiVita

Janine DiVita

Ryan Alexander, Daniel C. Levine, Janine DiVita, Nick Wyman, Edward Watts, Jamie LaVerdiere and Erick Devine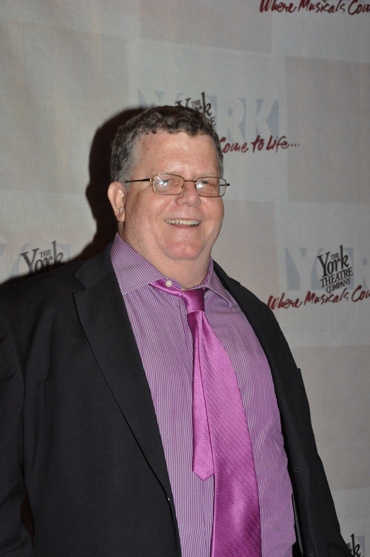 James Morgan (Producing Artistic Director)