Paula Vogel Hosts One of a Kind Playwriting Workshop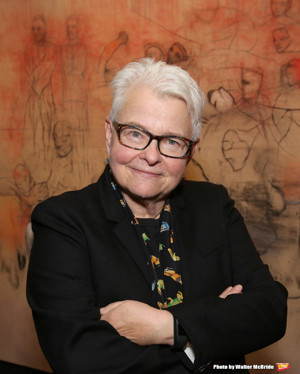 National UBU ROI Bake-Off - a one-of-a-kind playwriting workshop by Paula Vogel, open to participation to the general public - will take place on Presidents' Day, Monday, February 19 when hundreds of aspiring and accomplished writers across the country will present their own short works based on Alfred Jarry's 1896 revolutionary drama UBU ROI, about a despot king awash in murder, genocide, a war with Russia and the revolt of his own countrymen and women. Paula Vogel is the Pulitzer Prize-winning author of HOW I LEARNED TO DRIVE, and had her first Broadway production last season with her Tony Award-winning work, INDECENT.

Billed as a CALL TO ACTION, the National UBU ROI Bake-Off on Presidents' Day February 19 will occur at theaters and colleges across the U.S. where, on average, 50 participants will be able to read/perform their five minute/five-page works inspired by Jarry's original French play, UBU ROI, which caused a riot when it debuted in Paris. Subsequently, the play was barred from the stage and the playwright transferred the production to a puppet theater.

According to the rules of Ms. Vogel's playwriting Bake-Offs - a trademark of her long, distinguished career as a teacher of playwrights - participants will have 48 hours in advance of the Bake-Off day (in this instance, writers can begin working on February 17) to create a short work - resembling a play, a poem, song, skit, stand-up, mini-opera, etc. - that they will be invited to perform for their peers.

"Ingredients" for the Bake-Off and other guidelines to enter have been posted by Ms. Vogel on her website www.paulavogelplaywright.com. Applicants must register to participate by 7:00 pm on Saturday, February 17.

Among the "ingredients" required for Bake-Off entrants:
Pa Ubu 45, recently diagnosed as being in "excellent health"
Angry Ambassadors from every country that Pa Ubu has insulted during his tenure
A strange use of the English language
Presently, registrations are being accepted for a Bake-Off at the Guthrie/Playwrights Center in Minneapolis; in Seattle, Chicago and Los Angeles; Vineyard Theatre and New Ohio Theatre in NYC; and Fordham, Bowdoin, Wesleyan, Cornell and Emerson universities. For more information and to check a list of additional cities and venues where a National UBU ROI Bake-Off will be held, visit www.paulavogelplaywright.com.

Ms. Vogel, who will be on site at the Bake-Off at the Guthrie on February 19, says, "It is my hope that across the U.S. and around the world, artists, theatres and collectives will be writing in response to Alfred Jarry's text and performing it live on Presidents' Day in response to our global crisis." She adds, "There are no critiques. Bake-Offs are to theatre what sketching is to oil paintings."

She has been presenting her celebrated Bake-Offs for many years - in theaters, schools, prisons, with military veterans, members of the press corps and many other interest groups around the country and overseas.
Paula Vogel is the author of How I Learned to Drive, The Long Christmas Ride Home, Indecent (Broadway, Yale Rep, South Coast Rep, The Vineyard); Don Juan Comes Home from Iraq (Wilma Theatre); A Civil War Christmas (Long Wharf, New York Theatre Workshop); The Mineola Twins (Roundabout); Hot 'N' Throbbing (A.R.T., Signature Theatre); The Baltimore Waltz, Desdemona, And Baby Makes Seven (Circle Rep) and The Oldest Profession(Signature Theatre). Awards include the Pulitzer Prize, two Obies, the NY Drama Critics Circle, Theatre Hall of Fame, Dramatists Guild Lifetime Achievement, and The Thornton Wilder Award. She is most honored by three awards given in her name: the Paula Vogel Award at the American Theatre College Festival, the Paula Vogel mentorship program for Philadelphia Young Playwrights, and the Paula Vogel Playwriting Award given by the Vineyard Theatre. After teaching for 30 years at Brown University and Yale School of Drama, she now conducts workshops at theatres, schools, and community organizations. Upcoming projects: Don Juan Comes Home with Leigh Silverman (Goodman Theatre), and the book, How to Bake A Play.
Photo Credit: Walter McBride