LOVE ACTUALLY? The Unauthorized Musical Parody to Play Limited Run This Winter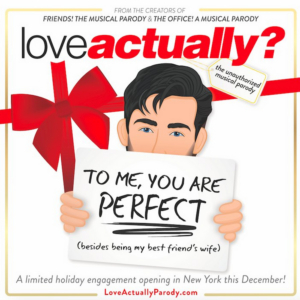 Billy is back! Just in time for Christmas in July, Right Angle Entertainment, producer of the smash hits The Office! A Musical Parody and Friends! The Musical Parodytoday announced that tickets are now on sale for Love Actually? The Unauthorized Musical Parody, a holiday season sendup of the iconic romantic comedy and Christmas movie Love Actually. The production has been written by Bob and Tobly McSmith and is slated for a limited-engagement run this December 2nd through January 14th in the Jerry Orbach Theater at The Theater Center, 1627 Broadway. Cast and creative team are soon to be announced. www.loveactuallyparody.com
Love Actually? The Unauthorized Musical Parody is a hilarious brand-new musical that follows nine unique couples who attempt to tackle the idea of love during the holiday season, and even 16 years after the movie premiere, we still ask ourselves these questions every Christmas... Will Karen recover from Harry's cliché affair with his secretary? Who's this guy Mark, and why is he hitting on his best friend's wife? How do I sign up to be a "stand-in" for an adult film to find love? Do you really need to speak the same language before proposing marriage? (The answer is yes.) Whether you love Love Actually or love to hate Love Actually or have never seen Love Actually, you will actually love this musical! Get ready for awkward meet cutes, over-the-top grand gestures, and Mr. Bean! Oh, and lots and lots of love, actually. Songs in this spoof of the hodge-podge montage rom-com include: "Messages of Love, Actually"
"He's the Prime Minister (of Rom-Coms)"
"Dark Deeds in Dark Corners"
"British Girls" - Colin, God of Sex
"Keira Knightly Actually"
"A
Joni Mitchell
CD? (For Your Continued Emotional Education)"
"The Lament of
Laura Linney
"
"The Language of Love" -
Colin Firth
& Maid
"American Girls" - Colin, God of Sex
"The 11 O'Clock Grand Gesture Number"
"Love is Actually" Bob &
Tobly McSmith
(Writers) are distinguished gentlemen who met while applying for jobs at the Dippin' Dots in the mall. They did not get the job but went on to create the following masterpieces: The Office! A Musical Parody, Friends! The Musical Parody, Bayside! The Saved by the Bell Musical (NY Times Critics Pick), Full House! The Musical (starring
Perez Hilton
), Katdashians! The Musical, Showgirls! The Musical and JonBenet! Murder Mystery Theater.
Right Angle Entertainment (Producer) specializes in the production, marketing, management and dis-tribution of live theatrical and concert events. RAE's proud rosterincludes: the world premiere of The Office! A Musical Parody in New York City, Disney Dance, Sasha Velour: Smoke & Mirrors, Family Feud Live: Celebrity Edition Tour, The Price is Right LIVE!, FRIENDS! The Musical Parody North American Tour, Cat & Nat #MomTruths Tour, One Woman Sex and the City, Rudolph the Red Nosed Reindeer, and Elvis and Me: An Evening with Priscilla Presley among others.
Love Actually? The Unauthorized Musical Parody is a limited engagement production playing at The
Jerry Orbach
Theater in New York City during the holiday season. For more information, visit
loveactuallyparody.com
. Tickets start at $37 and are available by calling the box office at (212) 921-7862 or online at www.Ticketmaster.com.
More Hot Stories For You