Italian Theater Festival NY Announces 2019 Mario Fratti Award Winner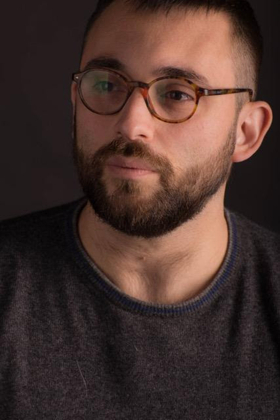 In Scena! Italian Theater Festival NY announces Tobia Rossi's play Hide and Seek (Nascondino) as the 2019 Mario Fratti Award winner. The award ceremony will take place on Monday, May 13 at 6pm at the Italian Cultural Institute (686 Park Ave, New York, NY 10021) where the reading of the translation of the play, made by the official translator of the award Carlotta Brentan, will be presented together with the award to playwright Tobia Rossi. Special mention goes to Ulisse-L'ultimo Inganno by Antonia Brancati in second place and third place goes to L'Annunciazione by Pasquale Faraco.
Named for the legendary Broadway playwright, the Mario Fratti Award is awarded every year, since 2014, to a never produced before play chosen by a jury, different every year, among the many plays collected through a submission process. The winner receives a translation of their work into English as part of the MFA Collection and a reading of such translation. Since 2018, all MFA winners have been published by In Scena! under the MFA theater collection.
Hike and Seek (Nascondino) is about Giò, a gay teenager firmly convinced that nobody loves him. Not his parents or his teachers, let alone his schoolmates, who mock him constantly and inflict him with humiliating tortures and cruel violence. He therefore decides to escape from that hostile world and hide in his secret shelter. Everyone is looking for him for days without success, until Mirko, one of his classmates, finds him by accident during a walk. Giò begs him to preserve his secret, making him an accomplice to his plan, which forces their relationship to take an unexpected turn.
The Mario Fratti Award jury, comprised of honorary President, Claudia Canella (Director, Hystrio Magazine), Massimo Zordan (actor, director, teacher), Chiara Durazzini (Artistic Director, Pazzi Lazzi Company in Boston), Claudia Donadoni (playwright and actress, 2018 In Scena! artist) and Roberta Lena (playwright, actress, director, 2018 In Scena! artist), declared Tobia Rossi's Hike and Seek (Nascondino) "A convincing drama, well-articulated. A play of strong emotional impact with poetic passages. The author is able to build an ambiguous exchange of strong and weak roles, between attraction and repulsion. The play shows originality in the subject matter while being serious witness of our times. The fine writing and the unsettling development make it a play that could speak to audiences around the world."
Tobia Rossi (2019 Mario Fratti Award Winner) Born in 1986 in Ovada (Piemonte), Tobia Rossi is a playwright and a screenwriter. Awards and Honors include: Portami in un posto carino (Take Me Somewhere Nice, finalist for the 2012 Hystrio Prize for Young Playwrights), La Cosa Brutta (honorable mention, Hystrio Prize Scritture per la Scena 2016), Freddy Aggiustatutto (written with Lorenzo Riopi, winner of Una Commedia in Cerca d'Autore 2017). He collaborates with several theaters in Milan (Teatro Libero, Campo Teatrale, Teatro OutOff, Teatro Litta, Teatro Leonardo, Teatro Martinitt). He wrote the libretto for the opera Troposfera(produced in 2016 by the Venice Biennale Musica) and the musicals Come Erika e Omar - è tutto uno show! (produced and directed by Enzo Iachetti - 2014) e Smack! (2019).
Each year In Scena! presents a survey of the best Italian theater from Italy, in New York City. The festival features full productions that have already toured in Italy as well as readings of Italian plays in translation, conferences, lectures and exchanges between Italian and International Artists. The goal is to promote greater awareness of Italian theater and Italian artists among New York theatergoers, and to build a bridge between the artistic scenes in Italy and New York.
The seventh annual In Scena! Italian Theater Festival NY, a festival of Italian theater taking place in all five boroughs of NYC presented by The New York based Kairos Italy Theater and the Italy-based KIT Italia, will run April 29-May 13. Participating venues will include The Bronx Academy of Arts & Dance (BAAD! - 2474 Westchester Avenue, Bronx, NY 10461), Goddard Riverside's Bernie Wohl Center (647 Columbus Avenue, New York, NY 10024), The Brick Theater(579 Metropolitan Avenue, Brooklyn, NY 11211), Casa Italiana Zerilli-Marimò at NYU (24 West 12th Street, New York, NY 10011), Cherry Lane Theatre (38 Commerce Street, New York, NY 10014), College of Staten Island (2800 Victory Blvd, Staten Island, NY 10314), Italian Cultural Institute (686 Park Avenue, New York, NY 10021), La Scuola Guglielmo Marconi (406 East 67th St, New York, NY 10065), St. John's Lutheran Church (81 Christopher Street, New York, NY 10014), and TheaterLab (357 West 36th Street, New York, NY 10018), with more venues TBA. Admission to all shows and events in the festival will be FREE. Reservations are now open at www.inscenany.com.
Related Articles View More Off-Broadway

Stories

Shows
More Hot Stories For You