INTAR Theatre and Radio Drama Network To Present the World Premiere of BUNDLE OF STICKS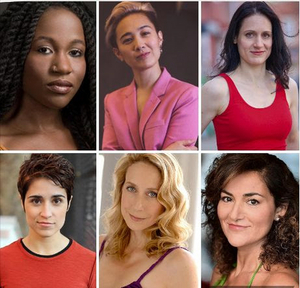 INTAR Theatre (Lou Moreno, Artistic Director/John McCormack, Executive Director) and Radio Drama Network (Melina Brown, President) today announced the cast for the World Premiere of Bundle of Sticks, a new play by J. Julian Christopher, directed by Lou Moreno. Bundle of Sticks will play a special limited Off-Broadway engagement, beginning February 22nd and continuing through March 22nd only. Opening Night is set for Monday March 2nd.

In Bundle of Sticks gay men from across the globe attend gay conversion therapy called The Sticks in the underground city of Coober Pedy, Australia. When they arrive they are not only challenged by Otto, their toxically masculine group leader but also by the rainbow serpent responsible for the protection of water and erections. The Sticks is real but what it promises is not.

"Bundle of Sticks's characters are gay men. We have cast it without CIS male actors. We hope the play will reveal why. J. Julian Christopher is an excellent example of dreaming and writing. His plays are intrinsically Latine but more importantly the stories he tells are big, unapologetically theatrical and tell an authentic human story that is accessible to all of our audience members. I can not be more excited to share the world of Bundle of Sticks and the fabulist that is J. Julian Christopher," said Mr. Moreno.

Bundle of Sticks will feature Lucille Duncan, Fleece, Laura Jordan, Melissa Navia, Zo Tipp, and Hope Ward. Bundle of Sticks will have production design by Meghan E. Healey, lighting design by Harbour Edney, and sound design by Jesse Mandapat.

Bundle of Sticks was originally developed at Pipeline Theatre Company, Ariana Schrier, Artistic Director, Natalie Gershtein, Producing Director. Bundle of Sticks was further developed at INTAR theater as part of the NewWorks Lab 2018. Bundle of Sticks was later workshopped as part of the Jerry A. Tishman Playwrights Creativity Fund, a program of New Dramatists.

Lucille Duncan is a New York City based actress with extensive experience in immersive theater. From projects such as NYC's Off Broadway hit The Donkey Show (in which she ultimately played all four leads and subsequently taught the show for The American Repertory Theatre and the Adrienne Arsht Center for the Performing Arts in Miami) to various iterations of Shakespeare's Twelfth Night staged on the streets of New York - Little West 12th Night in the Meatpacking District and Illyria in the Lower East Side, respectively - she enjoys improvising and collaborating with fellow artists and audience members alike to create unique theater and one of a kind experiences for audience goers. Selected New York: Off Broadway: The Donkey Show; Charles Mee's Not Knowing and Fire Island (3 Legged Dog); Rods and Cables (3 Legged Dog); Little West 12th Night and Illyria (Conni's Avant Garde Restaurant); Irina's Name Day Party (CAGR at North American Cultural Lab); Shakespeare's Slave (Resonance Ensemble).Regional: IRNE Award winning Cabaret with Amanda Palmer (American Repertory Theatre); O.N.C.E. in Hell and The Donkey Show (American Repertory Theatre); The Secret Social; Herald Angels' Fling and A Snowball's Chance (Conni's Avant Garde Restaurant at Cleveland Public Theatre); H&G, a public outcry (Wild Art).

Fleece's credits include: The Long Weekend (The Lake Theatre), Deathtrap (Winnipesaukee Playhouse), A Taste of Honey (The Pearl Theatre Company dir. Austin Pendleton), Always a Bridesmaid (Cortland Repertory Theatre), Twelfth Night (Commonwealth Shakespeare Co.), Towards Zero (The Theater Barn), Julius Caesar (Shakespeare & Co. - Young Company), Chez Pierre (Theatre de la Jeune Lune), and The Compound (UglyRhino Productions). TV: "The Perfect Murder" (Discovery ID), "Mysteries at the Museum" (Travel Channel), "I'd Kill for You" (NBC). She has trained at Ecole Philippe Gaulier in Paris, and apprenticed with the Shakespeare Theatre of New Jersey. Offstage, Fleece worked as a producer with Presence Theatre in London, earning four-star reviews in Time Out and The Daily Telegraph for British premieres at Theatre503 and Jermyn Street Theatre. Graduate, Royal Academy of Dramatic Art.

Laura Jordan's Broadway credits include: In My Life, Cry-Baby. Off-Broadway: Silence! The Musical, Perez Hilton Saves the Universe, Sam's Room, .22 Caliber Mouth. Regional (selected): If I Forget (Barrington Stage Co., Berkshire Theatre Critics nomination), Noises Off! (The Guthrie & Actors' Theatre of Louisville), Into the Woods (TUTS), Company (Bucks County Playhouse), [title of show] (Theatreworks). TV/film: Drunk Parents, Admissions, "The Deuce," "The Loudest Voice," "The Other Two," "The Path," "Happy!," "Younger," "A Gifted Man," "The Big C," "Glee." Writer/creator of the web series "OTP: One True Pairing." www.TheLauraJordan.com

Melissa Navia is an actor, writer, and stand-up comedian making her Off-Broadway debut on INTAR's stage. Her extensive indie film & TV experience over the last decade has afforded her the opportunity to play a myriad of singular characters, including roles on "Billions" (Showtime), where she played an astronaut bound for a life on Mars, and "Dietland" (AMC), where she played a vigilante on a mission to hunt down rapists. She is always looking for new ways to create challenging work that tells underrepresented stories and demands an audience's attention. Melissa is fluent in Spanish, thanks to her Colombian roots, plays a decent banjo, thanks to her love of bluegrass, and is currently working on an essay collection and one-woman show about a Latinx girl with a fiercely innate penchant for short hair. For more about her work and upcoming projects: http://linktr.ee/mcnavia.

Zo Tipp (they/them) is a Jewish-Japanese-American queer actor/singer. Recent credits include the Play On! Festival with Classic Stage Company and Oregon Shakes, Rattlestick's Pride Plays, and Queering the Stage with Ring of Keys at Birdland. Zo will appear in upcoming films by Angela Cheng and Nike Kadri, and Hang Nguyen's web series "Sideways Smile." www.zotipp.com

Hope Ward is a recent graduate of Columbia University's MFA acting program and a member of Actors Equity. She has most recently performed with Baltimore Center Stage's mobile unit in Antigone as Antigone. She defines herself as an actor and artist emphasizing the synonymic role of black feminism and universal humanity.

J. Julian Christopher is a Queer, Puerto Rican and Dominican playwright. He holds an MFA in Acting from The New School for Drama. Playwriting awards include: New Dramatist Residency (Class of 2025), 2019/2020 Rita Goldberg Playwrights' Workshop Fellow at The Lark, 2017 & 2018 Pipeline Theatre Company PlayLab, 2018 LaGuardia Community College's LGBTQ History Project Grant, 2015 Queens Arts Council Grant, 2009 Public Theater Emerging Writers Group, and 2014 Best New Work Motif Award. Productions include: Man Boobs (Pride Films & Plays, 2011), Nico was a Fashion Model (Counter-Productions Theatre Company, 2013), Animals Commit Suicide (First Floor Theater, 2015), and Locusts Have No King (INTAR, 2016). He wrote the book for LatinXoxo at Joe's Pub in 2019. Other plays include Alligator Mouth, anOTHER, ¡OSO FABULOSO! & The Bear Backs, Julio Down by the Schoolyard, and Bruise & Thorn (2018 PlayPenn Conference). He is a co-producer and co-writer of the hit web series, "Bulk - The Series" and an Assistant Professor of Theatre at Queensborough Community College.

For INTAR, Lou Moreno directed Neighbors by Bernardo Cubria, Fish Men by Cándido Tirado, Se Llama Cristina by Octavio Solís, Lucy Loves Me by Migdalia Cruz, and Drawn and Quartered by Maggie Bofill which was developed in INTAR's NewWorks Lab and was INTAR's inaugural production under his leadership. Recent directing credits include Julio Down by the School Yard - Unit52; The Book of Lucy by Ngozi Anyawu, Beauty of the Father by Nilo Cruz, Rent Control by Evan Zes, Trying by Erin Browne (The Bushwick Starr); Minotaur a Romance and Beautiful by David Anzuelo (LAByrinth Theater Company at The Public Theater); Kingdom (NYMF); Rock/Paper/Scissors (NY Hip-Hop Theater Festival at The Public Theater); The Bigger Man (Partial Comfort); and Blues for a Gray Sun by Nilaja Sun (INTAR). He also serves as an Associate Producer with The 24-Hour Company (Athens, Greece and Broadway). Mr. Moreno won the 2005 Princess Grace Award for Directing.

Performances will be Tuesday through Saturday evenings at 8PM, Sunday evenings at 5PM, at INTAR's Theatre, 500 West 52nd Street at Tenth Avenue, on the 4th floor. Tickets are only $40, and may be purchased at INTARTheatre.org or by calling 212/352-3101 or toll free, 866/811-4111.

For more information on Bundle of Sticks and all the programs at INTAR, visit INTAR on the web at www.intartheatre.org.
Related Articles View More Off-Broadway

Stories

Shows
More Hot Stories For You