Denise Gough's PEOPLE, PLACES & THINGS Extends at St. Ann's Warehouse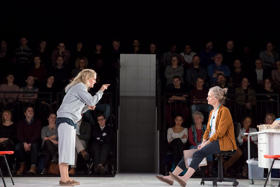 St. Ann's Warehouse, responding to extraordinary popular demand, has extended the American Premiere of the National Theatre/Headlong production of Duncan Macmillan's People, Places & Things, directed by Jeremy Herrin, to December 3.
In her New York stage debut, Denise Gough reprises her Olivier Award-winning, career-breakthrough performance as Emma, an actress whose life has spun recklessly out of control because of her addiction to alcohol and drugs. In this production - one of last season's must-see shows in the West End, following a sold-out run at the National - Gough, Macmillan and Herrin meticulously depict the dilemmas of a personality at once defiantly individualistic and willfully self-deluding when confronted with who she is or what her options are.
Having begun previews last night (October 19), People, Places & Things opens October 25.
During its run at both the Wyndham's Theatre in London's West End in 2016, and at the National the year before, People, Places & Things garnered tremendous praise. Gough won both the 2016 Olivier Award and the Critics' Circle Award for Best Actress for her crushingly astute turn as Emma.
Following the American Premiere of People, Places & Things, Gough returns to New York in her celebrated role as Harper in Marianne Elliott's new production of Tony Kushner's Angels in America, which transfers to Broadway in February 2018.
Of the impetus for People, Places & Things, Duncan Macmillan - the British playwright who recently disturbed Broadway audiences with his stage adaptation of George Orwell's 1984 - says he "wanted to write about the process of recovery" because it "tends to be underrepresented in discussions of addiction." He explains, "It's also a subject which is fraught with controversy and debate. The more I looked into it the more I struggled with some of the central aspects of the support structures offered for addicts. I found the whole area irreconcilably contradictory, morally, intellectually and emotionally." He balanced these realizations with the notion that "there's a huge responsibility which comes with dealing with something that effects so many people. Everybody is connected to addiction in some way, whether it's themselves, a neighbour, a sibling, a partner. There's a moment, as a writer, when you embark on a project and suddenly realize the weight of responsibility to deal with the issue accurately, respectfully and without sentiment."
In his direction, Jeremy Herrin (who has also served as Artistic Director of Headlong since 2013) sought visceral ways of expressing addiction by plunging audiences into Emma's sometimes-claustrophobic, sometimes-chaotic subjective reality. As such, People, Places & Things incorporates many breaks from "objective reality," which, as Herrin told the Telegraph, "theatrically...means the play can be much more dynamic." Through his staging choices, the whole environment of the production is meant to match the emotional polarities Emma experiences: the rush of a high, the overwhelming nightmare of a low, all informed by research Herrin and Macmillan conducted, as well as input from therapists who visited rehearsals. Herrin worked to balance these non-naturalistic aesthetic tactics-like staging the play in an antiseptic white space that can go from a booming nightclub to a group therapy lounge, to a bedroom in rehab, or even a hallucination-with studied subtlety. "Dramatic currency isn't always best served by viscera or shock or loudness," he continues, in the Telegraph interview. "The tiniest transaction in context can be massively important. This play has both."
The brilliant set design by Olivier and Tony Award winner Bunny Christie, who first brought People, Places & Things to the attention of St. Ann's Warehouse, is a perfect match for the theater's versatile, transformative space.
In addition to Gough, the cast performing the American Premiere at St. Ann's Warehouse includes Jacob James Beswick (T/Ensemble), Alistair Cope (Foster), Jacqui Dubois (Jodi/Ensemble), Charlotte Gascoyne (Charlotte/Ensemble), Kevin McMonagle (Paul/Dad), Nathaniel Martello-White (Mark), Barbara Marten (Doctor/Therapist/Mum), Himesh Patel (Shaun/Ensemble) and Laura Woodward (Laura/Ensemble).
About Denise Gough - Denise Gough's work in theatre includes People, Places & Things (Olivier Award, Best Actress) at the National and in the West End; Ahasverus for the RSC; Adler & Gibb and O Go My Man at the Royal Court; The Duchess of Malfi at the Sam Wanamaker; Desire Under the Elms (Critics' Circle Most Promising Newcomer Award) at the Lyric Hammersmith; Our New Girl (Milton Shulman, Outstanding Newcomer nomination) at the Bush; The Painter at the Arcola; The Plough and the Stars at the Abbey, Dublin; The Birds at the Gate, Dublin; The Grouch at West Yorkshire Playhouse; Someone Else's Shoes at Soho; Everything is Illuminated at Hampstead; The Kindess of Strangers at Liverpool Everyman; Robbers at the Tristan Bates; Jesus Hopped the 'A' Train at Trafalgar Studios; Six Characters in Search of an Author for Headlong at Chichester Festival Theatre and in the West End; and As You Like It and By the Bog of Cats at Wyndham's. TV includes Paula, Guerrilla, Apple Tree Yard, The Fall, Neil Gaiman's Likely Stories, Lucky Man, Cuffs, New Tricks, Stella, Musketeers, What Remains, Titanic: Blood and Steel, Waking the Dead, Silent Witness, Tom Hurndall, Messiah V, The Commander, Inspector Lynley Mysteries and Tell Me Lies. Film includes Jimmy's Hall, Hollows, Complicit, The Kid, Robin Hood, Desire, Lecture 21 and '71.
About Duncan Macmillan - Plays include Every Brilliant Thing for Paines Plough/Pentabus; 1984, co-adapted from George Orwell's novel and co-directed with Robert Icke, for Headlong/Nottingham Playhouse on UK tour, at the Almeida,in the West End and on Broadway at the Hudson Theatre; Lungs for Studio Theatre Washington DC/Paines Plough/Sheffield Theatres; Atmen at Schaubühne, Berlin; Reise durch die Nacht adapted fromFriederike Mayröcker,created with Katie Mitchell and Lyndsey Turner, at Schauspielhaus Köln, Theatertreffen and Festival d'Avignon; Wunschloses Unglück, adapted from Peter Handke, at Burgtheater, Vienna; 2071, co-written with Chris Rapley at the Royal Court and Hamburg Schauspielhaus; and Monster at the Royal Exchange for MIF. Awards include Best New Play at the Off West End Awards 2013 for Lungs; and the Nestroy Preis for Best German Language Production, 2013. His work with director Katie Mitchell has been selected for Theatertreffen and Festival d'Avignon. Macmillan was also the recipient of two awards in the inaugural Bruntwood Playwriting Competition, 2006. 1984 was nominated as Best New Play at the Olivier Awards, 2014 and won the UK Theatre Award for Best Director (Duncan Macmillan and Robert Icke).
About Jeremy Herrin - Jeremy Herrin is Artistic Director of Headlong. He studied at RSAMD. For Headlong, Herrin has directed The Absence of War and the European premiere of The Nether, at the Royal Court and in the West End. At the National Theatre he directed This House (Olivier nomination for Best Director) and Statement of Regret. For the RSC, he recently directed the world premiere of Wolf Hall (Evening Standard Award for Best Director; Olivier and Tony award nominations) and Bring Up the Bodies, which transferred to the West End in May 2014 and to Broadway in 2015. For the Royal Court, where he was Deputy Artistic Director, from 2009 to 2012, his productions include No Quarter, Hero, Haunted Child, The Heretic, Kin, Spur of the Moment, Off the Endz, The Priory (Olivier Award for Best Comedy), Tusk Tusk (Evening Standard Best Director nomination), The Vertical Hour and That Face (also West End). At Chichester he directed South Downs (also West End), and Uncle Vanya. Other theatre includes Noises Off at the American Airlines Theatre, Broadway (Tony nomination for Best Revival); Children's Children at the Almeida; Absent Friends and Death and the Maiden at the Harold Pinter; Much Ado About Nothing at Shakespeare's Globe; Marble at the Abbey Dublin; The Family Reunion at the Donmar Warehouse; Blackbird at the Market Theatre Johannesburg; and Gathered Dust and Dead Skin, The Lovers, Dirty Nets, Our Kind of Fun, Sudden Collapses in Public Places, Toast, Smack Family Robinson, Attachments, From the Underworld, The Last Post, Personal Belongings, NE1 and Knives in Hens at Live Theatre Newcastle. Television and film include The Inventor, Linked, Dead Terry, Warmth and Cold Calling. Radio includes South Downs, Flare Path and The Vertical Hour. Jeremy Herrin is a board member for Stage Directors UK.
About the National Theatre - The National Theatre (Rufus Norris, Director; Lisa Burger, Executive Director) makes world-class theatre that is entertaining, challenging and inspiring, aiming to appeal to the widest possible audience. Based on London's South Bank, its work reaches right across the UK and internationally with a global reach of 7.8 million. In New York, National Theatre America works in partnership with the U.S. theatre community and produces the National Theatre's work for Broadway and off-Broadway. Forthcoming New York transfers include People, Places and Things at St. Ann's Warehouse and Angels in America at the Neil Simon Theater. Previous work in New York includes The Curious Incident of the Dog in the Night-Time, The Effect, One Man Two Guvnors, War Horse, and The History Boys. The National Theatre recently completed a U.S. tour of its Tony and Olivier Award-winning production of The Curious Incident of the Dog in the Night-Time. National Theatre Live broadcasts world class theatre to over 2,500 venues in 60 countries around the world, including China and the US. For more information, visit www.nationaltheatre.org.uk.
About Headlong - Headlong creates exhilarating contemporary theatre: a provocative mix of innovative new writing, reimagined classics and influential twentieth century plays that illuminate our world. Headlong is one of the most ambitious and exciting theatre companies in the world. We make bold, innovative productions with some of the UK's finest artists. We take these industry leading, award-winning shows around the country & beyond, in theatres & online, attracting new audiences of all ages & backgrounds. We engage as deeply as we can with these communities & this helps us become better at what we do. Our productions have included The House They Grew Up in (Chichester Festival Theatre), Common (National Theatre), Junkyard (Bristol Old Vic, Theatr Clwyd and Rose Theatre Kingston) This House (Chichester Festival Theatre and West End), Pygmalion (UK tour), Boys Will Be Boys (Bush Theatre), People, Places & Things (National Theatre and West End), 1984 (UK and international tour and West End), The Nether (Royal Court Theatre and West End), American Psycho (Almeida and Broadway), Chimerica (Almeida and West End), Six Characters in Search of An Author (UK tour and West End), Enron (UK tour, West End and Broadway), and Labour of Love (Noel Coward Theatre, with The Michael Grandage Company).
About Bryan Singer Productions - Bryan Singer is known for directing films that are characterized by his bold visual style and richly drawn characters. Singer's feature film debut Public Access received the Sundance Grand Jury Prize in 1993, and he quickly gained widespread attention in 1995 with The Usual Suspects, a twisting mystery/thriller which won two Academy Awards. Singer is the founder of Bad Hat Harry Productions, a film, television and content Production Company created in 1994. Singer's impressive film slate also includes X-Men, X2: X-Men United, Superman Returns, Valkyrie, X-Men: Days of Future Past and X-Men: Apocalypse, Look, Up in the Sky: The Amazing Story of Superman, The Triangle, Trick 'r Treat and H+. Currently, Singer is directing the Queen/Freddie Mercury biographical feature Bohemian Rhapsody, and will next direct a remake of 20,000 Leagues Under the Sea. On television, Singer directed the pilot and served as an executive producer on the Emmy and Golden Globe award-winning television series House, Emmy and Golden Globe award-nominated television series Dirty Sexy Money, Legion, and most recently directed the pilot of Fox/ Marvel's The Gifted. In total, Singer's projects have grossed more than three billion dollars worldwide, in a career lasting over 20 years. A graduate of the University of Southern California School of Cinematic Arts, Singer is also a longtime supporter of the school, lending his name to SCA's Bryan Singer Division of Cinema and Media Studies.
About St. Ann's Warehouse - St. Ann's Warehouse plays a vital role on the global cultural landscape as an American artistic home for international companies of distinction, American avant-garde masters and talented emerging artists ready to work on a grand scale. St. Ann's signature flexible, open space allows artists to stretch, both literally and imaginatively, enabling them to approach work with unfettered creativity, knowing that the theater can be adapted in multiple configurations to suit their needs.
In the heart of Brooklyn Bridge Park, St. Ann's Warehouse has designed a spectacular waterfront theater that opened in October 2015. The new Joseph S. and Diane H. Steinberg Theater offers St. Ann's signature versatility and grandeur on an amplified scale while respecting the walls of an original 1860's Tobacco Warehouse. The building complex includes a second space, a Studio, for St. Ann's Puppet Lab, smaller-scale events and community uses, as well as The Max Family Garden, designed by landscape architects Michael Van Valkenburgh Associates and open to Brooklyn Bridge Park visitors during Park hours.
Susan Feldman founded Arts at St. Ann's (now St. Ann's Warehouse) in 1980 as part of the New York Landmarks Conservancy, to help save the National Historic Landmark Church of St. Ann and the Holy Trinity on Montague Street in B­rooklyn Heights. For twenty-one years, St. Ann's presented a decidedly eclectic array of concert and theater performances in the church sanctuary.
From Fall 2001 through the 2014-15 season, the organization activated found spaces in DUMBO with the world's most imaginative theater- and music-makers, helping to make the burgeoning neighborhood a destination for New Yorkers and tourists alike. After twelve years (2001-2012) in a warehouse that was located at 38 Water Street, St. Ann's transformed another raw space at 29 Jay Street into an interim home (2012-2015), while the organization adapted the then-roofless Tobacco Warehouse at 45 Water Street in Brooklyn Bridge Park into the new St. Ann's Warehouse.
Almost four decades of consistently acclaimed landmark productions that found their American home at St. Ann's include Lou Reed's and John Cale's Songs for 'Drella; Marianne Faithfull's Seven Deadly Sins; Artistic Director Susan Feldman's Band in Berlin; Charlie Kaufman and the Coen Brothers' Theater of the New Ear; The Royal Court and TR Warszawa productions of Sarah Kane's 4:48 Psychosis; The Globe Theatre of London's Measure for Measure with Mark Rylance; Druid Company's The Walworth Farce, The New Electric Ballroom and Penelope by Enda Walsh and Walsh's Misterman, featuring Cillian Murphy, and Arlington; Lou Reed's Berlin; the National Theater of Scotland's Black Watch and Let the Right One In; Kneehigh Theatre's Brief Encounter, 946 and Tristan & Yseult; Yael Farber's Mies Julie; Dmitry Krymov Lab's Opus No. 7; the Donmar Warehouse all-female Shakespeare Trilogy: Julius Caesar, Henry IV, The Tempest; Kate Tempest's Brand New Ancients; Tricycle Theatre's Red Velvet, The Young Vic production of A Streetcar Named Desire with Gillian Anderson; Mark Rylance's Nice Fish, and the World Premiere of the complete Taylor Mac's A 24 Decade History of Popular Music, including the one-time only 24-hour marathon in 2016. St. Ann's has championed such artists as The Wooster Group, Mabou Mines, Jeff Buckley, Cynthia Hopkins, Daniel Kitson, Emma Rice and Kneehigh, and presented an historic David Bowie concert in 2002.
The new St. Ann's Warehouse retains the best of its past homes: the sense of sacred space of its original home in St. Ann's Church; the vastness and endless capacity for reconfiguration artists have harnessed in St. Ann's temporary warehouses in DUMBO. For more information, visit www.stannswarehouse.org.
Photo Credit: Johan Persson