Chris Noth, Barry Shabaka Henley, and Cherry Lane Theatre Present THE BENCH this Fall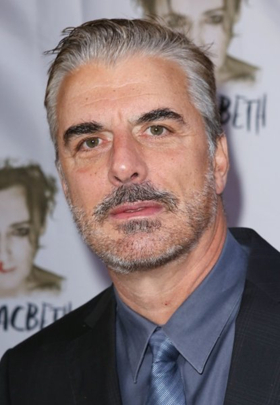 The Bench stars Robert Galinsky and marks the New York directorial debut of Jay O. Sanders, it will begin its limited run at the Cherry Lane Theatre (38 Commerce Street) on October 15 and will initially run Sunday evening at 7pm through December 17, 2017, and will celebrate its press opening on Sunday, October 29. Tickets are $59 and can be purchased by visiting TheBenchPlay.com or by calling 866-811-4111. This production is being presented by Golden Globe Nominated Chris Noth, Drama Desk, Obie, Olivier Award winner Barry Shabaka Henley and Cherry Lane Theatre. The Bench is produced by Tony Award winning producer Terry Schnuck.
Based on true stories, The Bench, set in urban decay and rubble, explores the emotional heartbreak of five homeless characters and the catastrophic hysteria surrounding AIDs in the 1980's. The sparse set is accented with hand-drawn imagery, from Daphne Arthur's graphic novel adaptation of the play, and audio design is by world re-known composer and multi-instrumentalist Deep Singh. It's a unique and fresh solo theatre piece wherein one actor plays five characters, written in dialogue form, not traditional 'monologue black out, monologue black out' traditional solo theatre form.
The Bench has been called "effortless-really quite extraordinary." Backstage Magazine; "The Bench features ensemble work, being done by one human being, with sustainable characters that have incredible nuances. It is palpably and real." Anney Bonney, Curator at The Kitchen; 'Galinsky's street dwellers speak in their own voices, and their voices ring true." The New Haven Independent; "Not your normal kind of theatre... it keeps your head moving." The NY Amsterdam News; "Galinsky herds multiple personalities into an evening of furious poetic justice." New York Press.
ABOUT THE ARTISTS

BackStage Magazine has called Robert Galinsky's acting "extraordinary & effortless" while High Times Magazine says Galinsky is "manic, deadpan & takes aim with psychotic precision." His favorite roles include: Mercutio in Romeo and Juliet and Solyony in The Three Sisters in New Haven Connecticut's "Free Shakespeare on The Green". Galinsky is a contributing editor to The Fresh Toast, is Head Speaker Coach for TEDxTeen, TEDxFultonStreet, and teaches writing and performance at Rikers Island Jail, through the non-profit Literacy for Incarcerated Teens and GalinskyCoaching.com. His work as an artist activist has been featured in The New York Times, Wall Street Journal, New York Magazine, and on "The VIEW," NPR, "ABC Nightline News" and many media outlets. More at www.galinskyplace.com.
Jay O. Sanders (Director) most recently appeared at The Public Theater in a trilogy of new plays written and directed by Richard Nelson called The Gabriels; Election Year in the Life of One Family, with a company including his wife, Maryann Plunkett. The productions then toured the world, were filmed by WNET, and livestreamed on BroadwayHD. Before that, they also appeared together in Nelson's four-play series The Apple Family which was filmed and shown as well on WNET before touring Europe. A passionate Shakespearian, Sanders has also been seen in King Lear, Titus Andronicus, Twelfth Night, Hamlet, Midsummer Night's Dream, among others, as well as portraying George W. Bush in David Hare's Stuff Happens at the Public and Alfred Doolittle in Pygmalion at The Roundabout on Broadway. In 2015, his own play, Unexplored Interior, had its world premiere as the inaugural production of Washington D.C.'s Mosaic Theater. His long list of film credits includes JFK, The Day After Tomorrow, Glory, Tumbleweeds, Half Nelson, Edge of Darkness, and Revolutionary Road. Recent television includes "Sneaky Pete," "True Detective," "Blindspot," "The Good Wife," "American Odyssey," and "Person of Interest". His voice can be frequently heard narrating a long list of PBS documentaries, from WGBH's NOVA to WNET's "Secrets of the Dead".
Photo Credit: Walter McBride / WM Photos