Casting Announced For The Seeing Place's World Premiere Of THE HYSTERIA OF DR FAUSTUS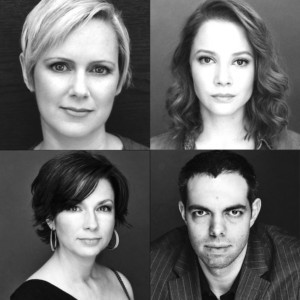 The Seeing Place Theater, known for intense & intimate ensemble work, kicks off its 9th Season with an adaptation of one of the world's best known fables. A modern take on the classic story, THE HYSTERIA OF DR FAUSTUS explores the solemn pact made between the devil and a man who has nothing left to lose. Adapted by Brandon Walker, this brand new play combines Marlowe and Goethe's enduring fables into a dark and magical modern parable, staged in an intimate setting in the East Village. The season is being presented under the theme, IN EXTREMIS, which in Latin means "in the farthest reaches" or "at the point of death."
"We're excited to tell this important story with our signature minimalist perspective," says Executive Artistic Director, Erin Cronican. "With a cast of just four actors - three women and one man - we're able to put a keen focus on the women who are at the whim of Faustus' needs and desires. Do they lead him to his downfall, or was he damned from the start? We are thrilled to bring this updated story to our community, while also providing expanded opportunities for female artists, both onstage and off."
The play stars Erin Cronican (Off Broadway: "This One's For The Girls", "Sistas"), Broghanne Jessamine (the Me Too Plays), Candice Oden ("Jack Goes Boating"), Brandon Walker ("I Am My Own Wife"). With Direction by Erin Cronican. Assistant Direction by Rachael Murray. Stage Management by Sarah Azizo. Lighting Design by Eve Bandi. Projection Design by Brian Pacelli.
With an emphasis on the organic, edgy American style of acting developed by The Group Theatre, TSP allows audiences to experience modern classics with deeper understanding of how they relate to the struggles we face today. With that, tickets are as low as $10 as a part of TSP's Affordable Theater Initiative, making theater accessible for all.
"The Seeing Place" is the literal translation of the Greek word for theater (theatron): ". . . the place where we go to see ourselves." The Seeing Place is an actor-driven company dedicated to exploring the intersection between the actor's voice and the playwright's words, by reinterpreting masterful works live and in the moment to make them relevant, visceral, truthful, and accessible to a modern audience. We live up to our name by engaging our community in a vivid conversation about what makes us human. Connection. Learning. Humanity. That's what theater is all about.