Calling All Mad Scientists! THAT CHEMISTRY SHOW to Play in Rep with THAT PHYSICS SHOW Off-Broadway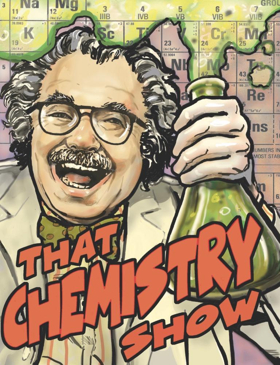 Producer Eric Krebs announces the latest in performance science - That Chemistry Show. Written and performed by Borislaw Bilash, That Chemistry Show will begin performances on July 22.
A candle that moves water, a paper cup that won't burn, a firefly without fire. An atomic flash, weaponized sugar, a hydrogen bomb. Genie in a bottle, secret writing, elephant toothpaste...Yes! All these and more comprise That Chemistry Show, 80 minutes of incredible exploration led by long-time "mad scientist" Borislaw Bilash. Get ready for amazement and lots of laughter as Borislaw combines the world of chemistry and the world of show business. Your own world will never be boring again!
"I figured that if That Physics Show could play to over 30,000 audience members since it opened off-Broadway in February,2016, maybe we were on to something," says producer Krebs. "With all the interest in science in our education system and in our political system, I wondered what a chemistry show might look like. We invited Borislaw to show us the best "wow" demonstrations that he had - and WOW! - we were mightily entertained. If one science show is good, two would be even better. So, That Chemistry Show was born."
Starting July 22, That Chemistry Show joins That Physics Show, the 2016 Drama Desk Award Winning off-Broadway sensation that is now in its second smash year.
The performance schedule for That Chemistry Show is Saturday & Sunday: July 22 and 23, August 12, 13, 19, and 20, September 9, 10, 16, 17, and October 1 @ 12noon.
Tickets are $39 and can be purchased online at www.thatchemistryshow.com or by calling OvationTix at 866-811-4111. Tickets for groups of 10+ are $29. Call (212) 967-8278 for more information.
ABOUT THE ARTISTS:
Borislaw Bilash (AKA "Captain Chemistry") is the author of five handbooks of science demonstrations written for science educators, over 1200 demonstrations in all. 1 in 4 high schools in the United States use his books to teach science. He has been a professor of Chemistry and Physics at numerous institutions, including New Jersey Institute of Technology and New Jersey's Liberty Science Center. He is a New Jersey Governor's Fellow of Math and Science and has been recognized by the NJ Science Teachers Association for over 20 years of providing over 200 chemistry and physics workshops to teachers.
Borislaw has served as an International Election Observer for Presidential Elections in the Ukraine and has developed teaching materials in Ukrainian for the Manitoba, Canada school system. As Borislaw describes himself "There is no chemistry problem that he cannot solve and no chemical reaction he cannot make." That Chemistry Show marks his theatrical acting debut.
Eric Krebs has been a theatrical producer for over 40 years. On Broadway he produced?Electra, It Ain't Nothin' But the Blues, Bill Maher in his?Victory Begins at Home, Avery Brooks in?Paul Robeson?and?Neil Simon's The Dinner Party. His Broadway productions have received 10 Tony Award nominations. Off-Broadway, his producing career began in 1977 with The Passion of Dracula. Since then,?he produced over 40 productions, including Sam Shepard's?Fool For Love, Neil LaBute's?Bash,?The Capitol Steps, a 15-month run of the hit show The Bullpen and A Class Act, a new play by attorney Norman Shabel. That Physics Show, recipient of the 2016 Drama Desk Award for "Unique Theatrical Experience" continues to delight and amaze audiences Off Broadway at The Physics Theatre. Recently, Krebs performed My Father's Voice: Letters from the Ellis Island Prison and the South Pacific War, 1938-1945. He is currently developing a new musical, I Spy a Spy, a Hell's kitchen, Russian Spy, immigrant, romantic musical comedy.
Related Articles
More Hot Stories For You