COLIN QUINN: RED STATE BLUE STATE Announces 30 Under 30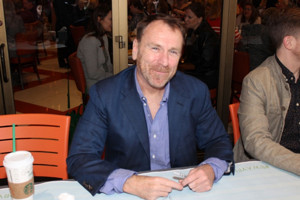 Colin Quinn: Red State Blue State, (www.ColinQuinnShow.com) a new comedy written by and starring Colin Quinn, has announced 30 Under 30: $30 tickets for anyone 30 or under. Colin Quinn: Red State Blue State will play The Minetta Lane Theatre, (18 Minetta Lane) beginning January 5 with the official opening scheduled for January 22. Colin Quinn: Red State Blue State is produced by Audible, Mike Lavoie, Carlee Briglia, and Brian Stern.
$30 tickets are available for select performances for patrons who are 30 years old or younger. Tickets are available in person at the box office only with valid ID. Maximum two per order. Subject to availability. $30 plus applicable fees. Colin Quinn is back and not a moment too soon. The satirical sage from Brooklyn returns with Colin Quinn: Red State Blue State, where he lays bare the absurdities, hypocrisies and calamities on both sides of the political divide. This is no witch hunt: Colin is here to own the libs, the conservs and all of you in between. Colin Quinn is clearly excited to be back, saying, "We all know I don't owe this country anything. In fact it probably owes me. You, however, owe the country a visit to my show to give it a proper send off before it implodes."
Colin Quinn: Red State Blue State is directed by Bobby Moresco, with set design by Edward T. Morris, sound design by Sam Kusnetz, and lighting design by Aaron Copp.
The Minetta Lane Theatre is Audible's creative home for live performances in New York, and Audible will record the show live for release as an audio play. Additional events at the Minetta Lane Theatre will be announced in the coming months. Information about previous and future live programming produced by Audible is available here.
Tickets for Colin Quinn: Red State Blue State are $49-$69 (previews) and $59-$79 (after January 21) with premium tickets available. Colin Quinn: Red State Blue State plays at the The Minetta Lane Theatre (18 Minetta Lane) Tuesday - Saturday at 7:30pm, with a matinees Saturday and Sunday at 2:30pm and a Sunday evening show at 6:30pm. Tickets can be purchased by visiting www.ColinQuinnShow.com or calling TicketMaster at 1-800-745-3000.
More Hot Stories For You