BUBBLE BOY Will Makes its New York Debut With 5th Floor Theatre Company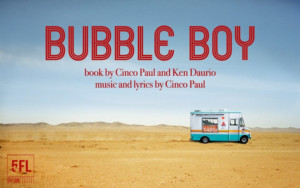 5th Floor Theatre Company, a nonprofit organization supporting emerging theatre artists in New York City as they build a foundation for their careers, will present Bubble Boy in its New York City production debut to conclude the Company's 2018 season.
Directed by Nikki DiLoreto (Anniversary, The Longest Road: A Catan Musical Parody, Debbie Does Dallas: The Musical) and with musical direction by Genevieve Wilson, Bubble Boy will open as a strictly limited engagement November 15th at the intimate Hudson Guild Theatre in Chelsea. Performance times are November 15th at 8 PM, November 16th at 8 PM, November 17th at 2 PM and 8 PM, November 18th at 2 PM, November 19th at 8 PM, November 20th at 8 PM, November 24th at 8 PM and November 25th at 2 PM.
Bubble Boy stars Brock Bivens, Erin Ulman, Caroline Huerta, Arshia Panicker, Ryan Ballard, Macon Prickett, Kirby Lunn, Catherine Nickerson, Marc Cornes, Chrissy Albanese, Jessica Banegas, Leo Yu-Ning Chang and Brian Waite.
The musical comedy tells the story of Jimmy Livingston, who was born without immunities and has spent his entire life confined inside a plastic bubble room. Enter Chloe, the girl next door, who becomes his friend and steals his heart. When she leaves town to get married, Jimmy travels cross-country in a homemade bubble suit in order to stop the wedding and finally tell her how he feels. Along the laugh-filled journey he deals with a crazy cult, a biker gang, a dead cow, and a controlling mother who will stop at nothing to get him back in the bubble.
Produced by Erin Doyle ("Saturday Night Live", "Detroiters"), Charls Daren Pasion, Gabrielle Nadig (King Jack, Little Woods), Michael Sancilio and Nico Victorino, the creative team also includes Joyah Spangler (Choreography), Rachel Skalka (Assistant Director), Tom Blushi (Stage Manager), Brian Pacelli (Set Design), Audrey Peterson (Costume Design), Chris Thielking (Lighting Design), Max Silverman (Sound Design) and Rachel Aberman (Assistant Costume Designer). Casting is by Kevin Metzger-Timson.
Bubble Boy is presented by special arrangement with Dramatists Play Service, Inc., New York.
Hudson Guild Theatre is located at 441 West 26th Street (between 9th Avenue and 10th Avenue). Tickets are $25 (general admission) and $20 (students and 5th Floor alumni). For tickets, visit https://bubbleboy.brownpapertickets.com. For more information, visit 5thFloor.org.
5th Floor Theatre is a 501(c)(3) organization that supports the community of emerging non-union theatre artists as they build a foundation for their careers. The theatre industry in New York City is the most competitive in the world, with challenges that often pose significant barriers to aspiring talent. Newcomers without industry representation must have a strong combination of creativity, education and networking skills in order to identify and leverage opportunities for growth in the theatre arts. Through a welcoming creative network and carefully selected productions, and by providing educational and professional development resources for emerging artists, 5th Floor serves as New York City's home for undiscovered theatrical talent. For more information, follow us on Facebook, Instagram and Twitter, or visit 5thfloor.org.
More Hot Stories For You