Applications Now Open for Gingold Theatrical Group's SPEAKERS' CORNER
In 2023, the group will explore Shaw's use of comedy to engage with the social issues of his time as they remain relevant to us today.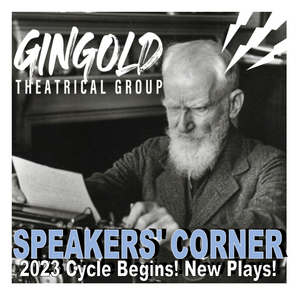 Applications are now being accepted for Gingold Theatrical Group's 2023 cycle of its SPEAKERS' CORNER New Play Development Program. To apply to Speakers' Corner 2023, please visit bit.ly/SpeakersCorner23.
Named after the corner of London's Hyde Park where George Bernard Shaw and other political speakers have delivered speeches in a 'safe place' since 1855, GTG's Speakers' Corner brings together a handful of writers to explore Shaw's plays and activist humanitarianism. They will then each write a new play rooted in their individual responses to his work.
In 2023, the group will explore Shaw's use of comedy to engage with the social issues of his time as they remain relevant to us today. Writers will then write their own socially-engaged comedies inspired by this exploration, and the plays will be presented in industry readings in fall 2023.
"Creating new works inspired by Shaw's socio-political activism has always been on our radar at Gingold," shared Founding Artistic Director David Staller. "Providing a forum for the up-and-coming voices of today is, in fact, part of what Shaw believed was his mission. We're very much looking forward to this next cycle!"
GTG's Speakers' Corner New Play Development Program will choose four playwrights from the applications. Each writer will begin the process of writing a socially-engaged comedy from scratch, writing plays to be developed through readings and workshop labs by the end of this calendar year.
The goal, ultimately, is to create plays that will be fully produced as part of future GTG seasons. These plays will be inspired by prompts found within Shaw's writing but will be created in each writer's own unique voice.
In 2023, the group will be coordinated by Lily Kanter Riopelle, a NYC-based director who has directed or developed work with 59E59 Theaters, Clubbed Thumb, Ensemble Studio Theatre, the Williamstown Theatre Festival, The Tank, The Flea, Dixon Place, The Brick, NYMF, and more. She is an alumna of Clubbed Thumb's Directing Fellowship, Manhattan Theatre Club's Directing Fellowship, and the Williamstown Theatre Festival's Directing Corps, a member of the Lincoln Center Theater Directors Lab, and a New Georges Affiliated Artist. Lily is a founding co-artistic director of Two Headed Rep, a company that commissions new plays written in response to classics and produces the old and new works in rep.
Since the writers' meetings will all be held in-person in Manhattan, all applicants should be locally based. For more information and to apply, visit www.gingoldgroup.org.
ABOUT GINGOLD THEATRICAL GROUP
Gingold Theatrical Group creates theater that supports human rights, freedom of speech, and individual liberty using the work of George Bernard Shaw as our guide. All of GTG's programs are inspired by Shaw's humanitarian values. Through full productions, staged readings, new play development, and inner-city educational programs, GTG brings Shavian precepts to audiences and artists across New York, encouraging individuals to breathe Shaw's humanist ideals into their contributions for the future. Shaw created plays to inspire peaceful discussion and activism and that is what GTG aims to accomplish. GTG's past productions include Man and Superman (2012), You Never Can Tell (2013), Major Barbara (2014), Widowers' Houses (2016), Heartbreak House (2018), Caesar & Cleopatra (2019), Mrs. Warren's Profession (2021), and Candida (2022).
Founded in 2006 by David Staller, GTG has carved a permanent niche for the work of George Bernard Shaw within the social and cultural life of New York City, and, through the Project Shaw reading series, made history in 2009 as the first company ever to present performances of every one of Shaw's 65 plays (including full-length works, one-acts and sketches). GTG brings together performers, critics, students, academics and the general public with the opportunity to explore and perform theatrical work inspired by the humanitarian and activist values that Shaw championed. All comedies, these plays boldly exhibit the insight, wit, passion and all-encompassing socio-political focus that distinguished Shaw as one of the most inventive and incisive writers of all time.
Through performances, symposiums, new play development, and outreach, as well as through our discussion groups and partnerships with schools including SUNY Stony Brook, Regis, the De La Salle Academy, and The Broome Street Academy, GTG has helped spark a renewed interest in Shaw across the country, and a bold interest in theater as activism. Young people are particularly inspired by Shaw's invocation to challenge the strictures society imposes, to embrace the power of the individual, to make bold personal choices and to take responsibility for these choices. GTG's new play development lab, Speakers' Corner, created to support playwrights inspired by Shaw's ideals, is now in its second cycle. Through monthly prompts and feedback, writers develop work inspired by or in response to a specific Shaw text. Plays developed through Speakers' Corner will be nurtured in workshops and readings with the expectation that GTG will publish or produce them. GTG encourages all people to rejoice in the possibilities of the future. All of GTG's programming is designed to inspire lively discussion and peaceful activism with issues related to human rights, the freedom of speech, and individual liberty. This was the purpose behind all of Shaw's work and why GTG chose him as the guide toward helping create a more tolerant and inclusive world through the exploration of the Arts.
FOR MORE INFORMATION VISIT: