Amas Musical Theatre Continues 'Dare to Be Different' Series with WANDA'S WORLD Tonight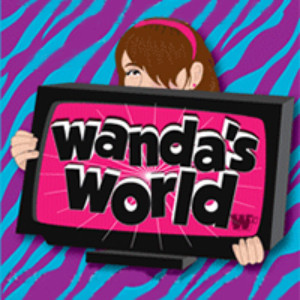 Amas Musical Theatre presents a one-night-only performance of Wanda's World, tonight, December 4, at 7:30pm, as part of Dare to Be Different, the previously announced series of new musicals and one-night only special events being held at A.R.T./New York Theatres (502 West 53rd Street - 10th Avenue & 53rd Street).
Wanda's World, the 2008 Lucille Lortel Award nominee for "Outstanding Musical" with book by Eric Weinberger and music and lyrics by Beth Falcone is story of Wanda, the coolest tween ever. She's beautiful. She's confident. And she's the star of her own TV talk show! That's the fantasy. In reality, Wanda has a blotchy issue of her own to overcome. And tomorrow is the first day of school...IT'S GOING TO BE AN AWESOME YEAR!
Directed by Two-time Tony Award nominee Lynne Taylor-Corbett (Swing!), the cast features Brianna Carlson-Goodman (Hair) as Wanda, as well as Jennifer Bowles (Matilda), Jonathan Brody (A Bronx Tale), Michael Dexter (Wanda's World), James Royce Edwards (Altar Boyz), Leo Ash Evens (School of Rock), Carl Hsu (Play it by Heart), Erin Leigh Peck (Grease!), Heather Jane Rolff (Shrek:The Musical), and Christine Scharf (Wanda's World). The bandis led by Ms. Falcone on piano with David Anthony (percussion), Alex Berlin (guitar) and Ritt Henn (bass).
"We are thrilled to be presenting Wanda's World as a benefit for Amas in honor of Eric H. Weinberger," says Amas Artistic Producer Donna Trinkoff. "Eric was one of the truly good people on this earth and he left us too soon. Most of our original cast has returned for this special evening, along with our wonderful director Lynne Taylor-Corbett."
In an earlier statement, Ms. Trinkoff said "For 49 years, Amas has been a pioneer in multi-ethnic casting and has been devoted to the creation, development and professional production of new American musicals through the celebration of diversity and minority perspectives, and the emergence of new artistic talent We wanted to present a series featuring new musicals being developed in our Lab and special one night events that explore the stories of people who dared to be different: the slave who stole a gunship from under the nose of the Confederate army; Hollywood's sepia goddess- the first black woman to be nominated for an Oscar; the Mexican immigrant who fought to unionize building janitors. And to give our audiences the chance to get in at the ground floor in the development process of our talent artists in an intimate and up-close and personal setting."
Tickets for Wanda's World are $40* Become an "Amas49er" member to receive a 50% discount. For tickets, call (212) 352-3101 or visit the brand new Amas web site at www.amasmusical.org. *A portion of the proceeds for Wanda's World will benefit the Eric H. Weinberger Emerging Playwright Scholarship.
Amas Musical Theatre (Donna Trinkoff, Artistic Producer) now in its 49h year of continuous operation is New York City's award-winning pioneer in diversity and multi-ethnic casting in the performing arts since 1968. Amas ("you love" in Latin) is devoted to the creation, development and professional production of new American musicals through the celebration of diversity and minority perspectives, the emergence of new artistic talent, and the training and encouragement of underserved young people in the New York area. In recent years, Amas has emerged as a leading not-for-profit laboratory for new musicals, the most recent being Broadway and the Bard, starring Len Cariou and Red Eye of Love, which was awarded the Joseph A. Callaway Award for Outstanding Choreography. Its production of The Other Josh Cohen received six 2013 Drama Desk nominations including Outstanding Musical, a 2013 Lucille Lortel nomination for Outstanding Musical, and a 2013 Off-Broadway Alliance nomination for Best New Musical. Other shows that Amas has developed include Play it by Heart, A Taste of Chocolate, Triassic Parq, The Countess of Storyville, Distant Thunder, Marry Harry, Me and Miss Monroe, Aesop & Company, Signs of Life, Wanda's World, Shout! The Mod Musical, Lone Star Love, From My Hometown, Zanna, Don't!, 4 Guys Named Jose and Stormy Weather: Reimagining Lena Horne. Amas education programs include the Rosetta LeNoire Musical Theatre Academy, Lens on Live Theatre and in-school theatre arts residencies designed in partnership with elementary, middle, and high schools.
The A.R.T./New York Theatres are a project of the Alliance of Resident Theatres/New York (A.R.T./New York), which provide state-of-the-art, accessible venues at subsidized rental rates, plus free access to top-line technical equipment, so that the city's small and emerging theatre companies can continue to experiment, grow, and produce new works. Founded in 1972, A.R.T./New York is the leading service and advocacy organization for New York City's 375+ nonprofit theatres, with a mission to assist member theatres in managing their companies effectively so that they may realize their rich artistic visions and serve their diverse audiences well. We accomplish this through a comprehensive roster of real estate, financial, educational, and community-building programs, as well as research, advocacy, and field-wide initiatives that seek to improve the long-term health and sustainability of the industry. Over the years, A.R.T./New York has received numerous honors, including an Obie Award, an Innovative Theatre Award, a New York City Mayor's Award for Arts & Culture, and a Tony Honor for Excellence in the Theatre. For more information, visit www.art-newyork.org.