BWW Review: JESUS CHRIST SUPERSTAR at Sarpsborg Scene

Musically Jesus Christ Superstar at Sarpsborg Scene is a joy to witness, and works in all aspects with the performers, choir and musicians. Directorially it is more of a hit and miss, with both captivating sequences but others got a little lost in the huge crowd on stage.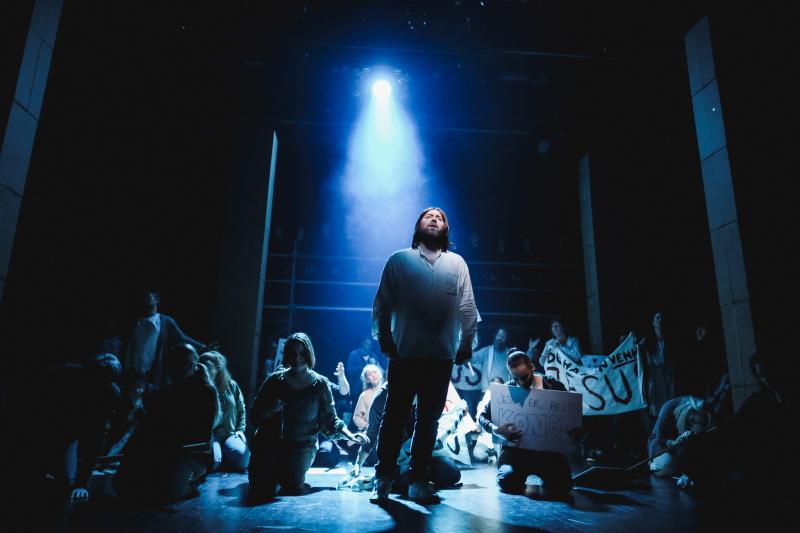 Jesus Christ Superstar is a 1970 rock opera with music by Andrew Lloyd Webber and lyrics by Tim Rice. The musical started as a rock opera concept album before its Broadway debut in 1971 and later London in 1972. The story is loosely based on the Gospels' accounts of the last week of Jesus's life, beginning with the preparation for the arrival of Jesus and his disciples in Jerusalem and ending with the crucifixion. It depicts political and interpersonal struggles between Judas Iscariot and Jesus that are not present in the Bible.
The work's depiction offers a a very free interpretation of the psychology of Jesus and the other characters. A large part of the plot focuses on the character of Judas (, who is depicted as a tragic figure dissatisfied with the direction in which Jesus steers his disciples and fearful for the destruction that may result. Modern-day attitudes and sensibilities (as well as slang) pervade the lyrics, and ironic references to contemporary life are spread throughout the depiction of political events. This new translation is a little uneven with some of Tim Rice's satirical and clever text sadly lost in the mix.

Stylistically everything is kept simple and clean. The scenic design consists of seven (rather shaky) pillars, and a steel constructed bridge upstage. The band is seated on stage below the bridge, so you get a semi concert feel, which is good.
As I said earlier; musically this new production is VERY strong with local professional performers (some with impressive international careers) filling the main parts. Philip Bøckmann as Judas is vocally impressive. He was a little controlled on the first few numbers. Not sure if that was a directorial choice or not, but as the performance progressed he sang the high notes full out, which was a thrilling to witness. Jonas Groth's Jesus is musically aggressive and was closer sound of Ian Gillan than many recent portrayals where it is sung more in a "musical theatre style", which was a nice surprise. Maria Magdalena played by Malin Schavenius, was solid and beautiful, Ann Kristin Elverum's (gender switched) Pontus Pilate was stunning both visually and vocally (especially that final high note.Praise the Lord). And not to forget Trond Gudevold's Caiaphas. His booming operatic bass voice was both clear and articulated. The smaller parts was also in good hands. Stian Joneid as Simon and Martin Hovland as Peter were both strong singer. Especially Martin Hovland's duet "Could We Start Again Please" with Malin Schavenius and was a musical highlight during act two.
The ensemble consists of local non-professional singers and actors, but they too sound impressively well. The small five-piece band under the direction of Lars Støvland did the score justice. Musical Director Trond Lindheim has expaneded some of the choir sections which sounded new and exciting.
Directorially Erik Schøyen has crafted a a contemporary fairy land, with characters in modern clothes, the patriarchy in robes, Herod wears a diaper(!) and Pilate is sporting very high heels. Schøyen has chosen to use a symbolistic approach, and sometimes it works really well, while in other places it gets lost among crowded scenes and shaky pillars. it is difficult to keep the focus (especially during the first act). The second half works a lot better with good inventions like having Judas pour a goblet of blood and getting drenched. Having the cast throw sparkling confetti at Jesus during thirty-nine lashes, and Jesus ending up in a pile of previously used "I love Jesus"-banners and garbage during his crucifixion scene. So in conlusion it was a very brave approach which was "almost" there.
For its musical superiority I left the performance feeling proud that Norwegian local productions can deliver at this level.


All photos: Sigmund Sagberg Andersen