BWW Review: THE BOOK OF MORMON is Funny, Offensive and Cheekily Smart Entertainment for Adults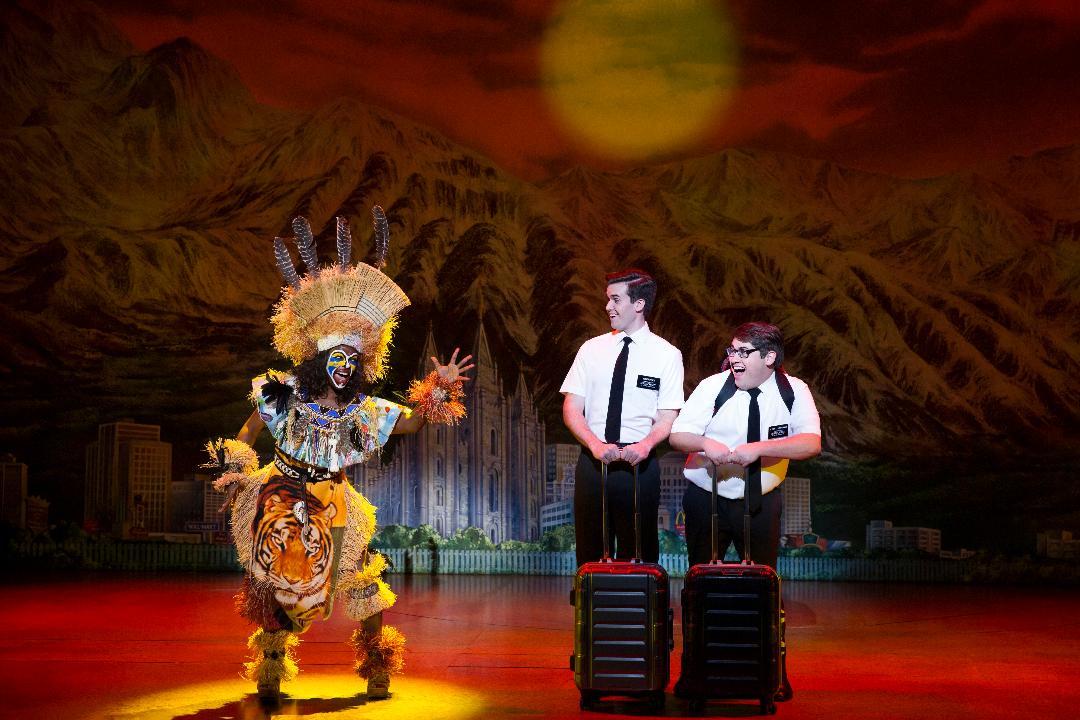 The raucous, obscene musical from Robert Lopez (Avenue Q) and South Park writers Trey Parker and Matt Stone returned to the Altria Theater in Richmond Tuesday night in all its irreverent glory. For those who have yet to experience this critically-acclaimed musical, The Book of Mormon tour is as funny and fresh as it was with the original cast on Broadway. Please note this show is not for children. It's not even for some adults. Nothing is off limits.
THE BOOK OF MORMON tells the story of two young Mormons on their first mission to spread the Lord's word. Elder Price (Liam Tobin) and Elder Cunningham (Conner Peirson), who could not be more complete opposites, are paired together for their mission to Uganda. Elder Cunningham, who did not pay attention in church and has never cracked open his Bible, is obsessed with fantasy and science fiction and has a very active imagination. What ensues is a sidesplitting story of Joseph Smith and the Mormon church that sounds like it was written by J.R.R. Tolkien and George Lucas. Extreme liberties are taken.
At its core, The Book of Mormon is not about religion. Behind the facade of humor for which Stone and Parker have become synonymous is a musical so full of heart and with a positive message. It's about recognizing and overcoming third-world problems. It's about humanity.
The clever production draws inspiration from classic and contemporary musical gems and stretches across genres with one of the most affecting and catchy scores of the century. Audience members may hear influence from Wicked in the buddy number "You and Me (but Mostly Me)", Little Shop of Horrors in "Sal Tlay Ka Siti," The Music Man in "All American Prophet," and even allusions to The Sound of Music's "I Have Confidence" during the outset of "I Believe."
All of the technical elements from the Broadway production are in tip-top shape in the touring production. Brian MacDevitt's lighting design is rich with pulsating and moving fixtures and haze that is quite impressive. Scott Pask's set clearly draws inspiration from other animated worlds of Parker and Stone. Ann Roth's costumes are creative. Casey Nicholaw's original Broadway choreography is intact.
There are so many great moments in The Book of Mormon. An early crowd favorite is the toe-tapping and dazzling showstopper "Turn It Off," led by a fantastic Andy Huntington Jones as the gay Elder McKinley. The song about turning off negative, or in McKinley's case, homosexual thoughts, "like a light switch," literally breaks into an impressive tap number with a blink-and-you'll-miss-it costume change.
Kayla Pecchioni is outstanding as Nabulungi. Her take on the earlier mentioned "Sal Tlay Ka Siti," a manifestation of her dream to leave her Ugandan village to live in Salt Lake City, is another crowd favorite. Broadway veteran Ron Bohmer (Ragtime, Les Miserables, The Woman in White) shows his versatility as an actor in numerous roles, including Joseph Smith, Elder Price's father and the Mission President. Jacques Smith is also very good as Mafala. The top-drawer ensemble, including Richmond local Josh Marin, shines throughout the production.
Liam Tobin has great comedic timing and is perfectly cast as the bombastic "do-gooder," Elder Price. "All American Prophet," "Spooky Mormon Hell Dream" and "I Believe" are all highpoints of the production.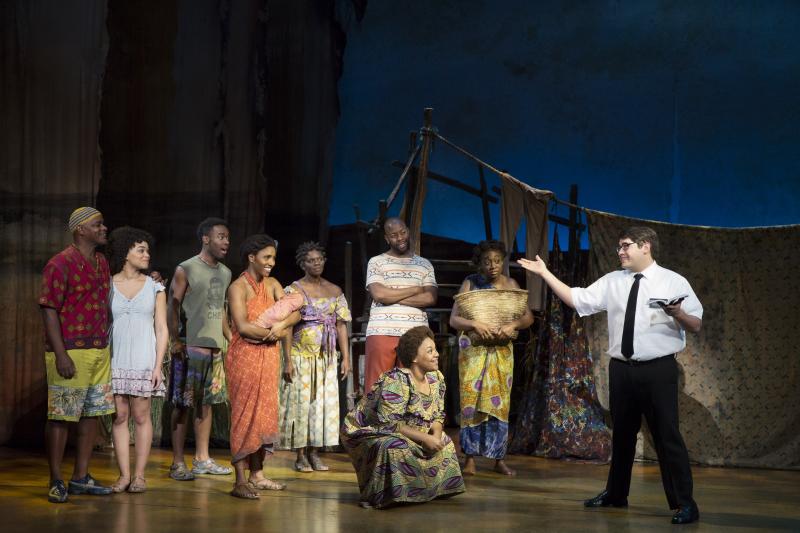 Conner Peirson's Elder Cunningham could easily match that of Josh Gad's, but there were many qualities of Peirson's show-stealing performance that this reviewer preferred to the originator of the role. Whether he's mispronouncing Nabulungi's name as "Neutrogena," "Nala," "Nicki Minaj", "Nissan Altima," or carefully using his imagination to teach scripture, his physical comedy is perfect and his energy infectious. He has a Rockstar turn, filled with pelvic gyrations and high kicks, during the highly-impious, act one closer "Man Up."
THE BOOK OF MORMON is hilarious, smart and filled with so many great musical numbers. With nine Tony Awards to its name, it's a highpoint in musical theatre history and should be seen by any who think they can handle its brand of humor.
Related Articles