BWW Review: EMILIA at Pop Up Globe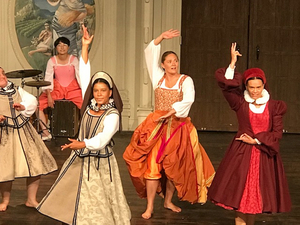 Emilia
Reviewed by Glenda Pearce
We are only as powerful
as the stories we tell.
The New Zealand premiere of Emilia is a fitting conclusion to the Pop Up Globe's final summer season. Superbly and boldly directed by award-winning director Miriama McDowell in her familiar trademark style, it is a spectacular theatrical piece. Its well-directed stagecraft is well suited to the spacious Globe stage. The cast is an ethnically diverse cast of talented NZ women. Although it edges close at times to polemical, the strengths of the production lie in its truthful and engaging characterisation, outstanding choreography (Katrina George) , its use of music and harmonies (Shimma Higgins) and its comic shades.
The opening is a dramatic flipping open of a large book centrally placed on the stage to reveal the storyteller, Emilia. She tells us that power comes from being able to tell our stories - and having others finding time to listen. It is her story we will have the privilege to share.
So - who was Emilia Bassano? Quite simply, she was a published poet, a mother, a teacher, and a feminist avant la lettre. She lived from 1569 - 1645. What Lloyd Malcolm asserts is that Emilia was much more that. Five years younger than Shakespeare, and surviving him by 30 years, the premise of Morgan Lloyd Malcolm is that Emilia was his lover - the famous 'dark lady' of his sonnets - and an unacknowledged inspiration for his plays.
Acushla-Tara Kupe, Jen Van Epps and Fiona Collins share the title role of Emilia - and all articulate her rebellious nature, her wit, her intellect, her passion to write and her pride. Initially we see Emilia (Acushla-Tara Kupe) trained, and constrained, as "currency" being groomed to catch a husband. Lucinda Hare is outstanding in her role as the determined and dedicated Susan Bertie teaching the various ladies how to behave, how to listen to men, how to dance, how to smile and to laugh at their jokes.
Eight years later, Emilia accepts how Lord Henry Carey ( Roimata Templeton) can make life easier for her. Templeton brings a convincing masculinity to this elderly roué , and as Lord Henry easily manipulates a loveless marriage (when already pregnant with his child) to the posturing, gallant, emotionally uninterested Alphonso Lanier (Celeste). Celeste steals the stage when on it - her comic timing, facial expression and physicality are a delight. "Let's be honest. I am surprisingly low on skills."
Emilia's (Jen Van Epps) frustration at not being able to write and publish is conveyed superbly with the pages floating from the heavens, to remain scattered on the stage. Enter William Shakespeare (Batanai Mashingaidze) - bold, passionate, enthusiastic and blokey. Those in the audience familiar with Shakespeare's works will appreciate the lines from various plays: the verbal duels between Beatrice and Benedick (Much Ado About Nothing), sonnets interwoven as the two dance flamenco, and the truth in lines such as "Will's heart I came to cherish." The poignancy of "Nothing will come of nothing" (King Lear) , "My heart is in my mouth", (King Lear) and Shylock's "Hath we not affections..." (Merchant of Venice) enhances the frustration felt by Emilia as she watches Shakespeare glean her thoughts, and borrow phrases and plots.
Eventually Lloyd Malcolm has Emilia invading and interrupting a performance "Othello" showing how familiar she is with the sentiments and the story. She is now a living symbol of exploited women. Even her name has been used! "She speaks like me." "Those plays are my words". "Why can I not do as you do?"
The stagecraft of Act 2 is spectacular: opening powerfully with the laundry chorus of the Cheapside women, and Emilia's attempted drowning, her rebirth as a writer and as an inspiring teacher. "She is a woman who has learned to think for herself". Rashmi Pitapitiya engages the audience with her powerful performance as Sir Thomas Howard, her eyes conveying the outrage at a woman stepping outside her place. "Hush your tongue. Stay your pen." Writing is being seen as sorcery. The burning of the no longer silent Eve as "a witch" (Grace Bentley) is dramatically captured, books being used as her pyre.
The superb costume design (Chantelle Gerard) conceptualises the world of the oppressed female and the rule of the dominant male. At the end of the play, Emilia (Fiona Collins) is vehement, firing final words at the audience to take action. The time is right to know Emilia's story because "let me tell you about danger - it is something that forms the core of me." The story is "forever on a page, forever on a shelf, forever to be read by inquiring minds."
Emilia is the final play to see in the Pop-up Globe's farewell season. It runs from March 4-22, 2020. It is a "history" story powerfully told. Don't miss your last chance to see the Pop Up Globe's magic.
Tickets at www.eventfinda.co.nz
Enter Your Article Text Here!