The Shakespeare Theatre Presents Sam Shepard's BURIED CHILD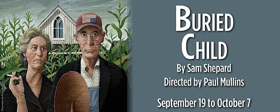 The Shakespeare Theatre of New Jersey continues its 56th season with its fourth Main Stage production, Buried Child. This will mark the first time the Theatre has presented a play by Sam Shepard, who passed away last year. Paul Mullins returns to direct. Veteran company member Sherman Howard leads a cast that features returning company members Anthony Marble and Carol Halstead, as well as Roger Clark, Paul Cooper, Michael Dale, and Andrea Morales, all of whom are making their STNJ debut. Performances begin September 19. Patrons can purchase tickets at The F.M. Kirby Shakespeare Theatre located at 36 Madison Avenue in Madison by calling the Box Office at 973-408-5600 or by going online at www.ShakespeareNJ.org.
Buried Child won Sam Shepard the Pulitzer Prize for Drama in 1979. When it was revived on Broadway in 1996, it was nominated for five Tony Awards, including the award for Best Play. A stunning allegory about rural America, Buried Child is a darkly funny and disturbing depiction of the American dream, mythology, and family gone wrong. In homage to this groundbreaking playwright, the Theatre is thrilled to bring this modern American classic to life.
Sherman Howard returns to The Shakespeare Theatre for his eighth season as Dodge, the play's patriarch. His company credits include leading roles in The Tempest, The Lion in Winter, No Man's Land, and A Christmas Carol, among many others. Mr. Howard's Broadway credits include Gore Vidal's The Best Man in 2012, A Bengal Tiger in the Baghdad Zoo, All My Sons, and Inherit the Wind.
As Halie, Carol Halstead will return for her third season with The Shakespeare Theatre. Ms. Halstead's company credits include Richard III and The Diary of Anne Frank. She has appeared on Broadway in Gore Vidal's The Best Man and Off-Broadway in The Duchess of Malfi, Pericles, Walking Down Broadway, and The Mask.
After appearing as Marlowe in last season's Shakespeare in Love, Anthony Marble will play Tilden for his fifth season with The Shakespeare Theatre. His other company credits include Wittenberg, Arms and the Man, and Rosencrantz and Guildenstern Are Dead. Mr. Marble's film and television credits include The Big Short, Preacher, The Magicians, andRoots.
Roger Clark makes his STNJ debut as Bradley. He has performed at Poor Mouth Theatre, Theatre for a New Audience, Florida Studio Theater. Mr. Clark also works regularly in voice over, audio books, and motion capture, having mostly recently been in the hit PlayStation game, Red Dead Redemption.
In the role of Vince is Paul Cooper who is also in his first season at The Shakespeare Theatre. His regional credits include The Shakespeare Theatre Company in Washington, D.C., the Guthrie Theater, Arena Stage, and The Berkshire Theatre Festival.
Andrea Morales makes her STNJ debut as Shelly. She was most recently seen at the Eugene O'Neill Theatre Center in #nowall, and her other regional credits include Two River Theatre and Heart of America Shakespeare Festival. Her television and film credits include Bull, The Blacklist, and Hearts Beat Loud.
Rounding out the cast is Michael Dale who makes his STNJ debut as Father Dewis. He has performed at Woodstock Shakespeare Festival in As You Like It and Romeo and Juliet, The Mint Theatre in A Lesson from the Aloes, and Judith's Story at The Sergeant Theatre.
This season marks Paul Mullin's 25th anniversary with The Shakespeare Theatre. Mr. Mullins' previous directing credits include What the Butler Saw, Richard III, A Song at Twilight, Equivocation, Henry VIII, Noises Off, and The Threepenny Opera, among many others.
Buried Child's design team includes the creative talents of Scenic Designer Michael Schweikhardt, Lighting Designer Tony Galaska, Costume Designer Andrea Hood, and Sound Designer Erik Lawson. The Production Stage Manager is Jackie Mariani.
Single tickets for Buried Child begin at $29 for preview performances and begin at $49 for regular performances. Prices range from $29 to $69. The Theatre is proud to bring back its successful $30 UNDER 30 program for the 2018 season. Patrons aged 30 and under can purchase tickets for only $30 with a valid ID, subject to availability. For tickets, patrons can call the Box Office at 973-408-5600 or visit www.ShakespeareNJ.org.
The Shakespeare Theatre of New Jersey offers various cost-saving opportunities, including $15 student rush tickets, which are available 30 minutes prior to each performance with a valid student ID, as well as a limited number of Pay What You Cantickets for every performance on a first come, first served basis. Season Memberships are also available and provide significant cost savings throughout the year.
For the same price as a regular ticket, the Symposium Series performances offer a post-show discussion with the cast and artistic staff. For Buried Child, the symposia will be held following the Tuesday, September 25 at 7:30 p.m., Saturday, September 29 at 2:00 p.m., and Saturday, October 6 at 2:00 p.m. performances.
The Know the Show pre-show talks are offered free-of-cost. Prior to the show, an artist from The Shakespeare Theatre presents a pre-performance talk providing background information and an inside perspective on the production. This program is free with the purchase of a performance ticket, and for Buried Child will be held on Thursday, September 27 at 7:00 p.m., with the show beginning at 8:00 p.m.
The Shakespeare Theatre now offers Captioned performances and Audio Described performances throughout the season. Captioned performances will take place the firstSunday performance of every Main Stage production. The captioned performance forBuried Child will be on Sunday, September 23 at 7:30 p.m. The Audio Described performance for Buried Child will be on Sunday, September 30 at 7:30 p.m. with a sensory seminar beginning at 6:00 p.m. For more information, please contact the Box Office.
A student matinee performance will be offered on Wednesday, October 3 at the very affordable price of $17 per ticket. Schools are encouraged to book soon as availability is limited. To book, please call 973-845-6742. The show is not appropriate for younger audiences.