THE COMEDY OF (JERSEY) ERRORS At Kean University Puts A Local Twist On Shakespeare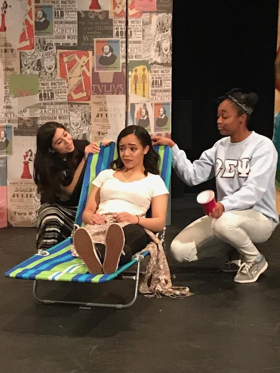 What do you get when you combine Shakespeare's The Comedy of Errors with the Jersey Shore? The Comedy of (Jersey) Errors, a Kean University Theatre Conservatory production that opens Wednesday, April 4 at Kean's Zella Fry Theatre in Union.
Directed by Assistant Professor Rachel Evans, The Comedy of (Jersey) Errors is a farce that is filled to excess with with madcap characters, unexpected adventures and everything we know and love about the Garden State's beaches.
Audiences will be transported to the boardwalk to follow the foibles of two long-lost sets of twins who, unbeknownst to the other half, cross paths several times. Only Jersey's sun and sand can promise this many antics until the play's many mistaken identities culminate in an uncanny family reunion.
"I am a New Jersey transplant," said Evans. "Living in New Jersey is unlike living in any other state. We get picked on and looked down upon, but we proudly brandish those things that make us distinctly 'Jersey.'"
In The Comedy of (Jersey) Errors, Evans populates the world of Point Pleasant, instead of Shakespeare's original Ephesus, with as many silly and stereotypical references to Garden State culture as she could find.
"I'm hoping that Jersey residents will enjoy visiting familiar sites, seeing humorous character types, and hearing familiar music that sets the stage for the Jersey Shore," she said. "Audience members will hear everything from 'Rutgers' to 'pork roll' woven into Shakespeare's text."
This production is the culmination of Kean Players on Tour, a semester-long class that meets twice a week. Students auditioned in October for The Comedy of (Jersey) Errors, and those cast and committed to the production then registered for the corresponding spring course.
Students enrolled in the class also have a hand in the play's production, including tech and design, the creation of a study guide, and the particular demands of taking the show on the road. Following on-campus performances at Kean, the students will bring The Comedy of (Jersey) Errors to local schools.
The cast is comprised of 15 student-actors working alongside other Theatre Conservatory majors, including stage manager MaryKate Grimes of Summit; scenic designer Ola Farrag of Piscataway; costume designer Kayla Hunt of Hillside; and sound designer Vander Washington of Jersey City. Lighting design is by lecturer Brant Thomas Murray.
The Comedy of (Jersey) Errors opens at Kean's Zella Fry Theatre, located at Vaughn Eames Hall at 1000 Morris Avenue in Union, on Wednesday, April 4 at 8 p.m. Additional performances will be held Thursday-Saturday, April 5-7, at 8 p.m.; Saturday, April 7 at 2 p.m., followed by a post-show discussion with the cast; and Sunday, April 8, at 1 p.m. There are also two "On School Time" matinees on Thursday, April 5 and Monday, April 9 at 10:30 a.m. for school and community groups.
Tickets to all Theatre Conservatory performances are $15 for the general public, $12 for Kean faculty, staff and alumni, and $10 for students. To purchase individual tickets or arrange a group visit, call the Kean Stage box office at (908) 737-7469, email ticket@kean.edu, or visit www.keanstage.com.
ABOUT KEAN UNIVERSITY
Founded in 1855, Kean University has become one of the largest metropolitan institutions of higher education in the region, with a richly diverse student, faculty and staff population. Kean continues to play a key role in the training of teachers and is a hub of educational, technological and cultural enrichment serving more than 16,000 students. The University's five undergraduate colleges offer more than 50 undergraduate degrees over a full range of academic subjects. The Nathan Weiss Graduate College offers five doctoral degree programs and more than 60 options for graduate study leading to master's degrees, professional diplomas or certifications. With campuses in Union and Toms River, New Jersey, and Wenzhou, China, Kean University furthers its mission by providing an affordable and accessible world-class education. Visit www.kean.edu.
ABOUT THE THEATRE CONSERVATORY AT KEAN UNIVERSITY
Accredited by the National Association of Schools of Theatre, Kean University's Theatre Conservatory mirrors the University's mission to provide a core educational foundation based on the liberal arts. Our curricula are designed to educate theatre students to enter the realm of professional theatre, theatre education or advanced graduate studies. For more information, call (908) 737-4420, email theatre@kean.edu or visit www.kean.edu/theatre-conservatory.
PHOTO: Cast members from the Theatre Conservatory at Kean University rehearse a scene from The Comedy of (Jersey) Errors. Pictured L-R are Sabrina Alamo of Roselle, N.J., as Luciana, Genesys Tejada of Passaic, N.J., as Adriana, and Asia McKnight of Dover, DE, as Messenger. Performances begin Wednesday, April 4.
Related Articles View More New Jersey

Stories

Shows
More Hot Stories For You