Shadow Lawn Stage Presents MY WAY A Musical Sinatra Tribute On Jersey Shore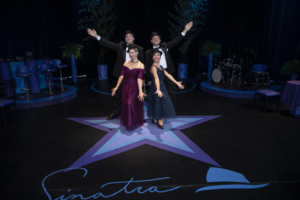 Shadow Lawn Stage, the professional theater of Monmouth University proudly presents a swinging tribute to Ol' Blue Eyes, My Way: A Musical Tribute to Frank Sinatra, running from July 18 through July 28 at Lauren K. Woods Theatre. Sheri Anderson is the Producer/Artistic Director of Shadow Lawn Stage, located minutes from the New Jersey shore in West Long Branch on the historic campus of the university.
The musical highlights Sinatra's legendary career as four actors take you on a journey spanning the breadth of time from his early beginnings as a crooner in New York to the bright lights of Las Vegas with the Rat Pack to his final performances.
The show is directed by Michael Perreca, with choreography by Bob Boross and musical direction by Michael Gilch. The cast features Sarah Beth Andrews, Robert Bannon, Grace Field and Brett Lowell. Scenic design is by Fred DelGuercio, lighting design is by Sean Nejman, costume design by Pat Nurnberger, and sound provided by Beachside Productions. Molly J. Huber is production stage manager.
Conceived by David Grapes and Todd Olson, My Way invites its audience to take a trip down memory lane while celebrating Sinatra's remarkable five-decade career from the 1950s to the 1990s. From a songbook of more than 1,300 tunes, My Way spotlights 54 of Sinatra's classic songs, from "Fly Me to the Moon," to "Chicago," to "New York, New York" and "That's Life." It's a celebration Sinatra style-a few stories, a few drinks and plenty of knockout tunes.
"We've assembled a gifted cast to showcase these fabulous Sinatra tunes, and by chance the entire cast hails from across the state of New Jersey, making this an even more special, personal tribute to The Chairman of the Board, who was born in Hoboken," says Perreca.
Performances are Thursdays, Fridays, Saturdays at 8 pm, Saturdays at 2 pm and Sundays at 3 pm, from July 18 to 28. Tickets are $30 (adults); $20 (seniors/alumni); $10 (children/students). The Lauren K. Woods Theatre is located at 400 Cedar Ave., West Long Branch, NJ. For tickets, contact (732) 263-6889 or order online at www.monmouth.edu/shadowlawnstage. (The Opening Night performance is sold out.)
Shadow Lawn Stage is the professional Equity theater series at Monmouth University. Its goal is to present the best of past and present plays and musicals at the Jersey Shore. Sarah Beth Andrews, Grace Field and Molly J. Huber appear courtesy of Actors' Equity Association. Michael Perreca is a member of Stage Directors and Choreographers Society, and directed last year's Shadow Lawn production of "The Fantasticks," as well as "The Odd Couple," starring Tony-award nominee Lou Liberatore ("Burn This") and Bill Timoney ("Network," "All the Way").
As a professional theater on a university campus-Actors' Equity Association is the official union for stage actors in the United States-Shadow Lawn gives students a unique opportunity to work side-by-side with Equity actors, learn the details of professional production (both backstage and onstage), and earn points toward Equity membership. Recent productions include "The Fantasticks," "You're A Good Man, Charlie Brown," "Always Patsy Cline," "Teddy and Alice," "Big, The Musical," and "The 25th Annual Putnam County Spelling Bee."
Now in its 21st year, the Shadow Lawn Stage productions take place in the beautifully renovated Lauren K. Woods Theatre on the historic campus of Monmouth University (which was the mansion of Woodrow Wilson and its surrounding grounds). In addition to its academic curriculum, the Department of Music and Theatre Arts holds lively events and creative productions for public audiences. Each year the department presents a drama, a holiday concert and a musical along with other events.
More Hot Stories For You