Click Here for More Articles on ANDREW LLOYD WEBBER
Photo Flash: PHANTOM & LES MIZ Stars Salute Andrew Lloyd Webber
Long-time veterans of Broadway's The Phantom of the Opera and Les Miserables headlined a star-studded Benefit Evening, MASQUERADE: Andrew Lloyd Webber'S GREATEST HITS, on Saturday, April 18, at the Bickford Theatre, 6 Normandy Heights Road, in Morristown, NJ.
Among the many artists appearing at this nearly sold-out fundraising event were Gary Mauer (The Phantom, The Phantom of the Opera), Elizabeth Southard (Christine, The Phantom of the Opera), and J. Mark McVey (Jean Valjean, Les Miserables).
Also starring were Julie Waldman-Stiel (The Music of Andrew Lloyd Webber National Tour), Carbonell Award-nominee Rachel Cohen (Evita, Cats National Tour), Mark Montague (Show Boat with Tony Award-nominee Robert Cuccioli and Gay Willis), Jennifer Montague, Christopher A. Budinich, and Jodi Chekofsky.
This fundraiser for the Bickford Theatre Guild directly benefitted audio and visual assisted performances and scholarships for underprivileged at the theatre's performing arts school.
"MASQUERADE" featured the best-loved songs from the mega hits composed by the Tony, Grammy and Academy Award-winning composer, including Broadway show-stoppers from Cats, Evita, The Phantom of the Opera, Sunset Boulevard, Jesus Christ Superstar, Song & Dance, Starlight Express, Aspects of Love, Whistle Down the Wind, and Joseph and the Amazing Technicolor Dreamcoat. Audiences heard such classics as "Memory," "Music of the Night," "Don't Cry For Me, Argentina," "I Don't Know How To Love Him," "As If We Never Said Goodbye," "Love Changes Everything," and many more!
Photos by Stephen Kantrowitz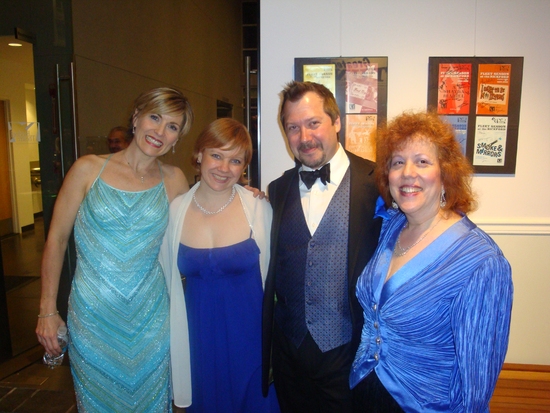 Elizabeth Southard, Jennifer Montague, Mark Montague, and Jodi Chekofsky

Christopher Budinich, Rachel Cohen, Gary Mauer, Elizabeth Southard, Mark Montague, Jennifer Montague, Jodi Chekofsky, and Peter Candela