Photo Flash: Here Comes Audrey II! First Look at LITTLE SHOP OF HORRORS at Dante Hall Theater
Little Shop Of Horrors the musical hit is currently running at Atlantic City's historic Dante Hall for a limited run of performances through November 11th. Little Shop Of Horrors is presented by JRL Productions in association with Musical Theater International and Dante Hall Theater. Scroll down for a first look at the cast and a peek behind the scenes!
The Dante Hall Theater presentation showcases new, originally designed Audrey II puppets made exclusively for the production by Creative Design and Engineering LLC's Eric Princz. JRL Productions is excited to reveal the images of the many stage of the soul singing and man eating plant for BroadwayWorld.com readers!
Little Shop Of Horrors at Dante Hall features Eddie Varley in the role of hapless florist Seymour Krelborn, Liz Maurer as the glamorous and ill-fated Audrey, Galloway Township favorite Rich McMahan as harried shopkeeper, Mr. Mushnik. Michael Zlabinger stars as Orin, the dangerous dentist, Rick McIver brings to life the vocals of Audrey II while puppeteer Philip Sheldon performs within the plant itself, and local talents, Divinia Davis, Christy Simpson and Natasha "Tashie" Postal perform the roles of Crystal, Ronnette and Chiffon, they are joined by ensemble member Anthony Chiaro.
Maurer, Varley and McIver have all returned to the Atlantic City stage in the roles they performed to critical acclaim in the 2003 production of Little Shop Of Horrors which played to sold out houses at the Tropicana Hotel and Casino.
This theatrically beloved show features the creative skills of some of South Jersey's most celebrated artists, led by producer and set and lighting designer, Joseph Lazarus and Dante Hall Theater Artistic Director Stephanie Clineman. The Dante Hall production features a fantastic new Audrey II built and brought to life by animatronic master, Eric Princz, wigs and costume elements by Patricia DelSordo aided by Patty Yamaguchi and Jeffrey Landsman, sassy and splashy choreography from Cynthia Domino and musical direction guided by piano great, Teresa Minnix with Anthony Day on drums and Don Wittenwiler on bass. Rosemary Selah, as Stage Manager and Associate Director, and Production Manager Uriel Malizia round out the creative team.
A deviously delicious Broadway and Hollywood sci-fi smash musical, Little Shop Of Horrors has devoured the hearts of theatre goers for over 30 years. Howard Ashman and Alan Menken (Disney's The Little Mermaid, Beauty And The Beast, and Aladdin) are the creative geniuses behind what has become one of the most popular shows in the world.
The meek floral assistant Seymour Krelborn stumbles across a new breed of plant he names "Audrey II" - after his coworker crush. This foul-mouthed, R&B-singing carnivore promises unending fame and fortune to the down and out Krelborn as long as he keeps feeding it, BLOOD. Over time, though, Seymour discovers Audrey II's out of this world origins and intent towards global domination!
Showtimes: November 4th-6th & 9th-11th; Fridays, Saturdays and weekdays ~ 8pm; Sundays ~ 2pm. Tickets: 25.00.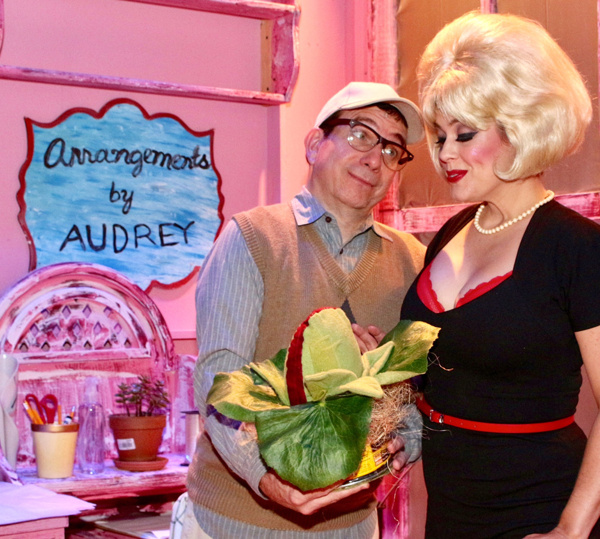 Eddie Varley as Seymour and Liz Maurer as Audrey greet that strange and interesting plant, Audrey II!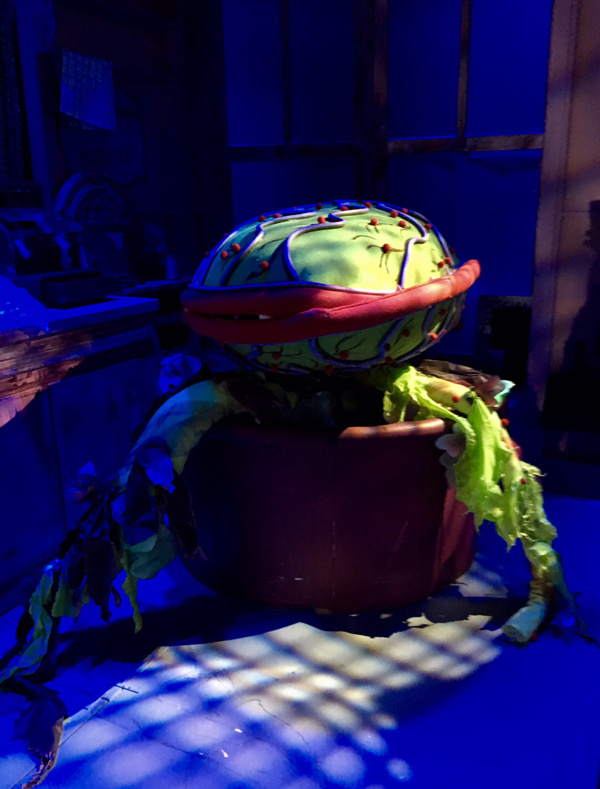 Audrey II stage three lays in wait inside Mushnik's Skid Row Florists.

Audrey II stage two on display.

The full grown Audrey II stage four takes over the stage!

Audrey II puppeteer Philip Sheldon outside of the stage three puppet.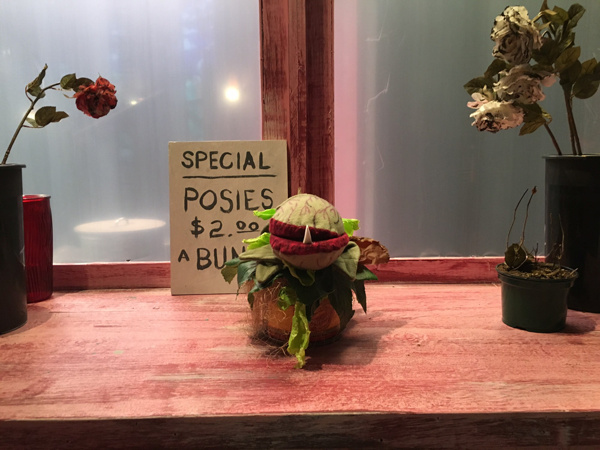 Audrey II stage one in the flower shop window.