Photo Flash: Centenary Stage Comapny presents or World Premiere of Patricia Cotter's THE SURROGATE
Family life is changing, and playwright Patricia Cotter knows all about it. In a smart and funny play about blended families, desire, motherhood, class and sexual politics, Cotter's comedy, " The Surrogate" examines just how much we can ask of our friends, our parents and our spouses, and whether we'll get any of our important life decisions right in this new age.
Winner of the 2016 Susan Glaspell Award and finalist in the prestigious 2016 O'Neil National Playwrights Conference, "The Surrogate", will make its world premiere at Centenary Stage February 17 through March 5 at the Lackland Performing Arts Center (LPAC).
Developed through Centenary Stage Company's well known Women Playwrights series, The Surrogate is a multigenerational blend of "Modern Family" and "All in the Family" for the 21st century. When Billy and Sara ask their best friends Margaret and Jen to be the guardians of their precious Tallulah (and yet - to - be - born baby Carroll), lives change and friendships are tested. When Sara's mother, a colorful New Zealand Vineyard owner, blows into town for an "ankle replacement", the definition of what makes a modern family is hilariously rewritten.
An alumna of the famed Groundlings (sketch comedy) Theatre in LA - which gave birth to such SNL actors as Phil Hartman, Lorraine Newman, and the PeeWee Herman phenomenon - playwright Patricia Cotter is an Emmy Award winning author who brings her sense of comedy and contemporary issues to much of her writing. Cotter has received the American Academy of Arts and Letters and the Richard Rodgers Award for musical theater, as well as the L.A. Stage Ovation Award. Her plays include Rules of Comedy performed by The Actors Theatre of Louisville; When You Talk About This, Best of Playground 18, San Francisco; and The Break Up Notebook (featuring actress Jane Lynch). Cotter also wrote the musical Rocket Science: A Musical , and co-wrote the cabaret show, So Far - Beth Malone (Joe's Pub, NYC), and she adapted Mulan, Jr for Disney Theatrical.
Cotter will be in residence at CSC during the play's development, and a special talkback with the Playwright will be held on Sunday, Feb 19following the 2 PM matinee performance.
Featuring a cast of new and returning Centenary Stage Company favorites, including Katrina Ferguson, Susan Barrett and CSC's own Catherine Rust, The Surrogate will be directed by Shelley Delaney. Delaney heads the Performance program at the Ohio University School of Theater. Her career spans a wide variety of professional theatre experiences, including directing Blood Knot, The Crucible, The Learned Ladies of Park Avenue, and Doubt at the Monomoy Theatre in Massachusetts, and numerous one-act plays at the 78th Street Theater Lab/Drilling Company in NYC. Other directing credits include Solo Arts, PSNBC, HBO/Aspen Comedy Festival and Centenary Stage Co. Delaney's extensive professional acting credits include work at McCarter Theatre, Two River Theatre , The Cincinnati Playhouse, GeVa, Cleveland Playhouse, Capital Rep, Delaware Theatre Company, Virginia Stage, Pittsburgh Irish and Classical Theatre, Florida Rep and Dorset Theatre Festival, in plays ranging from Shakespeare and Shaw to contemporary world premieres. In New York City, she has premiered work at New York Shakespeare Festival, La Mama, Ensemble Studio Theatre, Circle Rep Lab, HERE, and many others. Delaney is an alumna of Rutgers' Mason Gross School of the Arts.
The Surrogate runs February 17 through March 5 with performances Thursdays, February 23 and March 2 at 7:30pm; Fridays, February 17, 24 and March 3 at 8pm; Saturdays, February 18, 25 and March 4 at 8pm; Sundays, February 19, 26 and March 5 at 2pm and Wednesdays, February 22 and March 1 at 2pm. Buffet Matinees will be available during the run of this production, on Wednesdays (Feb 22 and Mar. 1) for groups of 25 or more. All performances are located in the Sitnik Theater of the Lackland Center.
Tickets for The Surrogate range from $17.50 to $27.50 with discounts for students and children under 12. Buffet Matinees are $42.50/person and advance reservations are required. A special Centenary alumni discount of $10.00 off adult ticket price is available for Friday evening performances. Thursdays are "Family Night" at CSC , with a special "rush" ticket price of buy one/get one free on the regular $25 ticket, when tickets are purchased in person at the CSC box office, as early as, two hours prior to performance time.
For more information or to purchase tickets visit centenarystageco.org or call the CSC box office at (908) 979 - 0900. The box office is open Monday through Friday from 1 - 5pm and 2 hours prior to every performance. The CSC box office is located in the Lackland Center; 715 Grand Ave. Hackettstown, NJ. Centenary Stage Company can also be found on social media platforms Facebook, Twitter and Instagram.
The 2016-17 season of performing arts events at the Centenary Stage Company is made possible through the generous support of the Geraldine R. Dodge Foundation, the NJ State Council on the Arts, the Shubert Foundation, the Blanche and Irving Laurie Foundation, the Sandra S. Kupperman Foundation, and CSC corporate sponsors, including Premier Season Sponsor Heath Village Retirement Community, Silver Sponsors Hackettstown Regional Medical Center, Home Instead Senior Care (Washington), The Holiday Inn in Budd Lake, and Fulton Bank of New Jersey, and Centenary Stage Company members and supporters.

left to right:
Diana Cherkas
and
Catherine Rust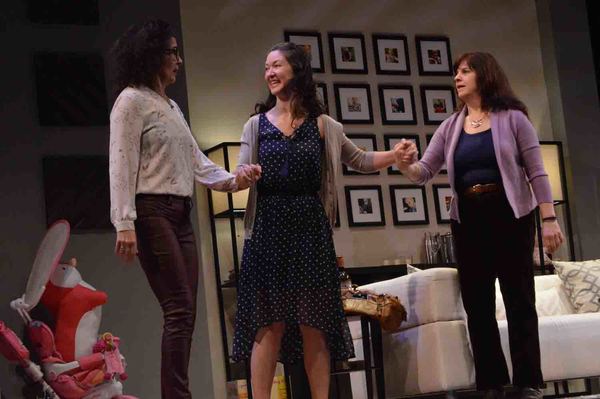 left to right:
Katrina Ferguson
,
Diana Cherkas
and Susan Barrett
left to right:
Katrina Ferguson
,
Diana Cherkas
and Susan Barrett
left to right:
Diana Cherkas
,
Caitlin Duffy
, Susan Barrett and
Clark Carmichael