New Jersey Performing Arts Center Announces The 2018-19 Classical Season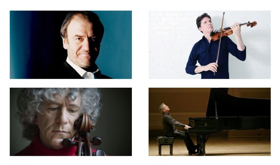 The New Jersey Performing Arts Center (NJPAC) today announced its 2018-19 Bank of America Classical Series, featuring a trio of concerts by some of the world's greatest virtuoso ensembles and artists: the Philadelphia and Mariinsky orchestras, and the inspired ensemble of Joshua Bell (violin), Jeremy Denk (piano) and Steven Isserlis (cello).
As a special overture to family audiences, the new season also brings the debut of NJPAC's Orchestra + Film Concert Series - a novel way for grown-ups to guide a young person to the orchestra. Offered as an add-on, three-concert subscription, the Orchestra + Film Concert Series features screenings of blockbuster movies, accompanied by a note-by-note performance of the score by the New Jersey Symphony Orchestra (NJSO), the Arts Center's resident orchestra. In addition, subscribers to either series will be able to move to the front of the line to purchase specially priced tickets to "A Chanticleer Christmas" on Saturday, Dec. 1, before seating is open to the general public. "Classical music listeners can count on a lot of dynamic artistry in the three-concert Bank of America series, which was curated to showcase many of the world's greatest instrumentalists in spectacular programs," said
David Rodriguez
, NJPAC's Executive Vice President and Executive Producer. "In response to patrons who want to nurture an appreciation for orchestral music in their children and grandchildren, three hit family movies will be presented with a live score - an irresistible experience for kids," he added. NJPAC President and CEO
John Schreiber
affirmed the importance of introducing "the glories of great symphonic music to young ears" in NJPAC's magnificent Prudential Hall. "Our classical music aficionados are attuned to how to nurture the next generation of cultural citizens in fun and engaging ways," he said. "Seeing and hearing musicians perform the score to a beloved film is a gateway to developing a love of the arts." "Bank of America is committed to strengthening artistic institutions and in turn, the communities we serve," said Bob Doherty, New Jersey President, Bank of America. "We're proud to return as the title sponsor of NJPAC's Classical Series, which brings together the talents of a wide range of iconic musical performances for New Jersey residents to enjoy. It's important that we continue to play a vital role in creating opportunities for the public to access arts and culture and to contribute to New Jersey's diverse community." Starting with the Bank of America Classical Series, music lovers are sure to welcome the return of Valery Gergiev leading his Mariinsky Orchestra of St. Petersburg in Prudential Hall on Saturday, Nov. 3 at 8 p.m. Pianist Denis Matsuev, who was guest soloist when the orchestra last appeared at NJPAC in 2013, is back with more soul-stirring Rachmaninoff - this time the Rhapsody on a Theme of Paganini. (Rachmaninoff first recorded the piece in 1934 with the Philadelphia Orchestra at RCA studios in Camden.) The orchestra also has programmed Debussy's languid symphonic poem Prélude à l'après-midi d'un faune (Afternoon of a Faun) and Mahler's Symphony No. 5, a roaring tour-de-force. Of the latter, the great conductor Herbert von Karajan once said, "The fantastic finale almost forces you to hold your breath." The mighty Philadelphia Orchestra will return to Newark on Friday, March 15, 2019 at 8 p.m., under the music directorship of its electrifying young conductor, Yannick Nézet-Séguin. The Canadian maestro, now the Music Director Designate of the Metropolitan Opera, is concluding an acclaimed, decade-long tenure with the Rotterdam Philharmonic, but continues a dizzying schedule of engagements with orchestras and opera companies around the globe. This time, the Fabulous Philadelphians will arrive with wunderkind pianist Jan Lisiecki, who will perform Mendelssohn's bravura Piano Concerto No. 1 in G minor. Rounding out the evening will be Haydn's overture to his opera L'isola disabitata (The Deserted Island) and Schubert's fiendishly challenging Symphony No. 9 in C Major, dubbed "The Great" for its majesty. Three of the world's finest virtuosos present a program of trios on Sunday, May 5, 2019 at 3 p.m. The alignment of classical superstars
Joshua Bell
on violin,
Jeremy Denk
on piano and Steven Isserlis on cello has all the makings of one of NJPAC's hottest tickets next season: Their appearance at the Arts Center is one of only five concerts they will perform together nationwide. Bell, Denk and Isserlis, who teamed on the recording "For the Love of Brahms" (
Sony Classical
) to critical acclaim in 2016, are planning something profoundly moving for the NJPAC audience. The afternoon concert will showcase Mendelssohn's Piano Trio No. 1 in D minor, known for its passionate finale; Shostakovich's elegiac Piano Trio No. 2 in E minor, a World War II-era lamentation; the expressive Trio élégiaque No. 1 in G minor, written by Rachmaninoff when he was 19, and the poetically seductive Piano Trio in A minor by Ravel.
Wise elders were quick to learn that kids can be taught concert-going etiquette by watching a favorite film on the giant screen, accompanied by heart-pounding, live music on stage -and grow to love the orchestral experience.
In the recent past, the Arts Center has presented packed-to-the-rafters concerts that sonically illustrate the adventures of boy-wizard Harry Potter, such as The Chamber of Secrets and The Prisoner of Azkaban. Two more installments are on the way as part of the new Orchestra + Film Concert Series. Harry Potter and the Goblet of Fire in Concert™, with accompaniment by the NJSO, will open the Orchestra + Film Concert Series on Saturday, Oct. 27 at 7:30 p.m. Shown in high-definition on Prudential Hall's 40-foot screen, the fourth adventure in
J.K. Rowling
's episodic franchise (rated PG-13) picks up at the Triwizard Tournament, where the title hero and his friends face even more daunting challenges in the battle against Lord Voldemort. The rich music composed for "Goblet of Fire" by
Patrick Doyle
("Sense and Sensibility") brought fresh emotional gravitas to the series, with darker melodic undercurrents. For his work, Doyle won both the International Film Music Critics Award and the ASCAP Film & Television Music Award. Harry Potter and the Order of the Phoenix in Concert™, the fifth installment (also rated PG-13), will follow on Saturday, June 1, 2019 at 7:30 p.m, when the NJSO players bring to life a spellbinding score by Grammy-nominated composer Nicholas Hooper. The plot hinges on the mysterious source of Harry's nightmares as the Hogwarts School chums practice Defense Against the Dark Arts in secret and endure the unendurable Professor Umbridge. The third event in the Orchestra + Film Concert Series falls between each of the Potter chronicles, during the winter holidays. On Saturday, Dec. 15 at 7:30 p.m., the classic animated film
Tim Burton
's The Nightmare Before Christmas Live in Concert arrives from Disney in Concert Live-to-Film.
Danny Elfman
's Oscar-nominated score for this 1993 hit (rated PG) will be performed by the NJSO, along with a choir, and conducted by
John Mauceri
of Hollywood Bowl Orchestra fame. Songs like "What's This?" and "Oogie Boogie's Song" endear young film buffs to this story about Jack Skellington, Halloween Town's beloved Pumpkin King, who embarks on a misguided mission to steal Christmas from Santa. Subscribers to either or both series are eligible to purchase tickets to "A Chanticleer Christmas" on Saturday, Dec. 1, at a special price. Chanticleer, a multiple Grammy-winning, a cappella ensemble of 12 men, will make their NJPAC debut with a program of popular song and music of the season at 8 p.m. Subscription packages start at $146 for the Bank of America Classical Series and at $175 for the Orchestra + Film Concert Series. For subscription information, visit njpac.orgor call 1.888.MY.NJPAC (696-5722). Individual ticket sales will be announced at a later date.
NJPAC
One Center Street
Newark, New Jersey 07102
www.njpac.org or 888.GO.NJPAC (888.466.5722)
New Jersey Performing Arts Center (NJPAC), located in downtown Newark, N.J., has the most diverse programming and audience of any performing arts center in the country, and is the artistic, cultural, educational and civic center of New Jersey - where Great Performances and events enhance and transform lives every day. NJPAC brings diverse communities together, providing access to all and showcasing the state's and the world's best artists while acting as a leading catalyst in the revitalization of its home city. Through its extensive Arts Education programs, NJPAC is shaping the next generation of artists and arts enthusiasts. NJPAC has attracted more than 8 million visitors (including over 1.6 million children) since opening its doors in 1997, and nurtures meaningful and lasting relationships with each of its constituents.
Related Articles View More New Jersey

Stories

Shows
More Hot Stories For You