La Strada's CHILL Begins Reign Of Terror At Jersey Shore Arts Center In Ocean Grove This Month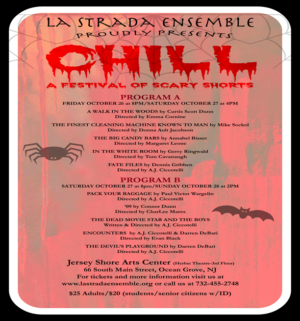 La Strada Theatre Ensemble is one of New Jersey's premiere developmental theatre companies that brings together theatre artists from the tri-state area with playwrights from throughout the United States. CHILL is a collection of new short plays with theatre artists from the New Jersey and New York on stage!

La Strada's CHILL: An Evening of Halloween Treats...is an unholy collection of ten one acts...designed to thrill, entertain and scare the living spirit out of you. Starting the weekend right before Halloween night, CHILL will be performed in two programs at the Jersey Arts Center, 66 South Main Street, 3rd Floor Herb Herbst Theatre in Ocean Grove. La Strada Ensemble Theater is an organization fueled by the passion of new works, emerging artists and revivals of important plays. La Strada asks what scares you? Peruse our collection of treats in our two programs:
Program A: Friday October 26th at 8pm/Saturday October 27th at 4pm
A walk and a friendly conversation take a turn toward the extraordinary, as one person's defining moment reveals a universal truth and an uncertain destiny in A Walk in the Woods by Pittsburg resident and company member Curtis Scott Dunn and directed by local Jackson resident Emma Cornine.
A retired vacuum cleaner salesman encounters one mess that just can't be cleaned in The Finest Cleaning Machine Known to Man by local Holmdel resident and company member Mike Sockol and directed by company member and Manalapan resident Donna Ault Jacobson.
On a typical Halloween night, a couple encounters fake costumes, real danger, and then a spine-tingling surprise in The Big Candy Bars by local Ocean Grove resident and company member Annabel Bisset and directed by company member and local Bloomfield resident Margaret Leone.
In the future, corrective behavior takes on a whole new meaning In The White Room by Chicago resident and company member Gerry Ringwald and directed by company member Tom Cavanugh.
A man awakes from a nightmare to find himself being interviewed by a friend who had died on if he is going to be cast into hell in Fate Files by local Toms River resident Dennis Gribben and directed by artistic director and local Toms River resident A.J. Ciccotelli.
Program B: Saturday October 26th at 8pm/Sunday October 27th at 2pm
· A couple gives each other for their anniversary their exs to torture in Pack Your Baggage by local Jersey City resident and company member Paul Victor Wargelin and artistic director and directed by local Toms River company member A.J. Ciccotelli.
· A dramatic recounting of murder, horror, and drunken escapades as recounted by one of hell's lead office workers in '09 by Pittsburg resident Connor Dunn and directed by Toms River Resident CharLee Mares.
A heartless con artist dressed like Marilyn Monroe hunts down two naïve safecrackers for their money to right a past wrong in The Dead Movie Star and the Boys written and directed by artistic director and local Toms River resident A.J. Ciccotelli.
A young woman breaking free from a disastrous marriage and a killer of young women on the loose crosses paths in Encounters by A.J. Ciccotelli and Darren Debari.
A hot shot reporter goes off searching for the Jersey Devil in the Pine Barrens where he roams; he might have bitten off more than the Jersey Devil could chew on in The Devil's Playground by Darren Debari.
Tickets are $25/$20 for students and senior citizens with an ID. The performance will be held at Jersey Shore Arts Center, 66 South Main Street, 3rd Floor Herb Herbst Theater in Ocean Grove.
For tickets and information, please visit us online at www.lastradaensemble.org or by emailing us at lastradaensembletheater@gmail.com or calling us at (732) 455-2748.
Featured This Week on Stage Door
Shoutouts, Classes, and More from Your Favorite Broadway Stars




More Hot Stories For You