HUMAN NATURE, A CHORUS LINE, DUBLIN IRISH DANCE and SARAH CHANG Headed to MPAC March 2-8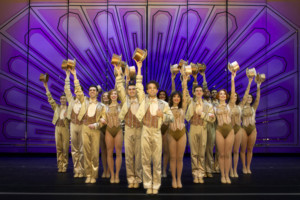 Human Nature -- Jukebox
Friday, March 2 at 8 pm
Australian pop group Human Nature brings their "Jukebox" show to Mayo Performing Arts Center on Friday, March 2 at 8 pm. Tickets are $33.50-$73.50.
Australia's HUMAN NATURE have earned their place as one of the world's finest pop vocal groups of the modern era, and as award-winning Las Vegas resident headliners with their distinctive harmonies and stellar live shows. The fantastic foursome will be taking their smash hit Las Vegas show "Jukebox" on the road in March 2018. The tour will support the release of their new studio CD, "JUKEBOX - The Ultimate Playlist" on Legacy Recordings, a division of Sony Music Entertainment and, their PBS special, "HUMAN NATURE: Jukebox - In Concert from the Venetian." "We are so excited to bring our 'Jukebox' to cities across the USA with our national tour, CD and PBS special," said
Toby Allen
of HUMAN NATURE. "Well, we are now taking our show on the road and we are looking forward to performing in Morristown, NJ." "Jukebox" has been praised by critics and fans for its broad musical offering and flawless production, being declared "an incredibly addictive evening of entertainment." The show effortlessly mixes pop classics from their back catalogue with Doo-wop, Motown, Soul standards and more - offering the ultimate playlist - live! HUMAN NATURE'S foursome,
Toby Allen
,
Phil Burton
and brothers, Andrew and Mike Tierney, are joined on stage by a dynamic band, The Jukebox All-Stars, and world-class dancers, as they celebrate a mix of musical genres that covers classic hits as well as chart topping hits of today. "Jukebox" is not only a playlist of the group's influences, but some of the most-loved hit songs from the best vocal artists and groups of all time, including "Why Do Fools Fall in Love," "Stand By Me," "Unchained Melody," "Higher and Higher," "Dance To The Music" and "Under The Boardwalk." They show that this "Jukebox" plays everything from The Temptations to Timberlake, from The Beatles to
Bruno Mars
. Human Nature's, career statistics are staggering. Since signing to Sony Music Australia over two decades ago, Human Nature have sold more than 2.5 million albums, earned 27 platinum awards, scored 17 Top 40 hits and have had five Top Ten tracks worldwide. Standout moments in Human Nature's career to date include performing to a global audience at the Sydney Olympics in 2000, opening for
Michael Jackson
and
Celine Dion
at concerts around the world and appearing on television in the USA on shows as varied as The Talk, Today Show, Oprah, and Dancing With The Stars as well as their own PBS specials Human Nature Sings Motown and Human Nature Jukebox - In Concert from The Venetian. Facebook:
http://www.facebook.com/humannatureband
Twitter:
http://www.twitter.com/humannaturelive
Instagram:
http://www.instagram.com/humannaturelive
Video can be found here:
https://www.youtube.com/watch?time_continue=1&v=AbGJGl4O1ek
The Singular Sensation
A CHORUS LINE
Comes to Morristown Directed and Choreographed by the legendary
Baayork Lee
From the pen of legendary composer
Marvin Hamlisch
, the Tony Award and Pulitzer Prize-winning singular sensation, A CHORUS LINE, is dancing into The Mayo Performing Arts Center in Morristown on March 3 at 3 pm and 8 pm and March 4 at 3 pm. Tickets are $49-$89. In the classic story, casting for a new Broadway musical is almost complete, and for 17 dancers, this audition is the chance of a lifetime and what they've been working their whole lives for. A CHORUS LINE brilliantly evokes both the glamour and the dark underbelly of showbiz, and resonates with everyone who's ever had a dream and put it all on the line. The iconic score features such classics as "What I Did for Love," "One," "I Hope I Get It" and more. With its celebration and true-to-life depiction of performers and their struggle to achieve greatness on the Broadway stage, A CHORUS LINE has earned unanimous praise as one of the true masterpieces of live theater. Big League Productions' A CHORUS LINE features
Michael Bennett
's original work restaged by the legendary
Baayork Lee
. A director, actress, author and choreographer, Lee played Connie Wong in the original 1975 production of A CHORUS LINE, and has gone on to direct and choreograph more than 35 international productions of the show, including the most recent Hollywood Bowl version, which she staged with the National Tour's associate director,
Peter Pileski
. She was also the recipient of the 2017
Isabelle Stevenson
Tony Award for her contributions to theater education programs around the world. For more information, visit
http://www.AChorusLineOnTour.com
. A CHORUS LINE is produced by Big League Productions, Inc. Led by President and Executive Producer Dan Sher, Big League is celebrating its 29th season of producing, general managing and booking Broadway musicals and special attractions for touring throughout North America and the world. For more information visit
http://www.bigleague.org/
. Dublin Irish Dance
Wednesday, March 7 at 7:30 pm Irish music and dance are used to tell the story of Celtic culture when Dublin Irish Dance comes to Mayo Performing Arts Center on Wednesday, March 7 at 7:30 pm. Tickets are $29-$49. Dublin Irish Dance tells the story, through Irish music, song, dance, of the immigrant Irish as they left their homes in Ireland for the shores of America. Today the U.S. census states than more than 40 million people claim to be of Irish decent. With moving themes of immigration, love, loss and triumph over adversity, in good times and bad, Ireland's traditions of music, song and dance have been the sound track to the life of millions of people. From the beat of the breaking heart embodied in poignant songs of love and loss to the pulsating beat of the invigorating Irish dancers reflecting their triumph over adversity, 'Dublin Irish Dance' tells the story of the Irish who traveled to America in search of a new life. The performance comprises a blend of classic contemporary tunes with traditional Irish rhythms alongside stirring & emotive vocal tracks. Experience the dazzling dance performances, the incredible emotion of the pure celtic voice and the sensational multi instrumentalists on fiddle, flute, uilleann pipes, accordion, banjo, mandolin, whistle, bodhrán, guitar, piano, drums & bass. Featuring word champion dancers, all Ireland champion instrumentalists, principal performers from Riverdance together with sensational performers from
Michael Flatley
's Lord of the Dance and Celtic Woman. Dublin Irish Dance is a captivating portrayal of the Irish and its culture that will leave you with heartfelt tears and dancing in the aisles...and wanting to book the next flight to Ireland! Dublin Irish Dance is like no other show in its genre. Complete with pulsating and stirring Irish music together with original choreography this exciting production steeped in Ireland's cultural traditions is infused with worldly influences and vast experience and is undoubtedly unique in its imaginative design. Sarah Chang
Viva Piazzolla!
Thursday, March 8 at 7:30 pm Violinist Sarah Chang performs a recital at Mayo Performing Arts Center on Thursday, March 8 at 7:30 pm. Tickets are $29-$69.
With a quartet, she is scheduled to perform:
Vitali: Chaconne
Vivaldi: Excerpts from The Four Seasons
Piazzolla: The Four Seasons of Buenos Aires
Recognized as one of the foremost violinists of our time, Sarah Chang has performed with the most esteemed orchestras, conductors, and accompanists in an international career spanning more than two decades. Since her debut with the
New York Philharmonic
at the age of eight, Ms. Chang has continued to impress audiences with her technical virtuosity and refined emotional depth.
Over the years, Ms. Chang has recieved accolades and participated in astonishing opportunites around the world. In 2006 she was honored in Newsweek's "Women and Leadership" issue, and in 2008, she was named a Young Global Leader by the WEF. Ms. Chang has also carried the Olympic Torch in New York City, been the youngest person inducted into the Hollywood Bowl's Hall of Fame, and has a chair dedicated to her in Yale University's Sprague Hall. Ms. Chang has also been awarded Gramophone's "Young Artist of the Year" award, Germany's Germany's "Echo" Schallplattenpreis, "Newcomer of the Year" honors at the International Classical Music Awards in London, Korea's "Nan Pa" award and the Avery Fisher Career Grant. In 2011, Ms. Chang was named an official Artistic Ambassador by the United States Department of State. Mayo Performing Arts Center, a 501(c)(3) nonprofit organization, presents a wide range of programs that entertain, enrich, and educate the diverse population of the region and enhance the economic vitality of Northern New Jersey. The 2017-2018 season is made possible, in part, by a grant the New Jersey State Council on the Arts/Department of State, a Partner Agency of the National Endowment for the Arts, as well as support received from the F.M. Kirby Foundation and numerous corporations, foundations and individuals. The Mayo Performing Arts Center has been designated a Major Presenting Organization by the New Jersey State Council on the Arts. Mayo Performing Arts Center was named 2016 Outstanding Historic Theatre by the League of Historic American Theatres, and is ranked in the top 50 mid-sized performing arts centers by Pollstar Magazine. Mayo Performing Arts Center
100 South St., Morristown, NJ 07960
box office (973) 539-8008
online:
www.mayoarts.org
fax (973) 455-1607 / admin (973) 539-0345 ext.6505