Eagle Theatre's RAGTIME Casting Complete From Coast To Coast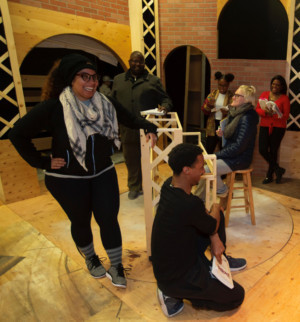 Eagle Theatre has officially begun rehearsal for their upcoming production of the Tony Award Winning epic masterpiece, Ragtime, under the direction of Producing Artistic Director, Ted Wioncek III.
Brimming with unforgettable melodies and a deeply compelling story of love and loss, Ragtime paints a powerful portrait of the American Dream that awakens the heart and captivates the soul.
Terrence McNally, Lynn Ahrens, and Stephen Flaherty's blockbuster musical will mark Eagle Theatre's grandest production to date, featuring the largest company and creative team ever assembled at South Jersey's only year-round professional Equity theatre.
Mississippi's Ezekiel Andrew makes his Eagle Theatre debut as Coalhouse Walker Jr. Andrew has most recently worked at the Utah Shakespeare Festival and White Plains Performing Arts Center.
Other performers making their Eagle Theatre debut are Los Angeles resident Spencer Rowe (Tateh), New York residents Cecilia Snow (Sarah), Brian Michael Henry (Father), and Patti-Lee Meringo (Evelyn Nesbit).
Additional Eagle Theatre newcomers are Scott Langdon (Grandfather), Luke Bradt (Henry Ford), Lauren Krigel (Ensemble), Sydney Simone (Ensemble), Kyleen Shaw (Sarah's Friend), Dana Orange (Ensemble), Colin Rivell (Little Boy), Darryl Thompson Jr. (Booker T. Washington), Christina Fuscellaro (Understudy), Jake Corsi (Understudy), and Joe Zachowski (Understudy).
Eagle Theatre's Conservatory, a pre-professional training program, designed to educate, enlighten, and entertain, has proven to shape future stars of tomorrow, as Ragtime employees two of its present enrollees, Annabelle Corigliano (Little Girl) and Kealia Grace Smith (Little Girl Understudy).
Patrons will recognize returners, such as Eagle Theatre favorites; Kimberly Suskind (Jo March in Eagle Theatre's Barrymore Recommended production of Little Women: The Musical, Jen in Eagle Theatre's Barrymore Nominated production of John & Jen) as Mother, Adam Hoyak (John in Eagle Theatre's Barrymore Nominated production of John & Jen, J.D. in the Eagle Theatre's Barrymore Nominated production of Heathers) as Younger Brother, William Stephan Connell (Laurie in Eagle Theatre's Barrymore Recommended production of Little Women: The Musical, Eagle Theatre's Barrymore Nominated production of Godspell) as Houdini, Hanna Gaffney (Miss Poppenghul in Eagle Theatre's
Barrymore Recommended production of Moonlight and Magnolias) as Emma Goldman, and Darby Pumphrey (The Shape of Things) as Evelyn Nesbit's understudy.
Spencer Rowe shares, "What impressed me the most about the Eagle Theatre is the quality of their productions and the high caliber of performers they attract. It is a real blessing to get to work with such talented people, and to play Tateh for them is a dream come true."
Based on the novel by E. L. Doctorow, this triumphant must-see musical masterpiece is bursting with show-stopping splendor and unbridled passion. Prepare yourself to be swept away as Eagle Theatre lands you in a reinvented version of this boundless classic.
Ragtime opens January 25th and runs through February 17th. For more information, please visit www.eagletheatre.org or call 609-704-5012.