Bucky Pizzarelli to Hold Annual Birthday Bash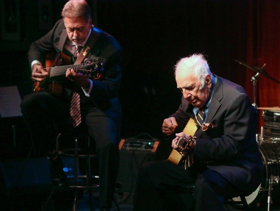 The Bickford Theatre presents the annual birthday bash for Hall of Fame guitarist Bucky Pizzarelli on Monday, January 8th. Bucky, who turns 92 on January 9th, has been at this annual birthday party every year with the exception of his 90th when he was in the hospital. He will bring an all-star ensemble with him including Martin Pizzarelli on bass, Ed Laub on guitar, Russ Kassoff on piano, Linus Wyrsch on sax, and Aaron Weinstein on violin.
A master of the 7-string guitar, Bucky is one of the most beloved jazz musicians to ever come out of New Jersey. Born in Paterson, Pizzarelli began his professional career with the Vaughn Monroe dance band in 1944. In the early fifties he became a staff musician for NBC and ten years later joined The Tonight Show Band where he even accompanied Tiny Tim. He was also a much sought-after studio musician playing on many rock hits of the day including all seven hits by Dion and the Belmonts. He has been honored many times by the music community including inclusion on the ASCAP Jazz Wall of Fame and election to the New Jersey Hall of Fame.
Guitarist Ed Laub grew up in a family of musicians and studied the 7-string guitar with Bucky who eventually invited him to become his regular partner. He and Bucky perform together all over the world although in the last couple of years he has managed to temper the rigorous schedule for his partner. Ed has most often been compared to the great Kenny Rankin which he considers an honor. All About Jazz praised the duo, writing that "Pizzarelli is the complete jazz musician and Laub complements him perfectly."
Bucky's son Martin Pizzarelli is an accomplished bass player who made his reputation performing with his well-known brother John for many years. In the past couple of years, Martin has been on his own, working regularly with his dad as well as with Ed Laub, Gene Bertoncini, and Monty Alexander. He has appeared on more than 30 CDs and has played venues ranging from New York's Carnegie Hall to the Morristown Jazz & Blues Festival.
The sextet also includes pianist Russ Kassoff who is highly regarded as a jazz pianist, conductor, composer and arranger. Kassoff has toured with icons as varied as Frank Sinatra, Charles Aznavour and Liza Minnelli and has his own trio with Jay Anderson and Dennis Mackrel. Violinist Aaron Weinstein is still only in his early thirties but has already performed with a long list of jazz greats including Les Paul, John Pizzarelli, Dick Hyman, Dave Frishberg, Jon Hendricks, Annie Ross and, of course, Bucky Pizzarelli. Reedman Linus Wyrsch was born and raised in Switzerland before moving to Boston to attend the Berkley College of Music in 2008. Upon graduating summa cum laude from Berkley, he moved to New York where he has maintained a very busy schedule as a sideman and leader.
Tickets for the Bucky Pizzarelli Birthday Party are $20 for museum members, $22 in advance, and $25 at the door. The show will be on Monday, January 8, at 7:30 PM. Tickets may be purchased online at morrismuseum.org/jazz-showcase, by phone at (973) 971-3706, or in person at the Bickford Theatre Box Office. The Morris Museum's Bickford Theatre is located at 6 Normandy Heights Road in Morristown, NJ, and offers free parking and full accessibility. Box office hours for phone sales are Monday through Friday, 10:00 am to 5:00 pm. Walk-up hours are Tuesday through Friday, 11:00 am to 5:00 pm.
Photo: Ed Laub and Bucky Pizzarelli; photo courtesy of Steven Sorokoff.