BWW Review: I AND YOU at Mile Square Theatre Hoboken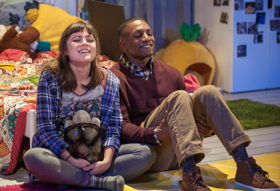 In what looks like an attic room, with bright blue walls covered in photographs, lay the trappings of teenage-hood. A bed replete with stuffed animals. The favorite, a turtle planetarium with a hard shell that lights up to project the heavens, serves as a metaphor for the girl herself. Computer at the ready, art supplies, clothes on a rack, massive pill bottles, and a wastebasket half-filled with tissues.
Beset with a chronic illness, Caroline (Simone Grossman) is unable to attend her senior year of high school, but keeps up with her studies at home and supposedly keeps connected with her family and friends via texting and social media, while awaiting a liver transplant. Anthony (Roland Lane) has arrived unannounced in Caroline's bedroom with cookies from her mother. He's there to enlist her help with a class project on Walt Whitman's "Song of Myself," for which he has chosen her as his teammate.
This is the set up of Lauren Gunderson's play "I and You" now playing at Mile Square Theatre in Hoboken. Under director Chris O'Connor's steady hands this is a tender intelligent production with articulate, vital, complex, and achingly vulnerable performances. It will appeal to teens and adults.
Anthony's story is full of holes, and his prolonged, awkward exposition raises more questions than it answers. So Caroline is understandably unsure about him and is startled that he's there. They get to know each other over the course of the day and find that they have more in common than they ever would have imagined, since they seem to be different in every way - gender, health, interests, and demeanor.
Lane's Anthony performance is filled with perseverance and patience. Grossman's Caroline is so believably guarded and slightly obnoxious that it takes a bit to warm up and care about her. Though eventually you do.
Jen Price Fick's warmly appointed set perfectly captures Caroline's world aided by Jason Flamos lighting design which shades time and space beautifully and Sean Hagerty's pitch perfect original music and sound design.
Whitman, that old rascal, eventually starts to work his magic on the bilious Caroline. At this point the play gets more comfortable with itself, and more familiar, settling perilously into after-school special territory. But dammit I was hooked and cared about this kids and genuinely moved by the ending. O'Connor's direction refuses to hint at where it's goingand the assured performances by Grossman and Lane pay off profoundly with a tantalizing, Whitman-esque glimpse of cosmic interconnectedness, redeeming my faith in the power of intimate theater.
I and You, presented by Mile Square Theatre will be on stage January 30 through February 24: Wednesdays, Thursdays, Fridays and Saturdays @ 8pm, and Sundays @ 3pm. The Theatre is located at1400 Clinton Street, Hoboken. Discount Parking available at The Harlow at 1330 Willow Avenue and at Little Man Parking at 1300 Jefferson Street.Tickets are $15-40 • $18 students and seniors. Tickets are available by visiting https://www.milesquaretheatre.org/ or by calling 201-683-7014. For Group Sales, e-mail abaldwin@milesquaretheatre.org. For more information on Mile Square Theatre, please visit https://www.milesquaretheatre.org/.
Photo Credit: Joe Epstein