Axelrod Performing Arts Center Announces 2019 Musicals - MAMMA MIA!, GUYS AND DOLLS, and More!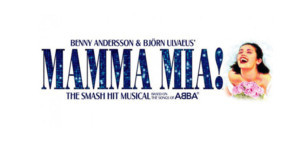 The Axelrod Performing Arts Center, New Jersey's newest professional theater, announces an exciting lineup of main-stage musicals for the 2019 season, including "Mamma Mia!," Elton John and Tim Rice's "Aida," "Joseph and the Amazing Technicolor Dreamcoat," and "Guys and Dolls."
For the first time since establishing itself as a professional theater, the Axelrod is offering a subscription program that allows patrons to attend all four musicals for the price of three. "Our patrons typically come to see every show," explains CEO Jess Levy. "This subscription program will allow them to enjoy all four shows while simultaneously rewarding them for their loyalty."
"Mamma Mia!," with music and lyrics by ABBA superstars Bjorn Ulvaeus and Benny Andersson, will kick off the 2019 season, running March 8-24 in a new production created by highly sought-after theater director Barry Ivan. With audiences exceeding over 60 million people worldwide, "Mamma Mia!" has played in 50 countries and inspired two major motion pictures.
This singing and dancing extravaganza follows the trials of a young woman as she searches for her birth father. It's the hilarious story of a mother, a daughter, three possible dads, and an unforgettable trip down the aisle. ABBA's signature 1980's score, including the title song and hits like "The Winner Takes It All," "Dancing Queen," "SOS," and "Knowing Me, Knowing You," makes this revolutionary jukebox musical one of Broadway's most entertaining theater outings.
Elton John and Tim Rice's "Aida," which runs May 31 through June 16, will be the third Axelrod production by Broadway's Luis Salgado, whose last two shows at the theater ("In the Heights" and "Ragtime") were both nominated for regional theater awards from Broadway World.
Famed pop star and composer of "The Lion King" and "Billy Elliot: The Musical," Elton John has re-written one of the greatest operas with a soaring, dramatic score. "Aida" is the triumphant love story between an Egyptian prince and a slave that transcends warring nations and brings a country together. Winner of four 2000 Tony Awards, "Aida" is an epic tale of love, loyalty and betrayal, chronicling a love triangle between Aida, a Nubian princess stolen from her country, Amneris, an Egyptian princess, and Radames, the soldier they both love. "Aida" has become a modern classic, as timeless as it is sensational.
Another Tim Rice musical, "Joseph and the Amazing Technicolor Dreamcoat," this one with music by Andrew Lloyd Webber, will be directed by up-and-coming New York choreographer Matthew Steffens and will run from July 11 through 28. One of Lloyd Webber's most popular shows, "Joseph" is a reimagining of the Biblical story of Joseph, his father Jacob, eleven brothers, and the coat of many colors. A score as colorful as the favored son's coat, "Joseph" includes the popular anthems "Any Dream Will Do" and "Close Every Door," as well as production numbers in styles as wide-ranging as country western, '50s doo wop and island calypso.
Broadway Associate Director Richard J. Hinds ("Come from Away") makes his Axelrod debut with the Frank Loesser masterpiece "Guys and Dolls," which runs from November 1-17. With music and lyrics by Loesser and book by Abe Burrows and Joe Swerling, "Guys and Dolls" is considered by theater critics to be the perfect musical comedy. Set in Damon Runyon's mythical New York City, "Guys and Dolls" is an oddball romantic comedy whose brassy immortal score includes exuberant dance numbers, comic turns and ballads that have become standards for generations, including "Luck Be a Lady," "Sit Down You're Rocking the Boat," "I'll Know," "If I Were a Bell," and "Adelaide's Lament."
To subscribe to the series or order individual tickets, visit www.axelrodartscenter.com or call the box office at (732) 531-9106 ext. 14. Group, senior and student discounts are available.
The Axelrod Performing Arts Center is New Jersey's newest professional theater, offering main-stage musicals with casts and production teams from New York City and beyond as well as original concerts throughout the year. The Axelrod fosters artistic excellence by showcasing varied and distinct cultural programs that enrich the imaginative, intellectual, and creative soul, while cultivating an appreciation of diverse communities through the pursuit of the arts. For more information, please visit www.axelrodartscenter.com.