Acclaimed Vocalist Gabrielle Stravelli Sings Richard Rodgers At Axelrod Performing Arts Center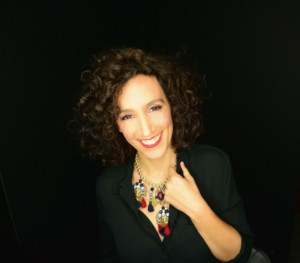 Back by popular demand following last season's 100th birthday tribute to Ella Fitzgerald, Gabrielle Stravelli sings the songs of Richard Rodgers in "It Might as Well Be Swing," at the Axelrod Performing Arts Center on Sunday, May 27 at 3pm. Stravelli will be joined by a 17-piece swing band, including acclaimed jazz pianist Dr. Art Topilow and clarinetist Carl Topilow, conductor of the Cleveland Pops Orchestra.
The catalog of Richard Rodgers includes immortals songs from his musicals with Oscar Hammerstein II ("South Pacific," "Carousel," "The Sound of Music," "Oklahoma!," "The King and I") as well as well-known standards derived from his musicals with Larry Hart, including "Bewitched, Bothered and Bewildered," "My Funny Valentine," "The Lady Is a Tramp," "Where Or When," and "Manhattan". Stravelli will recreate performances originated by first ladies of song including Ella Fitzgerald, Peggy Lee, Lena Horne, Natalie Cole, Diane Schuur and Nancy Wilson.
"Few composers are as versatile as Richard Rodgers. With 900 songs to his credit, he was able to write jazz standards, big romantic ballads, comedy songs, rhythm numbers and character songs. His influence on the Great American Songbook is enormous," says Andrew DePrisco, Axelrod's artistic director. "Who could imagine that the composer of 'Some Enchanted Evening' and 'My Favorite Things' also wrote 'Blue Moon' and 'Isn't It Romantic'?" His body of work includes over 40 Broadway musicals (including 26 with Hart and nine with Hammerstein), three London musicals (with Hart), 10 movie musicals, two television musicals (including "Cinderella"), a ballet and more.
"The litmus test to a great song may be how well it stands up to multiple interpretations," says Stravelli. "That we can swing a song from 'The Sound of Music' or turn a sleepy ballad from a 1940's musical into a jazz waltz truly illustrates that Rodgers knew how to write a song. Plus, so many of his songs still pack an emotional punch, even after all these years. I'm so excited to explore this songbook and hopefully create some new and exciting interpretations of these classic songs."
With a Pulitzer Prize to his credit, Rodgers became the first artist to win all four major entertainment awards: Tony (Broadway), Oscar (film), Emmy (television) and Grammy (recorded music).
Award-winning vocalist and songwriter Gabrielle Stravelli (who grew up in Colts Neck, NJ) has garnered critical acclaim and a loyal following through her rich sound, original compositions and her unique take on material from the Great American Songbook as well as by contemporary artists. A trained actress, The New York Times noted that Stravelli's "emotional intelligence coincides with a phenomenal voice that she wielded with an easygoing confidence and impeccable taste."
In 2017, Stravelli released her third album, "Dream Ago," comprised primarily of original material co-written with bassist Pat O'Leary and lyricist Jason Robinson. The album received a five-star review from DownBeat Magazine and garnered raves from the Huffington Post, Scott Yanow of LA Jazz Scene and Tony Frankel of LA's Stage and Cinema among others.
Stravelli began singing at age 15 as a soloist with the Orchestra of St. Peter by the Sea in New Jersey and has since performed on stages from Amsterdam to New York. She has been featured at the Caramoor Festival, Jazz at Chautauqua, Lincoln Center's Midsummer Night's Swing, Birdland Jazz Club, 92Y's Lyrics and Lyricists Series, Cornelia Street Cafe, 54 Below, Merkin Hall at Kaufman Center, the Iridium Jazz Club, and the New Jersey Performing Arts Center (NJPAC) where she opened for Esperanza Spalding and Cassandra Wilson. She sings with a "forceful emotional presence and a versatile, well-shaded voice," says Adam Feldman of Time Out New York, and Peter Haas of Cabaret Scenes describes her voice as "clear and clean, expressive, supple, with unforced power."
Tickets ranging from $42-$35 can be purchased online at www.axelrodartscenter.com; by phone (732) 531-9106, x14, or in person at the Axelrod Performing Arts Center, 100 Grant Ave., Ocean Township. The theater offers ample, free on-site parking and is completely handicap accessible.
About the Axelrod Performing Arts Center
The Axelrod Performing Arts Center is New Jersey's newest professional theater, offering main-stage musicals with casts and production teams from New York City and beyond as well as original concerts throughout the year. The Axelrod fosters artistic excellence by showcasing varied and distinct cultural programs that enrich the imaginative, intellectual, and creative soul, while cultivating an appreciation of diverse communities through the pursuit of the arts. For more information, please visit www.axelrodartscenter.com
More Hot Stories For You