BROADWAY OP DE BANK at Home Tour: a welcome theatrical initiative in time of Corona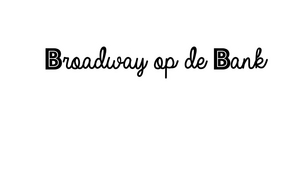 Broadway op de Bank - a beautiful initiative in times of Corona.
The Netherlands is on lockdown. As of this afternoon, schools and restaurants/bars are closed and people are in quarantine in their houses, to prevent further contamination.
The last week earlier precautions were made, where gatherings of more than 100 people were forbidden.
A huge blow, not in the least for theatre industry. Performers are, with very little exceptions, freelancer, therefore now with the cancelling of performances, to speak in the undying words of Spring Awakening - totally fucked.
But in time of crisis, out of darkness, there's a shimmer of light. Where normally the audience could escape their fears/panic to a night out by visiting a beautiful concert, musical, play, comedy show and everything else, today that's not possible.
Here come Steven Roox and Rudy Hellewegen. Steven is a singer-actor, currently seen in Anastasia the Musical in Scheveningen and Rudy is a company manager, who's been working in the industry for more than 20 years. Together with www.musicalsites.nl
they managed to kickstart this project really quickly.
Broadway op de Bank is a most welcome initiative where the duo visits working actors, who now have to stay home, due to the virus.*
Next to a home visit, they perform songs from their current and past shows, talk about the industry and give the viewer a performance from the comfort of their homes.
The performing arts have proven to be an beautiful escape during usual times, but in these scary times, it's gift which keeps giving.
See the link below for the first two episodes: www.musicalsites.nl
#1. Javan Hoen (Saturday Night Fever) and William Spaaij (Lazarus)
#2. Tony Neef (Miss Saigon, The Adam Family)
More episodes to follow! See www.musicalsites.nl for upcoming episodes.
Disclaimer:
*They only do this with the appropriate precautions, and don't take the safety warnings lightly. As for now, we are still aloud to go outside, all the performers all healthy and without any symptoms, as are Steven & Rudy.
Related Articles View More Netherlands

Stories

Shows