Nashville Shakes Offers New Year's Eve 'Sneak Peek' at 2018's HAMLET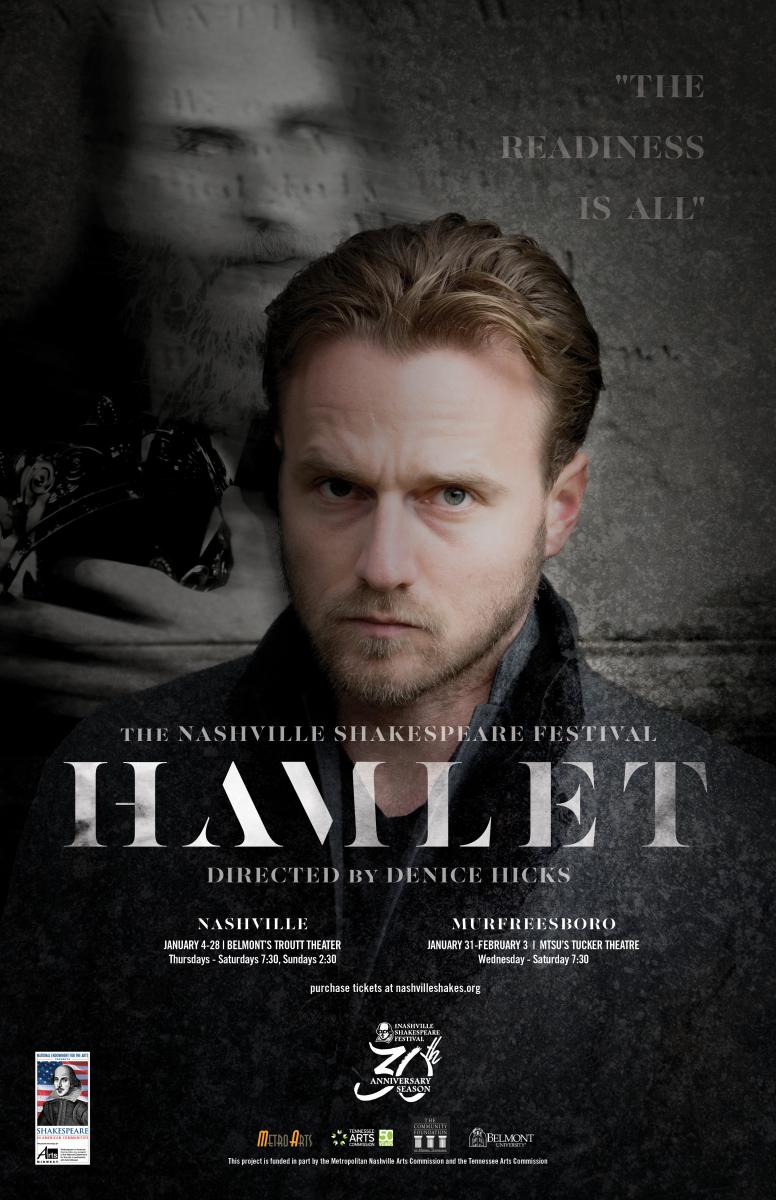 Nashville Shakespeare Festival invites lovers of theater and The Bard to herald the arrival of 2018 - and to celebrate the company's 30th Anniversary Season - with a sneak peek of the upcoming production of Hamlet during their fifth annual Winter Shakespeare Open House at Belmont University's Troutt Theatre on Sunday, December 31, from 1 to 4 p.m.
Guests can enjoy hot drinks and homemade snacks while receiving 10% off tickets and VIP Royal Packages to the Festival's production of Hamlet, which opens at the Troutt Theatre (located at 2112 Belmont Boulevard) on January 4, 2018.
Catch a glimpse into the process of rehearsing Shakespeare's most famous work: cast members, under the direction of Nashville Shakes artistic director Denice Hicks, will be in the midst of one of their final run-throughs of the show, featuring live music by Jack Kingsley and Natalie Bell. The audience is invited to pop in and watch the rehearsal for as long as they like. This event is free and open to the public.
Hicks' intimate production promises to take audiences on a journey into the minds and hearts of the royal family of Denmark in its darkest time. Prince Hamlet is torn between two unbearable situations: either living with his father's murderer or committing murder himself. The show runs January 4-28 at Belmont's Troutt Theater in Nashville and then tours to MTSU's Tucker Theatre in Murfreesboro from January 31- February 3, 2018.
Making his Nashville theatre debut in the title role is Sam Ashdown, who is described as "a magnetic up-and-coming film and stage actor who boasts an impressive resume," having performed with companies across the country. Another stand-out among the cast is Cheryl White (Gertrude), a Los Angeles transplant who has over 60 TV shows under her belt, including Major Crimes and Resurrection, who has garnered critical acclaim for her work with Nashville Repertory Theatre in Sense and Sensibility and Rapture, Blister, Burn. Other cast members include Melinda Paul (Horatio), Chelsea Bell (Ophelia), Roger Csaki (Claudius), Ethan Jones (Polonius), Audrey Tchoukoua (Laertes), Brian Russell (Ghost/Gravedigger 1), Shawn Knight (Bernardo/Osric), Lauren Berst (Marcellus/Gravedigger 2), Andy Kanies (Rosencrantz), and Santiago Sosa (Guildenstern).
Enhancing the story and creating the emotional atmosphere for the play will be an original score composed and played live by Natalie Bell and Jack Kingsley. Emerging artist Sam Lowry is designing the set and projections that will take the audience into each location in Elsinore, from graveyard to castle battlements to the great hall. Costume designer Jessica Mueller will be dressing the court in timeless elegance using a royal jewel tone palette that will contrast with Hamlet's black attire. Lights will be designed by Anne Willingham and fights choreographed by David Wilkerson.
Performances of Hamlet will be at Belmont's Troutt Theater January 4-28, with performances Thursday through Saturday at 7:30 p.m., and Sunday matinees at 2:30 p.m. At MTSU's Tucker Theatre (615 Champion Way, Murfreesboro) performances are January 31-February 3, with curtain at 7:30 p.m. each night. Tickets and VIP Royal Packages are available at www.nashvilleshakes.org.
All of NSF's programming is supported in part by Metro Nashville Arts Commission and the Tennessee Arts Commission. Hamlet is supported in part by Shakespeare in American Communities, a program of the National Endowment for the Arts in partnership with Arts Midwest. The Nashville Shakespeare Festival is one of 40 professional theater companies selected to participate in bringing the finest productions of Shakespeare to middle and high school students in communities across the United States