GOOD MORNING, THEATERATI for June 9, 2017
Our already teeming masses are joined by newcomers, tourists and the like - which means you need to adjust for traffic when making your way just about anywhere in Nashville. And, of course, we think you should spend some time in the theater this weekend, seeing what our city's performing artists have in store for you! What better way to live life dramatically?!
Luckily, live theater is thriving in Nashville! Thus, we're sending out warm and supportive wishes of "break a leg!" all the creative types who have shows opening:
Street Theatre Company debuts their social media-influenced production of Pippin (described as unlike any production of Pippin you may have seen before) tonight at Holy Trinity Community Church (curtain's at 7:30 p.m.). Ryan Greenawalt assays the title role, with David Ridley as the Leading Player, Elliott Winston Robinson as Charlemagne, Amanda Elend as Catherine and Natalie Rankin as Fastrada. STC's Pippin is directed by Jason Tucker, with musical direction by Randy Craft and choreography by Mallory Mundy. Sarah Levis is props designer, with Christen Heilman doing costumes. Jason Tucker designs lighting in consultation with Katie Gant.
We also send greetings of "break a leg!" to ACT 1's cast and crew of Reefer Madness, directed by Jason Lewis, with music direction by Rollie Mains and choreography by Stephanie Jones-Benton. Cameron Gilliam leads the cast as young Jimmy Harper, with Ben Gregory as The Lecturer, MAggie Wood as Mary Lane, Trey Palmer as Jack Stone, LaDarra Jackel as Mae, Andy Riggs as Ralph and Nikki Berra as Sally. Reefer Madness runs June 9-24 at Darkhorse Theater. ACT 1 will also announce its 2017-18 season tonight and we can't wait to share that big news with you!
The Center for the Arts in Murfreesboro opens its production of Legally Blonde the Musical tonight, described as "an inspiring story wrapped up in a perfect pink production Based on Amanda Brown's 2001 novel and its first film version (starring Reese Witherspoon). College sweetheart and homecoming queen Elle Woods can handle anything. When her boyfriend, Warner, dumps her for someone serious she decides to follow him to Harvard Law School and win him back. Case closed. With some help from newfound friends and her dog, Bruiser, Elle proves that being true to yourself never goes out of style! Legally Blonde the Musical runs through June 25.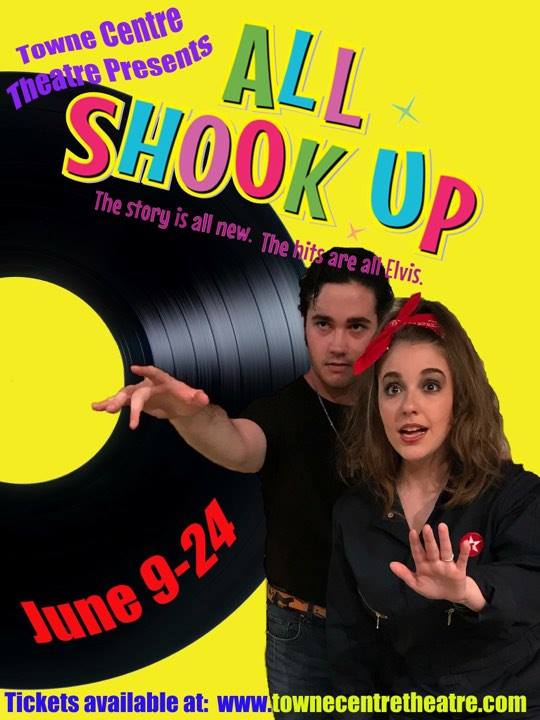 Opening tonight at Brentwood's Towne Centre Theatre is All Shook Up, the musicalized version of Shakespeare's Twelfth Night that features a score of Elvis Presley hits. 2014 First Night Most Promising Actor Karissa Wheeler is among its stars. It runs through June 24.
Out at Chaffin's Barn Dinner Theatre, their production of Sister Act The Musical celebrates its second night tonight and, judging from the response of the opening night crowd, it's already a smash hit! Call (615) 646-9977 to make your own reservations to catch the show during its seven-week run, because it's quickly going to become the talk of the town. Meggan Utech, Martha Wilkinson, Caitlyn Porayko, Gracie McGraw, Vicki White, David Arnold, Devin Bowles, Gerold Oliver, Curtis Reed, Alex Pineiro, Anna Carroll, Lynda Cameron-Bayer, Jenny Norris Light, Katie Bruno, Megan Arrington, Brett Cantrell, Braden Wahl and Stewart Romeo star. Bradley Moore directs, with music direction by Kelsi Fulton and choreography by Everett Tarlton. Daniel DeVault stage manages, with costumes by Jamie Lyn Scott, and props by Joy Tilley Perryman. The band includes Chris Smallwood, Jaclyn Brown, Tom D'Angelo and Dan Kozlowski. We'll have a review up later today, so be on the lookout! Faith Hill and Tim McGraw were on-hand for the first night, to cheer on, show their love for and endless support of their daughter Gracie McGraw, which delighted Barn patrons no end!
Verge Theater Company's production of The Whale continues this weekend at Belmont's Black Box Theatre, starring Shawn Knight, Nettie Kraft, CJ Tucker, Madeleine Yeary and Alex Drinnen. Peter and the Starcatcher continues at Woodbury's Arts Center of Cannon County, while in Crossville, Million Dollar Quartet wraps up its stellar run at Cumberland County Playhouse, where you can also catch the 24th year of Smoke on the Mountain. At Lakewood Theatre in Old Hickory, the second annual Tennessee Playwright Festival wraps up this weekend, and Murfreesboro Little Theatre's production of Arsenic and Old Lace concludes its two-weekend run. Really Rosie, the musical by Carole King based on Maurice Sendak's children's book, plays its final performances at Encore Theatre Company in Mount Juliet.
Oure review of The Whale: /nashville/article/BWW-Review-Knights-Performance-Elevates-Verge-Theater-Companys-THE-WHALE-20170606
Studio Tenn announced yesterday that Jake Speck will leave his position as Managing Director in August, to assume the executive director position with A.D. Players, a professional theatre company in Houston, Texas. A driving force behind Studio Tenn, Speck - in partnership with artistic director Matt Logan - has led the company to new heights with a blend of performance experience and business acumen. Following his success in the Broadway hit Jersey Boys, Speck joined Studio Tenn as the company's managing director shortly after the founding of the company by Philip Hall, Marguerite Hall and Matt Logan.
Under Speck's guidance and alongside Logan, Studio Tenn has grown exponentially in just seven years., Studio Tenn has served a regional audience of more than 100,000 patrons and has provided 16,000 students and underserved families the opportunity to experience live theatre through education and community outreach initiatives. Studio Tenn has also been listed three times as one of the top five highest attended performing arts organizations in middle Tennessee, and voted three times as the "Best Local Theatre Company" in the region by the readers of the Nashville Scene. Studio Tenn also marked a milestone this year as the only local theatre company to be invited by Tennessee Performing Arts Center (TPAC) in its 34-year history to produce Evita for the opening of their long-standing HCA/TriStar Health Broadway Series.
"I am beyond grateful to the Studio Tenn Board, staff, donors and everyone in the Studio Tenn family for their astounding level of support," Speck says. "It's difficult to walk away from something you helped build, but I feel it is precisely the experience of building Studio Tenn that has prepared me for my new assignment. Studio Tenn will always be a part of me and for that I am eternally grateful."
Can we just say right now how sad we are that Jake and his beautiful wife, Emily Tello Speck and three rambunctious boys Nash, Noah and Leo, will be leaving Nashville, although we are delighted for them to go off on this big adventure that will keep them firmly ensconced in our theater family for years to come. Break a leg, Specks!
"Happy Birthday to you, happy birthday to you" or a reasonable facsimile thereof is being sung as we herald the birthdays of pianist extraordinaire Tim Hubler, who's celebrating at home in Austria; actor and realtor (and all-around good guy) Christopher Simonsen; and to the lovely and talented Steve Bianchi, late of Nashville Rep and Nashville Children's Theatre. They share today's special date with such theatrical luminaries as: composer Cole Porter, who was born in 1891; playwright/producer S.N. Behrman (born in 1893); producer Lore Noto (1923); actor Robert Cummings (1908); comic Jackie Mason (1936); writer/producer Aaron Sorkin (1961); actor Josh Hamilton (1969); and Oscar-winning actress Natalie Portman.
From the archives of BroadwayWorld Nashville:
/nashville/article/Noel-Directs-Upcoming-EVERYBODY-LOVES-OPAL-at-Chaffins-Barn-Opens-616-20110609
/nashville/article/BWW-Interviews-On-the-Line-with-Mallory-Gleason-from-Keetons-A-CHORUS-LINE-20110609
/nashville/article/BWW-Reviews-FORUM-Proves-A-Timely-And-Timeless-Season-Offering-at-The-Keeton-Theatre-20120609
/nashville/article/CRITICS-CHOICE-We-Saw-What-You-Did-Last-Summer-20150609#
/nashville/article/The-Friday-5-On-Thursday-THOROUGHLY-MODERN-MILLIEs-Samuel-Smith-20160609
From our Theater Journal come these nuggets of theatrical history: Actress Katharine Cornell died in 1974 at the age of 81; her first appearance onstage, with the Washington Square Players, was in 1917. With her husband Guthrie McClintic she played a major role in the careers of such actors as Orson Welles and Marlon Brando. Joseph Papp announced in 1977 that the New York Shakespeare Festival would leave Lincoln Center's Vivian Beaumont Theatre. William Shakespeare's Macbeth - aka The Scottish Play - opened on Broadway, starring Kelsey Grammer, in 2000, playing only eight previews and 13 performances before closing on June 25.
Have a lovely weekend, theaterati! Don't forget the Tony Awards presentation on Sunday night, broadcast on CBS (we're hosting a big party if you want to come and there's the annual fete on the stage of the James K. Polk Theatre at the Tennessee Performing Arts Center) and we'll have pictures for you come Monday morning! In the meantime, take this opportunity to CELEBRATE THE MAGIC OF LIVE THEATRE!
Jeffrey Ellis is a Nashville-based writer, editor and critic, who's been covering the performing arts in Tennessee for more than 35 years. In 1989, Ellis (read more...)