BWW Review: Springhouse Theatre's MARY POPPINS Features Strong Leading Performances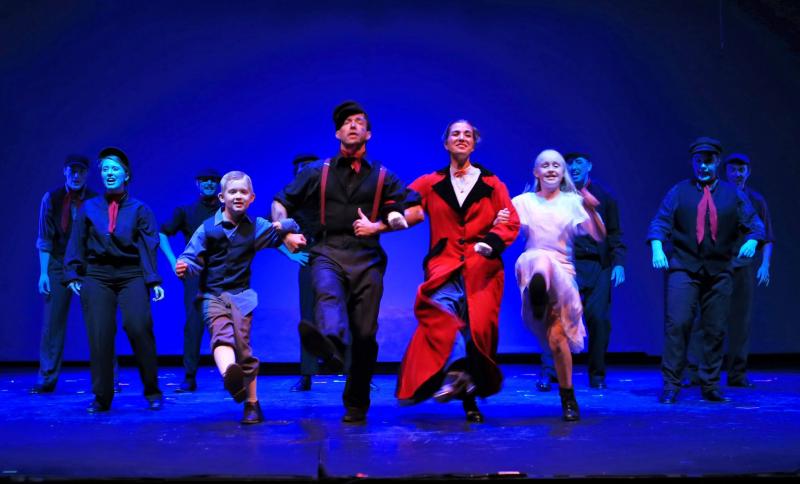 Despite some opening night technical problems, inconsistent sound issues and a lack of confidence performing Elizabeth Krebs' choreography, Mary Poppins - the musical theater version of the Disney film that was inspired by P.L. Travers' stories which, in turn, were loosely inspired by her own childhood adventures - opened to a rousing ovation from the audience at Smyrna's Springhouse Theatre Company Friday night.
With personable leads Crystal Kurek, Michael Adcock and Kristina James leading the ensemble of eager and committed players (including two really cute child actors playing Jane and Michael Banks) in a pleasant and oftentimes engaging version of the much-produced musical that won accolades on Broadway and in the West End. Directed with a certain lighthearted elegance by Margaret Meeks, audiences should be made aware that the only actor employing an accent - and a cockney one, at that - is Michael Adcock as Bert, with the others affecting middle American-sounding voices with a lagniappe of a southern drawl added here and there to the mixture.
The story should be quite familiar to anyone who's ever watched television, been to a movie house or been even partially aware of what's happening around them: a troubled family, living on Cherry Tree Lane in Edwardian era London are in need of a new nanny to corral the rambunctious and troublesome pair of Banks children (played rather winningly by Jackson Kinsey as Michael and Shelby Baltimore as Jane), while their parents (played by Kristina James and Gregory Henry) seem at odds with one another as their pair of bumbling servants (Marsha Allen, as Paula Deen's angry wig [aka Mrs. Brill], and Jack Gilpin as an aging Robertson Ay) try to make the best of an increasingly dire situation.
Literally flying into their lives to save the day as an Edwardian superheroine is the sometimes taciturn, but refreshingly direct Mary Poppins (the aforementioned Ms. Kurek), the magical and "practically perfect" governess who intends to right the Banks family's domestic ship in Bristol fashion - with the theatrical bag of tricks found in her carpetbag.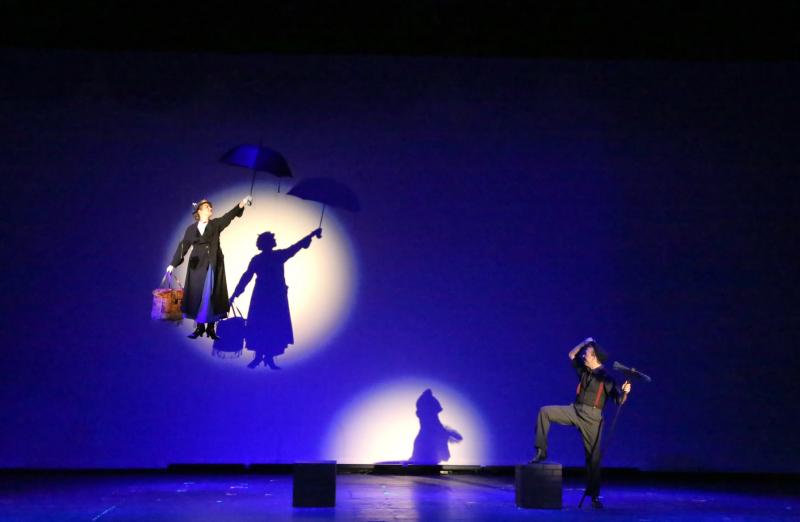 Along the way in their evolution from squabbling family to heartwarming and loving foursome, the members of the Banks household contend with all manner of fun (some of which will leave you laughing, some that may make you scratch your head), which oftentimes features a charming street artist cum chimney sweep named Bert (Mr. Adcock is all twinkling eyes and warmth in the role), who dispenses good luck with the shake of his hand, while he pines for the lovely Miss Poppins.
Disney and Cameron Mackintosh's Mary Poppins - as its officially titled in the wordy way of contemporary musical theater - features a book by Julian Fellowes (he created Downton Abbey and also wrote the book for Andrew Lloyd-Webber's stage adaptation of School of Rock, now onstage at TPAC's Andrew Jackson Hall through Sunday, if you're bent on having a Julian Fellowes theater weekend), and features the original music and lyrics by Richard M. Sherman and Robert B. Sherman (who scored the Disney film), with new songs and additional music and lyrics by George Stiles and Anthony Drewe. As written, the musical can be inventive and imaginative as its fanciful tale unfolds onstage, if all the technical requirements progress smoothly, but if things go off the rails even briefly, the action slows to a crawl, progressing at a treacly pace.
Such was the case on opening night, when the very capable musical director/conductor Allison Hall and her accomplished orchestra of nine players had to vamp for what seemed like five minutes (at least) while some technical snafu or another was causing all manner of offstage mischief. I half expected Fellowes to come walking out of the wings to distract us with jokes and catty tales of backstage shenanigans while the technical crew worked to rectify the troublesome issues.
However, we are happy to report - thanks to Flying By Foy (the folks who have for generations made certain actors can soar toward the heavens when outfitted in their flying harnesses) - that Mary Poppins flies gently and ethereally across the sky with her trademark umbrella aloft and her magical carpetbag on her arm, much to the delight of every single person in the audience.
Director Margaret Meeks' decision to cast Crystal Kurek (who played the title role for Hendersonville Performing Arts Center previously) is an obvious, wonderful choice as her leading lady confidently portrays Mary Poppins with generous charm and impressive elan, utilizing her lovely voice to give the musical score its due. And if there is anyone more appropriate to play Mary Poppins, it clearly is she. Adcock is good as Bert, employing his own ample charm and showbiz acumen to deliver a credible performance. He'd be the first to admit he's not really a dancer, but he acquits himself admirably throughout the show that ran two hours and 45 minutes on opening night.
Kristina James is delightful as actress turned middle class wife and mother Winifred Banks, showing off her own vocal talents in the process and displaying her own ample stage presence in scenes with the appealing Gregory Henry as her husband, the unctuous George Banks. Among the ensemble members, Ximena Lindsey makes a definite statement as shop owner Mrs. Corry, infusing the showstopping "Supercalifragilisticexpialidocious" number with wit and verve, and Shannon Henry very nearly stops the show herself as the officious and demanding Miss Andrew (George Banks' former nanny), with her glorious soprano issuing forth some notes certain to knock your socks off.
The show can be a technical nightmare and Springhouse Theatre's Mary Poppins continues through September 30, giving the company adequate time to iron out any technical issues that will continue to nag until the problems are solved (in fact, we suspect tonight's performance will be much improved).
Disney and Cameron Mackintosh's Mary Poppins. A musical based on the stories of P.L. Travers and the Walt Disney Film. Original music and lyrics by Richard M. Sherman and Robert B. Sherman. Book by Julian Fellowes. New songs and additional music and lyrics by George Stiles and Anthony Drewe. Co-created by Cameron Mackintosh. Directed by Margaret Meeks. Musical direction by Allison Hall. Choreography Elizabeth Krebs. Presented by Springhouse Theatre Company, at Springhouse Worship and Arts Center, 14119 Old Nashville Highway, Smyrna. Through September 30. For details, go to www.springhousetheatre.com. Running time: 2 hours, 45 minutes (with one 15-minute intermission).
photos by Kenn Stilger/Heavenly Perspective Photography