BWW Review: SPRING AWAKENING at AUTS (Moyse Hall)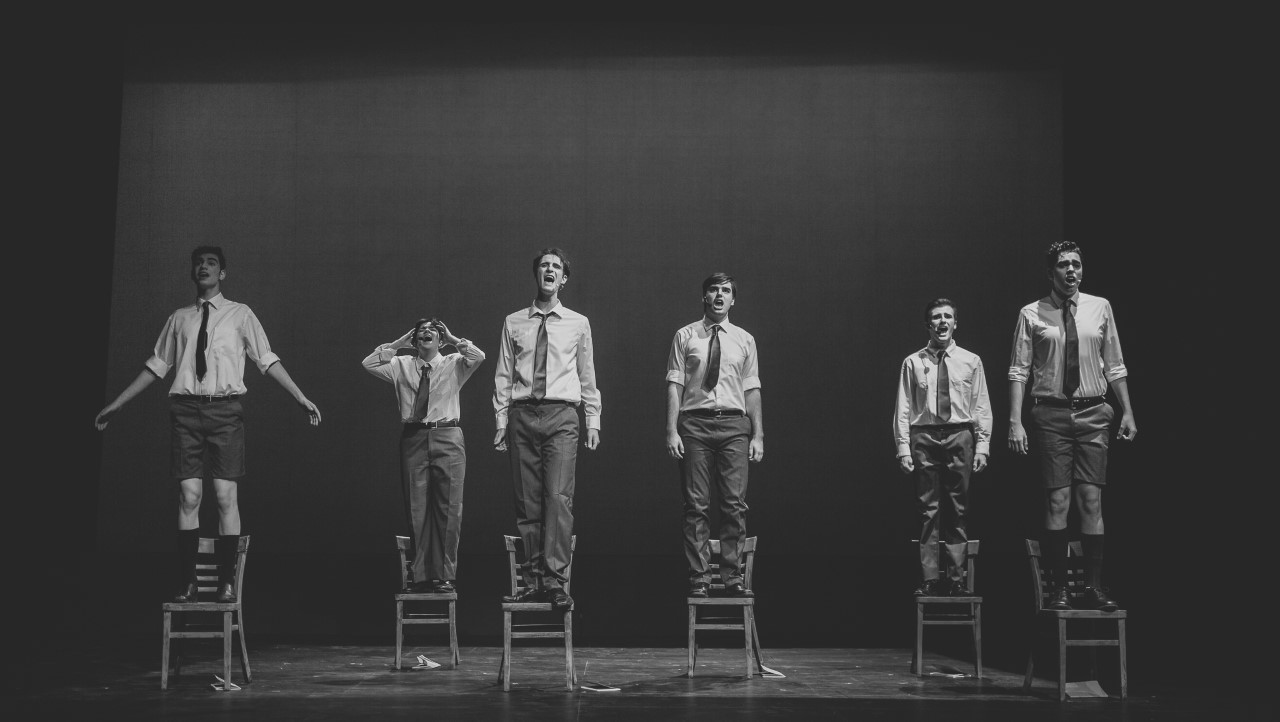 A rock musical about students dealing with teenage angst and sexual curiosity, Spring Awakening found a suitable home at Moyse Hall, as this year's offering by McGill University's Arts Undergraduate Theatre Society (AUTS). Admittedly, I had not seen a McGill produced rock musical since the university's alum turned Tony Award winning Producer, Adam Blanshay, played the title role in The Who's Tommy on that same stage back when we were still worried about Y2K. But that was then and this is now and I'm sorry I stayed away for so long because I now see that AUTS has a lot to offer to the Montreal theatre scene.
Based on Frank Wedekind's ground-breaking expressionist play (The Awakening of Spring), Duncan Sheik and Steven Sater's Spring Awakening musical follows post-pubescent Wendla Bergmann and Melchior Gabor and their school chums on their respective explicit coming of age stories. As such, we get to watch several story arcs emerge; often unveiling the shocking realities of these kids' tragic lives as they struggle to endure their stringent Christian upbringing in turn-of-the-century Germany.
AUTS' content warning as the theatre goes dark lets audience members know that this piece is not for the faint of heart, as we're exposed to a variety of NC-17 style topics, such as "sticky dreams", self-pleasure, and abuse. Audience members become invested in these teens' lives as nearly each one reveals how they've become a victim in some way, and we slowly buy into the villainization of the adults who all want these youth to be more proper; more God-fearing. Emotional and raw, Spring Awakening will stir something within you, but do not expect to leave the theatre humming any memorable tunes or tapping you toes. It's not that kind of musical.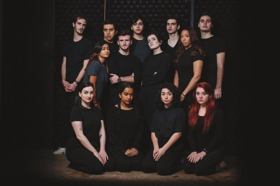 A show about students, by students, and largely attended by students, AUTS' Spring Awakening was well-acted with courage, pep, and personality. Kudos to Stage Director, Kyra Church, who managed to find ways to illuminate a very bare stage with her cast of 13. Leads Leah DeBorba (Wendla) and Natan Shaviv (Melchior) were very watchable, but it was Julia Kennific and Lucas Amato's biting portrayals of Adult Female and Adult Male that truly impressed.
Although there were some very strong vocals to carry the show, I found that some musical numbers suffered from intonation issues; a problem that occasionally plagued the eight-piece band accompaniment as well. The folksy choreography by Erin Wall was well planned but possibly a bit under rehearsed. I expect these quirks will be ironed out during the run. I'm still left puzzled by Hugo Sivov's ambiguous costume design, which certainly wasn't late 19th Century period dress, nor did it clue us in to what decade AUTS was going for.
Spring Awakening will never be listed as one of my favourite Broadway musicals, but AUTS' rendition was a very admirable production with many merits yet certain flaws. I left the theatre feeling entertained and moved with the performance having sparked plenty of meaningful conversation on the way home. I'm certainly motivated to follow the company and see what's in store for next season.
Spring Awakening continues at Moyse Hall (853 Sherbrooke St. West, McGill University Arts Building) January 31 - February 2, with performances beginning at 7:30. Tickets, ranging from $15 to $20, can be purchased online at autstheatre.ca. Note that it is general seating.