Andee Shuster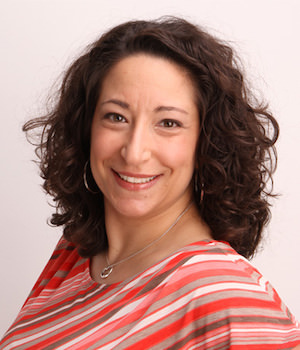 Andee Shuster is a woman of many hats. Having started out as Tour Coordinator for Montreal's Geordie Productions in 2001, Andee has grown her marketing communications career in the arts, culture, education, and community sectors, and now works as Marketing and Communications Officer for McGill University. In her off hours, Shuster is a singer-actor with a passion for musical theatre. Apart from her 20-year tenure as a soprano soloist with the Shaare Zion Choir, Andee has portrayed such notable onstage roles as "Golde" in Fiddler on the Roof (Dora Wasserman Yiddish Theatre), "Narrator" in Joseph and the Amazing Technicolor Dreamcoat (Hudson Theatre Studio), "Rebecca" in The Gefilte Fish Chronicles (CETM), and "Kate" in the Off-Broadway Yiddish production of The Pirates of Penzance (The National Yiddish Theatre Folksbiene, New York). Balancing a full-time day-job and part-time gigs hasn't been easy, but Shuster's been able to make it work. A proud member of CAEA and ACTRA, Andee still performs a one-woman show seven nights a week--for her daughter's bedtime.
MOST POPULAR ARTICLES
LAST 30 DAYS
LAST 365 DAYS
BWW Previews: MERTON OF THE MOVIES at Cote Saint-Luc Dramatic Society

February 8, 2020

This February, Montreal audiences will be able to get a taste of Hollywood's pre-talkie era through Cote Saint-Luc Dramatic Society's (CSLDS) production of Kaufman and Connelly's comedic play, Merton of the Movies.
---
Joseph and the Amazing Technicolor Dreamcoat Dances its Way to The Segal Centre

August 16, 2019

After 21 sold-out shows and the META Award for Outstanding Community Theatre Production, the Cote Saint-Luc Dramatic Society (CSLDS) is bringing back its crowd-pleasing Joseph and the Amazing Technicolor Dreamcoat for a limited run, this time at The Segal Centre. After a stunning yet serious production of Kander and Ebb's Cabaret this June, the CSLDS felt they needed to provide a family-friendly offering for their audience base.
---
TWO JEWS WALK INTO A THEATRE--ELON GOLD & MODI! at Just For Laughs (Centaur Theatre)

July 22, 2019

Whether it's Black Friday, Cyber Monday, or Boxing Day, everyone out there loves the winning feeling of getting an amazing deal. Well, you're in for a treat because Just for Laughs is giving Montreal audiences Elon Gold & Modi Two for One! An aptly named show, there's no better bargain than seeing these two Jewish comedians onstage together. (I'd make a BOGOHO joke, but let's not talk about circumcision.)
---
Girls Just Wanna Get Laughs: SHE THE PEOPLE Premieres in Montreal at Just For Laughs

July 14, 2019

Created and cultivated through Second City, the premier training ground for sketch comedy, She the People has traveled from Chicago to Toronto and next week it will be hitting the scene in Montreal. Now don't be fooled into thinking this show is series of lame menstruation and boyfriend jokes. Touted as 'by women, for everyone' by creator and director Carly Heffernan, She the People touches on the issues of today, without apology, and satirizes them to the point of hilarity.
---
BWW Feature: A CENTURY SONGBOOK & SHABBES DINNER at Segal Centre

June 26, 2019

Whereas most of us tend to do 'dinner and a show', last Friday night I had the rare treat of having 'a show and dinner' at The Segal Centre. Now this was not The Segal's Tuesday Night Live dinner and show combo; this was an early evening presentation of the Dora Wasserman Yiddish Theatre's newly remounted A Century Songbook, followed by a Shabbes (Sabbath) Dinner. A first for The Segal, this concept turned a great show into an unforgettable cultural immersive experience for audience members of all ages.
---
BWW Feature: MAMMA MIA! at Saint-Denis Theatre

June 23, 2019

Is it any wonder that Montreal's Just Pour Rire is capitalizing on this show's popularity? Before the curtain rose on this Franglais production, with French script and English songs, JPR claimed to have pre-sold a whopping 40,000 tickets.
---
I am Woman, Hear me Roar--With Laughter! Just For Laughs to Have Strong Female Lineup for Theatre Folk

May 27, 2019

Over the past decade or so, the Just for Laughs lineup has branched out from the classic scene of funny comics with microphone in hand; audiences can also enjoy humorous theatrical presentations as well. Aside from the plethora of impressive comedians and celebrities that are part of the festivities (and there are A LOT), JFL will be showing us its feminine side with some theatrical offerings that promise to be hilarious!
---
BWW Preview: KINKY BOOTS at Saint-Denis Theatre

April 22, 2019

A Tony-Award winning Broadway musical based on the British film of the same name, Kinky Boots is inspired by the real-life makeover story of the W.J. Brooks Shoe Company; a family business that went from making conservative footwear to...well...kinky boots.
---
BWW Previews: BE A GOOD GIRL at Segal Centre

March 5, 2019

Conceived and created by Katz, Be a Good Girl is a one woman show that combines drama, dark comedy, video clips, and original songs to tell true stories of sexual assault and its repercussions.
---
BWW Review: BOOM X at Segal Centre

February 22, 2019

Rick begins his solo performance breaking the fourth wall as he lets the audience know that they are about to see him perform one hundred different characters in just over two hours.
---
BWW Review: RUDDIGORE at The McGill Savoy Society

February 10, 2019

Well-staged and nicely choreographed by Coralie Heiler and Stefania Bertrand, Savoy's Ruddigore was a sweet show, but quite traditional and safe. This production strayed away from the updated modern-day lyric changes that Savoy was always infamous for.
---
BWW Review: SPRING AWAKENING at AUTS (Moyse Hall)

January 27, 2019

A rock musical about students dealing with teenage angst and sexual curiosity, Spring Awakening found a suitable home at Moyse Hall, as this year's offering by McGill University's Arts Undergraduate Theatre Society (AUTS).
---
BWW Review: SCHWARTZ'S THE MUSICAL Staged Reading at Centaur Theatre

December 16, 2018

For part deux of their Legacy Series, Centaur Theatre offered up a staged reading of Schwartz's The Musical, as their two-cheek kiss to Montreal audiences.
---
BWW Review: A BINTEL BRIEF at Dora Wasserman Yiddish Theatre (Segal Centre)

October 17, 2018

A Bintel Brief: This musical, comprised of vignettes, takes us on a profound journey from Old World shtetls to New World neighbourhoods of tenements houses and sweatshops. The greenhorn experience is treated with respect; sometimes with raw candor, and other times vaudevillian humour as we see how elongated Jewish European last names get shortened to blend into America's melting pot.
---
BWW Feature: SPELLBOUND by The 7 Wonders Theatre

October 1, 2018

It was a neat surprise to discover that The 7 Wonders Theatre has done an annual pop-up musical revue for the past three years. Their latest offering, Spellbound, hit the stage on Saturday September 22nd for just two performances at Mainline Theatre.
---
BWW Feature: GRAMMA MIA! at Cote Saint-Luc Dramatic Society

August 21, 2018

Gramma Mia! is touted to be a unique spin on ABBA's jukebox musical Mamma Mia, and just happens to coincide with the cinematic release of Mamma Mia: Here We Go Again. Well played, Cote Saint-Luc; well played.
---
BWW Feature: AUDITIONS: Gleefully Looking for New Vocalists at Lyric Theatre Singers

August 13, 2018

Known throughout the city for their annual December Christmas concert and June Broadway revue, The Lyric Singers offer local vocalists (currently aged 20-something to 70-something) a great opportunity to work with professional directors on a variety of musical styles.
---
BWW Review: GOLDA'S BALCONY at Segal Centre

May 26, 2018

With the sword of Damocles over her head and the fate of the Jewish people at stake, Golda pushes forward with tongue-in-cheek chutzpah and the guilt of the working mother, with her end game being to keep peace in the Middle East.
---
BWW Review: THE ANGEL AND THE SPARROW at Segal Centre

April 23, 2018

Portraying known figures onstage is an immense challenge. Thankfully, both Pitre and Street offered us charismatic and sentimental interpretations instead of imitations of these larger than life ladies. The Angel and the Sparrow gives us a bird's eye view into the lives of the two European superstars, beginning with how they first met in a public washroom.
---
BWW Review: AROUND THE WORLD IN 80 DAYS at Geordie Productions

April 21, 2018

Admittedly, I was not overly excited about Geordie Artistic Director, Mike Payette's choice of Jules Vern's Around the World in 80 Days. I recall being a bit bored as a child by the original David Niven film and I wondered, despite the book being revered as a classic, would the play appeal to today's families? My reservations were immediately put to rest moments after the house lights went down. Setting the scene for our action-packed adventure, the audience is privy to a cleverly staged bank heist.
---